Endel KÖKS

1912–1983, Estonia/Sweden
Also known as: Koks, Endel

Verdict of guilty
0201-K346660-10
Oil on board, composition with people, signed "E. Köks-43", 37x50 cm. The painting had been submitted to a smaller auction house in Stockholm for sales in August 2010, but even in November the same year. It was sold for around 360 euros (3500 SEK) but was returned when the buyer doubted its authenticity. It was sold again in November the same year for about 260 euros (2500 SEK). Also this time the painting was returned for the same reason. Police began an investigation that led to the painting was found to be a counterfeit.
Oljemålning på pannå, komposition med människor, signerad "E. Köks-43", 37x50 cm. Målningen hade lämnats till ett mindre auktionshus i Stockholm för försäljning, dels i augusti 2010 men även i november samma år. Den såldes första gången för ca 350 euro (3500 SEK) men återlämnades då köparen betvivlade dess äkthet. Den såldes på nytt i november samma år för ca 250 euro (2500 SEK). Även denna gång återlämnades målningen av samma skäl. Polisen påbörjade en undersökning som ledde till att målningen konstaterades vara förfalskad.











Birth
1912, 21/4, Estonia
Endel Köks biografi:

Endel Köks, född 21 april 1912 i Tartu, Estland, död 25 november 1983 i Örebro, var en svensk grafiker, tecknare och målare. Han var son till fabrikören Eduard Kõks och Eugenie Tomson.
Köks studerade vid Konstakademien Pallas i Tartu 1934–1940, samt under resor till Finland och Frankrike 1938, Tyskland 1943 och Danmark 1950. I Sverige ställde han ut separat på Örebro konstmuseumn och Uppsala 1951, Örebro 1954 och Karlskoga 1955. Han deltog i samlingsutställningen Baltiska konstnärer på Liljevalchs konsthall i Stockholm 1946. Han deltog dessutom i ett flertal internationella utställningar, bland annat i München 1947. Amsterdam 1949, Köpenhamn 1950, New York 1953
Hans produktion bestod av landskap, porträtt, stilleben, collage, bokillustrationer, momumentalmålningar och figurkompositioner.
Köks är representerad på konstmuseerna i Tartu och Tallinn samt i Ulm, Tyskland, och i Örebro museum.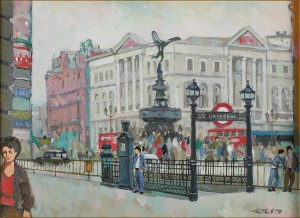 London, Piccadilly Circus
(-79)
Price SEK 7,000 (€742)
Estimated SEK 9,000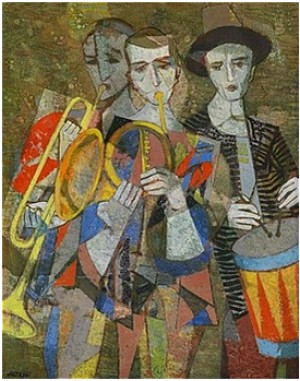 Price SEK 0 (€0) Not sold
Estimated SEK 50,000–60,000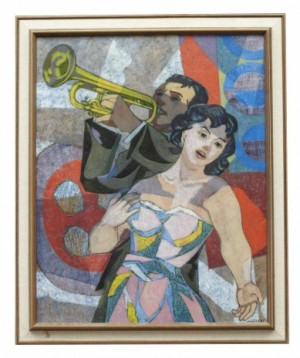 Sångaren Och Trumpetaren
(-61)
Price SEK 25,000 (€2,825)
Estimated SEK 8,000–10,000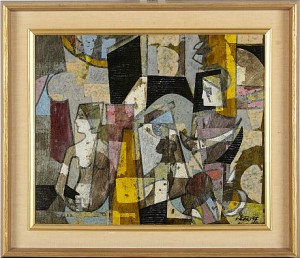 Price SEK 11,500 (€1,338)
Estimated SEK 4,000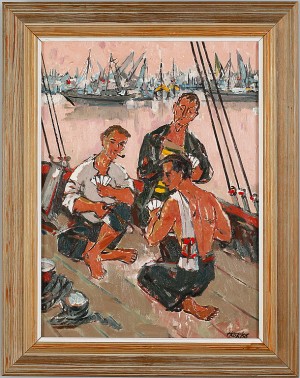 Kortspelare På Skepp
Price SEK 4,500 (€504)
Estimated SEK 5,000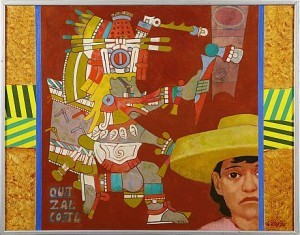 Price SEK 10,500 (€1,153)
Estimated SEK 5,000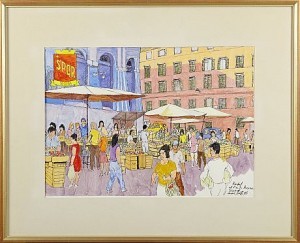 Price SEK 2,600 (€285)
Estimated SEK 1,500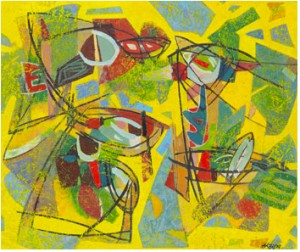 Price SEK 6,500 (€704)
Estimated SEK 8,000–10,000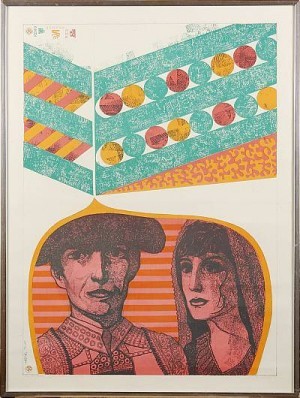 The Mattador
Price SEK 0 (€0) Not sold
Estimated SEK 1,500