Filip Andreevich MALIAVIN

1869–1940, Russia
Also known as: PM, Maljavin, Maliavine, Malyavin

Verdict of guilty
0201-K170864-10
Mixed media, drawing, portrait of elegant lady, signed "Maliavine 1923" in Cyrillic letters, 50x40 cm. The painting was sold by a small auction house in Stockholm in autumn 2009, via their online auction. In May 2010, the purchaser will be back with the painting and return it after consulting with a Russian expert who doubt about the painting's authenticity. The police Stockholm City takes the painting seized for further investigation. After an expert inquiry and judgment declared that the painting is not genuine. It is a forgery.
Blandteknik, teckning, porträtt av elegant dam, signerad "Maliavine 1923" med kyrilliska bokstäver, 50x40 cm. Målningen såldes av ett mindre auktionshus i Stockholm hösten 2009, via deras nätauktion. I maj 2010 reklamerar köparen målningen efter att ha konsulterat en rysk expert som tvivlar på målningens äkthet. Polisen Stockholm City tar målningen i beslag för vidare utredning. Efter expertutredning och dom förklarades att målningen inte är äkta. Det är en förfalskning.

















Name
Filip Andreevich MALIAVIN
Filip Andreevich Maliavin, also well-known as: Filip Andreevic Maljavin / Philip Andreievich Maliavin was born in the village of Kazanka on the Volga into an illiterate peasant family, and taught himself to draw at a young age. A neighbour who had become a monk on Mount Athos returned with him to the Holy Mountain, where the young Maliavin became a novice and learned to paint icons in the monastery workshop. He continued to paint secular pictures for his own satisfaction. When Beklemishev, professor of sculpture at the Academy, happened to visit Athos on a pilgrimage, he was so impressed with the youth s talent that he paid his passage to St. Petersburg and for his studies at the Academy. Maliavin studied under Ilya Repin, and soon made a name for himself with his boldly executed and colourful depictions of peasant life. Perhaps as a result of his humble origins, he found himself as unofficial court painter of the Bolsheviks and sketched many leaders (Lenin, Trotsky, Lunacharsky) in the Kremlin in 1920-21. However, the following year he fled Soviet Russia and settled in Nice. In the emigration, he reworked themes of his earlier period but now suffused either with nostalgia or bitterness. He happened to be in Brussels when the Nazis invaded, was arrested and nearly shot, but succeeded in persuading his captors he was simply an artist. He was then released and set off for Nice on foot. The journey took all his strength, and he died shortly after his return.
Source: Stockholms Auktionsverk, Stockholm Sweden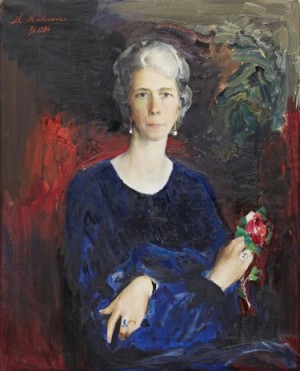 Portrait Of Mina Sederholm, Born Sjöcrona
(1930)
Price SEK 170,000 (€18,297)
Estimated SEK 80,000–100,000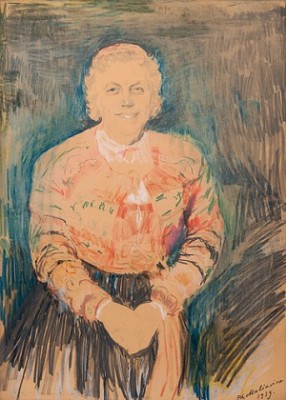 Price EUR 2,691 Incl. buyer's premium
Estimated EUR 1,000–1,200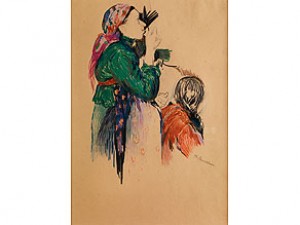 Karton. Weib
Price EUR 5,000
Estimated –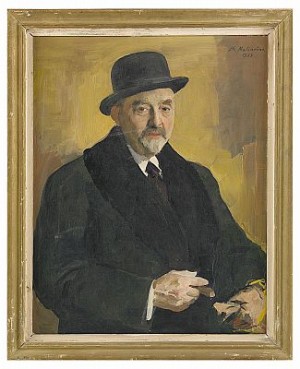 Portait Of Artist Friend Vasiili Levi (1874-1954)
(1939)
Price SEK 50,000 (€5,485)
Estimated SEK 60,000–80,000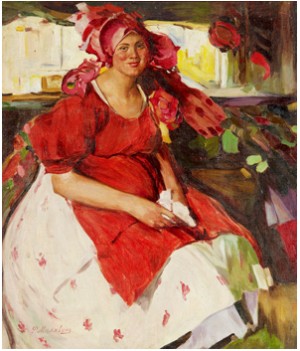 Woman In A Red Dress
Price SEK 410,000 (€42,480)
Estimated SEK 100,000–120,000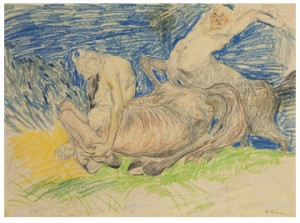 Centaurs Quarreling.
Price SEK 8,000 (€765)
Estimated SEK 10,000–15,000
Porträtt Föreställande Gustav V
Price SEK 250,000 (€23,913)
Estimated SEK 30,000–40,000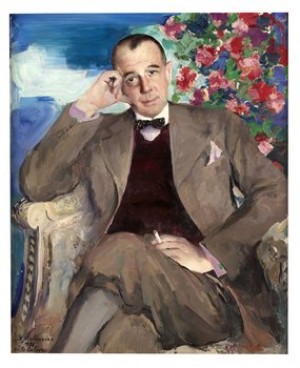 Carl August Wickander
(1936)
Price SEK 570,000 (€55,170)
Estimated SEK 100,000–125,000
Female Nude In Cap Seated On Tree Trunk In Water
Price SEK 13,000 (€1,160)
Estimated SEK 4,000–6,000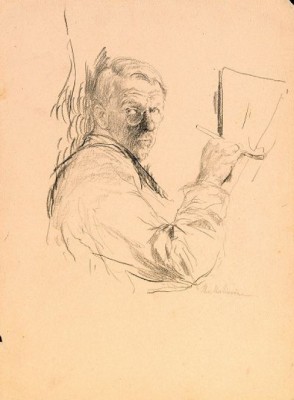 Self Portrait
Price SEK 10,000 (€893)
Estimated SEK 4,000–6,000
Woman In Kerchief And Apron Standing Hand To Mouth
Price SEK 9,500 (€848)
Estimated SEK 3,000–5,000
The Flirtatious Centaur
Price SEK 26,000 (€2,321)
Estimated SEK 10,000–15,000
Woman In Hat And Coat With Man
Price SEK 4,200 (€375)
Estimated SEK 3,000–5,000
(3) Three Sketches On The Theme Of Motherhood
Price SEK 11,000 (€982)
Estimated SEK 6,000–8,000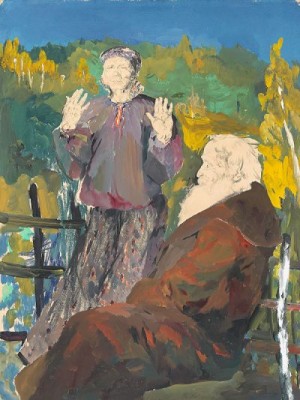 Elderly Peasant Couple In An Autumn Landscape
Price SEK 175,000 (€15,625)
Estimated SEK 30,000–50,000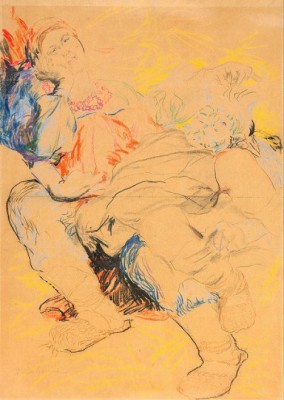 Woman And Sleeping Man
Price SEK 22,000 (€1,964)
Estimated SEK 4,000–6,000
Plough Horse And Foal
Price SEK 13,000 (€1,161)
Estimated SEK 6,000–8,000
(3) Three Drawings Of Horse-drawn Sleds
Price SEK 11,000 (€982)
Estimated SEK 5,000–7,000
Portrait Of Pavel Nikolaievich Miliukov
Price SEK 8,000 (€714)
Estimated SEK 4,000–6,000
Study For A Portrait Of King Alexander I Of Yugoslavia
Price SEK 17,000 (€1,518)
Estimated SEK 3,000–5,000
Girl Standing With Dol
Price SEK 13,000 (€1,161)
Estimated SEK 4,000–6,000
Portrait Of A Lady, Possibly The Artist´s Wif
Price SEK 15,000 (€1,339)
Estimated SEK 3,000–5,000
Two Studies Of Girl's Head, One From Behind
Price SEK 6,500 (€580)
Estimated SEK 3,000–5,000
Head And Torso Of Woman In Kerchief
Price SEK 3,000 (€267)
Estimated SEK 3,000–5,000
Old Man With Beard, Turban And Robes
Price SEK 4,000 (€357)
Estimated SEK 4,000–6,000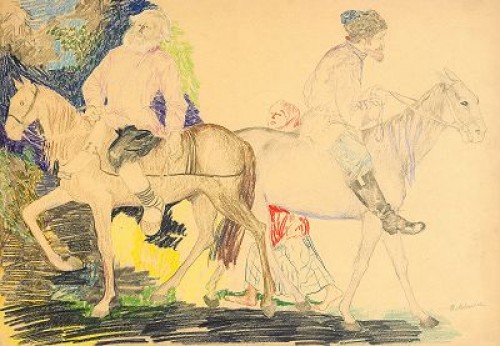 Horsemen Passing On A Country Path
Price SEK 26,000 (€2,321)
Estimated SEK 8,000–12,000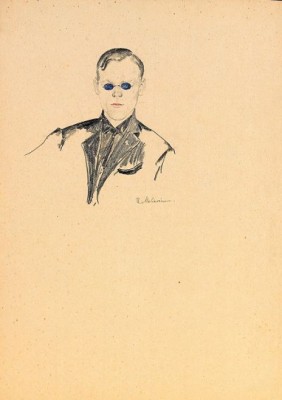 Head And Shoulders Of Man In Dark Glasses
Price SEK 8,500 (€759)
Estimated SEK 4,000–6,000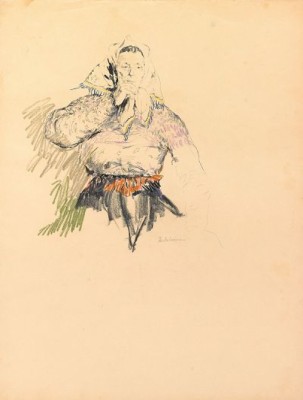 Pensive Peasant Woman
Price SEK 25,000 (€2,232)
Estimated SEK 8,000–12,000