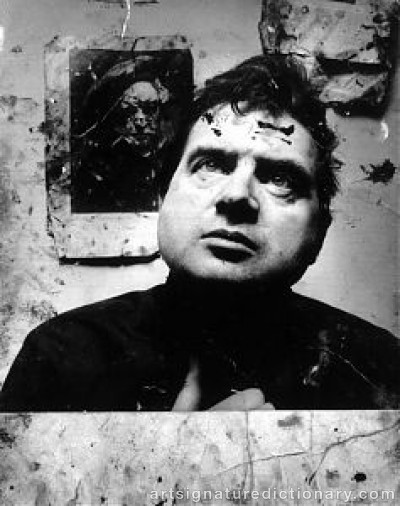 Francis BACON

1900–1992, Ireland/Spain
Birth
1900, 28/10, Ireland
Francis Bacon (1909-1992) was an Irish figurative painter, influenced in his earlier years by Picasso and surrealism, whose unique expressionist style of painting, which emerged during the 1950s, featured pictures of people screaming or in pain, often portrayed inside bathrooms or cages. His tortured, nightmarish imagery projected a world of violent and shocking humanity. His talent as a modern expressionist artist blossomed alongside a shambolic personal life, marked by extreme homosexuality, gambling and alcoholism. Even so, he was one of the most famous figures in Irish painting and a unique figure in the history of Irish art.

He was born in Dublin. His parents were English and moved several times between England and Ireland. A shy asthmatic child with an effeminate manner, Bacon had little formal schooling, or instruction in either drawing or painting, being taught instead by private tutors. In his late teens, his effeminacy led to the beginning of a lifetime of homosexual encounters with rich men, many of whom would contribute financially to his career as a painter.

Bacon's first artistic successes were as a designer of furniture, rugs and interiors, although he maintained his interest and activity in fine art, being particularly stimulated by Picasso's Neo-Classical drawings as well as his paintings like Les Baigneuses and Le Baiser. In 1933 he achieved his first real sale when his oil painting Crucifixion (1933) was bought by Sir Michael Sadler. In 1934 Bacon staged his first solo exhibition - "Paintings by Francis Bacon" - at the new Transition gallery, displaying seven oils and half a dozen gouache compositions. For a while he painted comparatively little after his solo show in 1934, and destroyed many of the canvases he did complete during the 1930's and early 1940's. Not until 1944 did be begin to paint intensively again.

The oil and pastel painting Three Studies for Figures at the Base of a Crucifixion (1944) heralds the beginning of his mature style and includes elements that he returned to many times, such as: the triptych format, the open mouth, and the distorted imagery. When first exhibited in 1945, the painting caused a sensation, and established Bacon among art critics as a major (if controversial) exponent of modern art. Bacon followed this with another masterpiece, Painting (1946).

In 1949, Bacon's series of six paintings (Head I to Head VI) were exhibited at what was, in effect, a one-man show at the Hanover Gallery. with Study from the Human Body (1949) and Study for Portrait (1949) formed the core of the show with four other paintings by Bacon. His first solo show outside Britain was held in 1953 at Durlacher Brothers, New York, and his first retrospective was held at the Institute of Contemporary Arts, London, 1955.



Another landmark painting was his Study after Velazquez's Portrait of Pope Innocent X (1953) which is a distorted version of the Portrait of Innocent X (1650, Doria Pamphilj Gallery, Rome) painted by Diego Velazquez. The painting is one of 45 variations of the Velazquez picture which Bacon executed throughout the 1950s and early 1960s. When quizzed as to his interest in the subject, Bacon said he merely wanted an excuse to use purple colours without being accused of being a Fauvist.

In 1962, the London Tate Gallery staged a Francis Bacon retrospective, which travelled to Germany, Italy, Switzerland and the Netherlands. Other significant exhibitions of his paintings were held at the Solomon R. Guggenheim Museum, New York (1963); the Grand Palais in Paris (1971); the Metropolitan Museum of Art, New York (1975); the Hirshhorn Museum and Sculpture Garden, Washington, D.C. (1989); the Museum of Modern Art, New York (1990); and the Musee National d'Art Moderne, Paris (1996).

Bacon died from a heart attack on April 28, 1992, in Madrid, Spain. After his death, the contents of his chaotic studio at 7 Reece Mews, South Kensington, were donated to the Hugh Lane gallery in Dublin.



Source: http://www.visual-arts-cork.com http://www.francis-bacon.com/biography/?c=1909-26