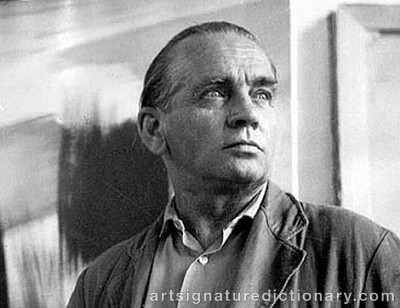 Fritz WINTER

1905–1976, Germany
Also known as: FW

Verdict of guilty
0201-K180458-08. (2008-0201-BG16339-1)
Oil on canvas, 39x49 cm. The painting was confiscated from a Scandinavian Internet auction house where it had been submitted for sale. Police received a tip that the painting is a forgery. Police seized the painting and contacted Fritz Winter Haus who replied that it was undoubtedly a fake signed painting. The person who submitted the painting to the sales figures already in police custody for similar crimes, along with the people in the circle around him - the former owner and seller are known in the past dubious art sales.
Olja på duk, 39x49 cm. Målningen togs i beslag från ett Scandinaviskt auktionshus för intetnethandel där den hade lämnats in för försäljning. Det inkom ett tips till Polisen om att det skulle vara frågan om en falsksignerad målning. Polisen tog målningen i beslag och kontaktade Fritz Winter Haus som svarade att det otvetydigt var frågan om en falsksignerad målning. Personen som lämnade in målningen till försäljning figurerar sedan tidigare hos polisen för liknande sammanhang, likaså de personer i kretsen runt honom – tidigare ägare och säljare är kända i tidigare tvivelaktiga konstaffärer. Och ärendet slutar på ett i dessa sammanhang klassiskt vis med att den som hade tavlan och möjligen skulle kunna förklara historien från början är avliden.






Birth
1905, 22/9, Germany
Fritz Winter was born as the first of eight children in Altenbögge near Unna on 22 September 1905. In 1919 he began an apprenticeship as an electrician and worked as a miner. At the beginning of the 1920s he made his first attempts in drawing and painting.
In 1927 he applied successfully to the Bauhaus in Dessau, where he studied for three years under Klee, Kandinsky and Schlemmer. In 1929 Winter participated in the exhibition "Junge Bauhausmaler". He got acquainted with Ernst Ludwig and Erna Kirchner, whom he visited repeatedly in Davos. After his studies Winter taught at the Pädagogische Akademie in Halle.
In 1933 he moved to Munich and in 1935 to Dießen on the Ammersee. The National Socialists declared his art "degenerate" and banned him from exhibiting his works.
Fritz Winter was drafted in 1939 and sent to the eastern front. He was captured by the Russians shortly before the end of the war and not released until 1949. During the war he drew the so-called "Feldskizzen" in small sketchbooks, which prepared his famous series "Triebkräfte der Erde".
Immediately after his return Fritz Winter was co-founder of the group "Zen 49" and soon joined the European avant-garde movement. Elaborating his works of the 1930s, which were made under the influence of the Bauhaus, Winter developed his own pictorial language, which set him apart from the Informel.
In 1955 Winter began teaching at the Landeskunstschule in Hamburg and two years later he was appointed professor at the Staatliche Hochschule für Bildende Künste in Kassel. In the same year, and again in 1959, he exhibited at the "documenta" I and II. Winter received numerous prizes, e.g. the Cornelius-prize of the city of Düsseldorf in 1956, the International Graphics prize Tokyo in 1957 as well as the prize of the International building exhibition Berlin and the prize of the world fair in Brussels in 1958.
In 1959 he fell ill as an after-effect of his war injuries. On the occasion of his 60th birthday, the artist was honoured with large retrospectives in several German cities. He received the "Großes Bundesverdienstkreuz" in 1969. He retired from his chair in Kassel in 1970 and returned to Diessen on the Ammersee. A Fritz-Winter-House was opened in Ahlen in 1975.
Fritz Winter died on 1 October 1976. Even before his death Winter was considered one of the most famous German post-war artists.
Source: http://www.fritz-winter.com/ http://www.fritz-winter-stiftung.de/1/fritz-winter/biography/#.VSOP2jusVps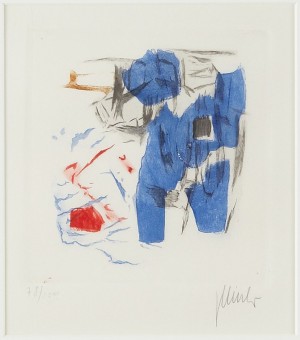 Farbaquatinta No. 6
(1967)
Price SEK 0 (€0) Not sold
Estimated SEK 5,000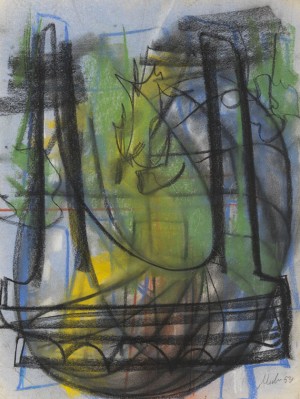 Abstrakte Komposition
(1959)
Price EUR 2,500 Incl. buyer's premium
Estimated EUR 2,500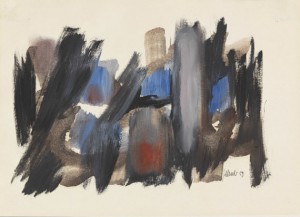 Price EUR 5,250 Incl. buyer's premium
Estimated EUR 2,500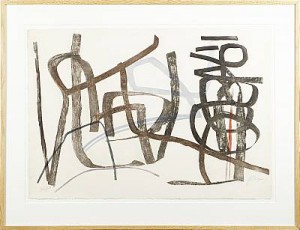 Price SEK 2,500 (€278)
Estimated SEK 3,000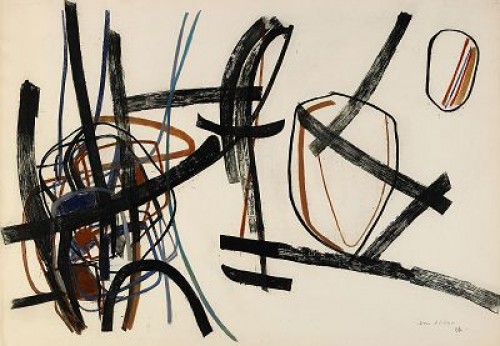 Price SEK 5,000 (€465)
Estimated SEK 5,000–6,000