Gösta BOHM
1890–1981, Sweden
Name
Gösta, Gustaf Adolf BOHM
Gösta Bohm studied at the Art Academy in Dresden. He worked early as romantic naivist. The motives of his art was often northern landscapes and harbor views with workers. During the 1940s, abstract symbolic biblical scenes. Since 1950 constructive style often abstract. 1960 and 1970 more abstract lacquer paintings. His real breakthrough was at an exhibition in 1952 in Hudiksvall. Much of his recent production came to include the space vision. He has also illustrated books.

Public art:
Sports hall and the church in Hudiksvall, tomb chapels Gudmundrå and Forsa, schools in Gnarp and Hudiksvall.

Represented:
National Museum in Stockholm, Moderna Museet in Stockholm Sweden, HMK collections, Hudiksvalls museum, Örebro, Karlstad, Borås, Umeå and Luleå\'s museums.

Source: Composed of a variety of sources from the internet.
Gösta Bohm studerade vid Konstakademien i Dresden. Han arbetade tidigt som romantisk naivist. Motiven i hans konst var ofta norrländska landskap och hamnvyer med arbetare. Under 1940-talet abstrakta symboliska bibliska scener. Efter 1950 konstruktiv stil ofta abstrakt. 1960 och 1970-talet större abstrakta lackmålningar. Hans egentliga genombrott blev vid en utställning 1952 i Hudiksvall. En stor del av hans sentida produktion kom att omfatta rymdvisioner. Han har även illustrerat böcker.

Offentlig utsmyckning:
Idrottshallen och kyrkan Hudiksvall, gravkapellen Gudmundrå och Forsa, skolor i Gnarp och Hudiksvall.

Representerad:
Nationalmuseum i Stockholm, Moderna Muséet, HMK samlingar, Hudiksvalls museum, Örebro, Karlstad, Borås, Umeå och Luleås muséer.

Källa: Sammansatt av olika källor från internet.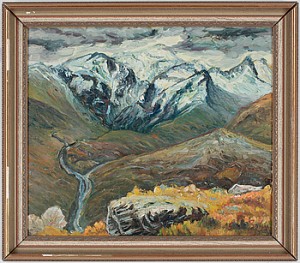 Price SEK 550 (€66)
Estimated SEK 2,000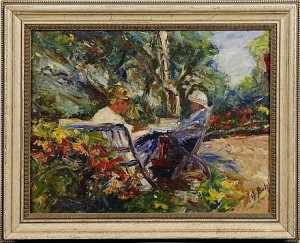 Par I Trädgården
Price SEK 1,300 (€942)
Estimated SEK 2,000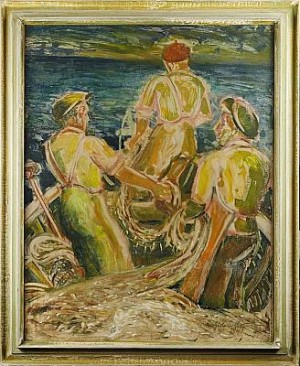 Price SEK 2,500 (€283)
Estimated SEK 1,500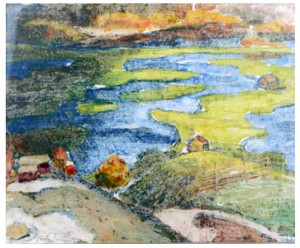 Price SEK 200 (€20)
Estimated SEK 800