Gösta SANDELS
1887–1919, Sweden/USA
Also known as: GS
Name:
Adrian, Gösta, Fabia SANDELS
Gösta Sandels studied in Caleb Althin painting school, at the Artists\' League school in Stockholm and in Paris in 1906 together with Birger Simonsson. He undertook trips to Spain, Madrid and Seville. Norway, Oslo. Denmark, Copenhagen. His production was suffering of all those trips. His keynote of the painting was a Nordic romantic expressionism. His paintings show a certain influence of Munch, Matisse and Van Gogh.
Represented: National Gallery in Oslo, the National Museum in Stockholm, Moderna Museet, Stockholm, museums in Borås, Gävle, Norrköping and Karlstad, Sweden, and the Göteborg Museum of Art, Malmö Museum.
Gösta Sandels studerade vid Caleb Althins målarskola, vid Konstnärsförbundets skola i Stockholm, och i Paris 1906 tillsammans med Birger Simonsson. Han företog resor till Spanien, Madrid och Sevilla. Norge, Oslo. Danmark, Köpenhamn. Hans produktion blev lidande av alla dessa resor. Hans grundton i måleriet var en nordiskt romantisk expressionism. Hans måleri visar en viss påverkan från Munch, Matisse och Van Gogh.
Representerad:
Nationalgalleriet i Oslo, Nationalmuseum i Stockholm, Moderna Muséet i Stockholm, muséerna i Borås, Gävle, Norrköping och Karlstad, samt i Göteborgs Konstmuseum, Malmö Museum.
Källa: Internet

---------------

Sandels, Gösta (1887-1919), svensk målare. Han var den ende av gruppen "De åtta" som inte besökte Matisse, som han fann ytlig. Sandels var den store romantikern som mer beundrade färgvirtuoserna Delacroix och van Gogh och det sugande linjespelets Munch. Han betraktade sig själv som reaktionär eftersom han med känsla ville tolka det han upplevde. Kännetecknande för hans måleri är bl.a. synteser av den bohuslänska kusten, fantasier med människor och hav, där färgskalan gått från vinrött över blått till grönt och gult, Under sina sista är, då han var bosatt i Stockholm närmade han sig dock den eleganta och dekorativa fauvismen.
Källa: Bukowskis

----------------

Gösta Sandels var ett barn av sin tid. När han inledde sin konstnärliga utbildning i början av 1900-talet föll valet naturligt på Konstnärsförbundets skola i Stockholm, en skola startad i opposition mot Konstakademiens mer traditionella utbildning. Efter avslutade studier var det självklart för Sandels att styra kosan till Paris för att insupa de avantgardistiska vindarna. Husgudarna framför andra kom för Sandels att bli El Greco, van Gogh och Munch.
Runt 1910 gjord Sandels flera resor till Paris där han bodde i olika omgångar. Han kom även, genom sin vänskap med norrmannen Per Krohg, att tillbringa mycket av sin tid mellan Oslo och Köpenhamn. Tidigt kom Sandels att spela en betydande roll bland de svenska modernisterna och deltog bland annat i den omtalade utställningen som "De unga" ordnade på Hallins konsthandel i Stockholm 1909, vilken räknas som en startpunkt för den svenska modernismen. Gösta Sandels gick, till skillnad från många av sina konstnärskollegor, dock inte i skola hos Matisse i Paris.
Sandels levde under långa perioder under mycket små omständigheter, men hade redan tidigt betydande mecenater i såväl Thorsten Laurin i Stockholm som Conrad Pineus i Göteborg. Dessa båda konstkännare såg tidigt Sandels ovanliga, konstnärliga begåvning. Han hade också ett stort stöd i sin syster Ingeborg som ständigt var beredd att hjälpa till såväl ekonomiskt som med kost och logi. Hösten 1910 upplät Ingeborg delar av det pensionat hon drev på Scheelegatan i Stockholm som utställningslokal för Sandels verk. Utställningen omnämndes i positiva ordalag av både August Brunius och Carl David Moselius, som var några av de få konstkritiker som tog till sig de nya, moderna konstriktningarna.
Så småningom bosatte sig Sandels på västkusten i Bohuslän och kom där att få stor betydelse för generationen efter sig, som brukar omnämnas som Göteborgskoloristerna. Sandels såg också sig själv som kolorist. I ett brev till sin blivande hustru Elaine Hallberg skrev han på hösten 1913 så här: "Detta och trädens rika färger från blodigt lackrött, orange och mörkt och blekt guld till det kallaste gröna, bergens mossa av varmt och kallt violett, grått, svart och röd ljung, detta är ju en stor glädje för mig som ser i färg."
Källa: www.auktionsverket.se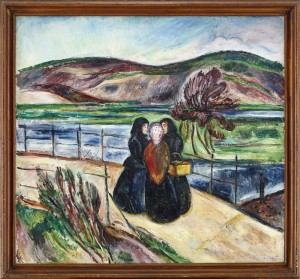 På Bron - Motiv Från Kungälv
(1916)
Price SEK 260,000 (€27,820)
Estimated SEK 300,000–400,000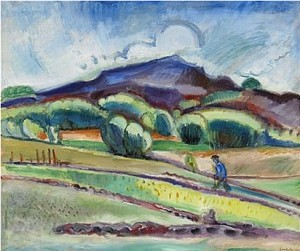 Landskap Från Bohuslän
(1917)
Price SEK 140,000 (€15,246)
Estimated SEK 80,000–100,000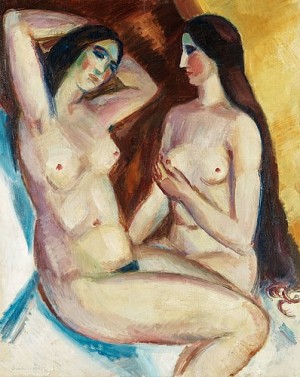 Price SEK 122,500 (€13,340)
Incl. buyer's premium
Estimated SEK 200,000–250,000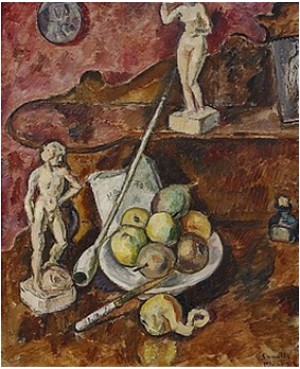 Nature Morte Med Statyetter
(-12)
Price SEK 42,000 (€4,641)
Estimated SEK 30,000–40,000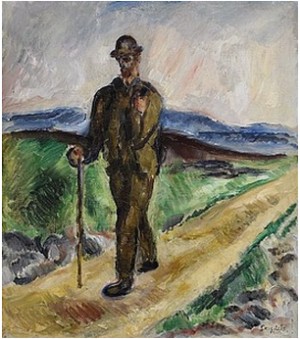 Landsväg Med Vandrare
(1915)
Price SEK 24,000 (€2,652)
Estimated SEK 25,000–30,000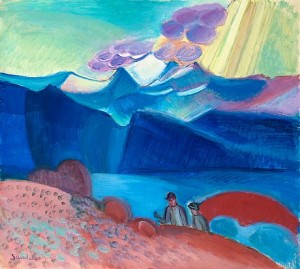 åreskutan
(Executed in 1918)
Price SEK 0 (€0)
Not sold, incl. buyer's premium
Estimated SEK 300,000–350,000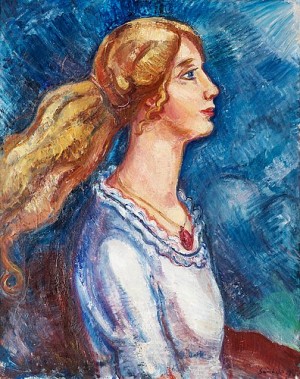 Flicka Med Flygande Hår
(1916)
Price SEK 350,000 (€37,345)
Estimated SEK 350,000–400,000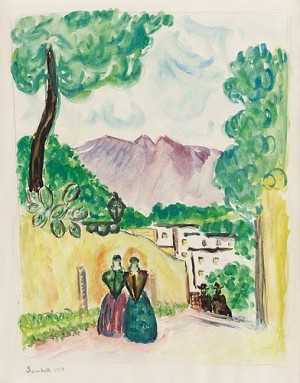 Motiv Från Palma Di Mallorca
(1919)
Price SEK 11,000 (€1,195)
Estimated SEK 10,000–12,000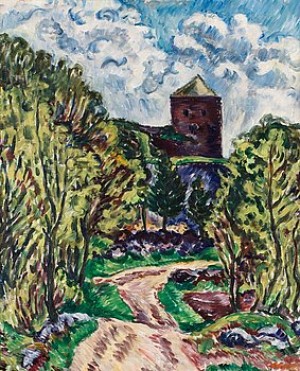 Landskap Med Bohus Fästning
Price SEK 35,000 (€3,640)
Estimated SEK 30,000–35,000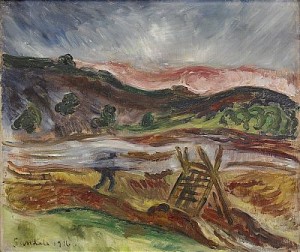 Price SEK 26,000 (€2,553)
Estimated SEK 30,000–40,000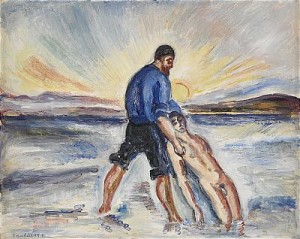 Price SEK 24,000 (€2,357)
Estimated SEK 30,000–35,000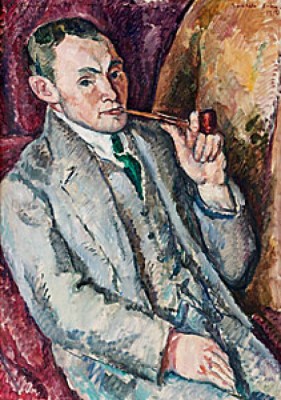 Porträtt Av Isländaren V. Thorsteinsson
(1912)
Price SEK 16,000 (€1,495)
Estimated SEK 18,000–20,000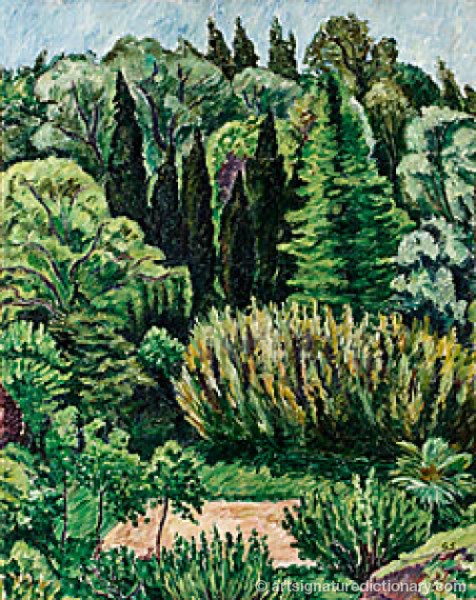 Parken I S:t Chamas, Provence
(1913)
Price SEK 65,000 (€6,566)
Estimated SEK 80,000–100,000