George VISAT
1910–2001, France
Visat George was born in Corsica, Foce Di Mela January 2, 1910. He spent his childhood in Monte Carlo.
After his certificate of Education at 14 he became an apprentice in the printing master Parisian printer Léon Isidore.
He learned intaglio is the art of engraving intaglio metal by various means.
At 17, he studied drawing and watercolor at the Academy Colarossi and Grande Chaumiere.
Visat George is a man of insatiable curiosity, he is interested in all artistic, literary.
At 18, he entered the Ecole Supérieure des Arts Décoratifs.
In 1932, he worked in a printing company specializing in color printing of engravings in etching.
1936, the Popular Front, he knows the unemployed, it will then work on the subway lines. Worker, he traveled to museums in Paris to learn, for \"forming an eye to painting\" as he later told his wife Suzanne.
In 1937, he bought the studio of his master and founded his intaglio printing, Rue Bourbon-le-Chateau in the 6th arrondissement of Paris.
After the Second World War, he returned from captivity, he began to paint in a style very personal, non-figurative and monochrome and goes to sleep his own artistic aspirations to focus on the empirical study of the etching.
George Visat is given the impression of a set of engravings Decaris, it will be a first decisive encounter for the printer.
He realizes for the Galerie Maeght interpretations of paintings by Georges Braque in printmaking, the latter enjoyed the interpretation and the choice of colors. The reproduction of works of this artist it will give free rein to his fantasy art, discovered in an empirical way, including freedom of expression and appropriate use of chance, lead to the embossing. Later, consciously or unconsciously, all modern writers inspire them. This new practice of printmaking was the accession of the painter as Léger, Miro, Chagall and Bazaine then, subsequently, Max Ernst and Matta, who found her with opportunities for performance in accordance with their art and their sensitivity. Visat George was summoned to the Louvre museum to reproduce a painting by Braque, \" Le Divan noir \".
In 1949, he met Max Ernst and Dorothéa Tanning. From this encounter, a long friendship and close cooperation.
In 1957, the Foreign Ministry uses the recorder to mark the arrival of Elisabeth II, for which he carves the menu of the Chateau de La Celle Saint-Cloud. The following year he was chosen to write Christmas cards to the Presidency of the Republic.
In 1961, with the support of Max Ernst, Georges Visat up his own publishing company in order to get out of art books in limited editions with signed prints by famous artists like Alanore, Alechinsky, Arikha, Bellmer, Brauner, Bryen, Camacho, César, Max Ernst, Folon, André François, Ljuba, Magritte, Masurowsky, Matta, Searle, Tanning, Wunderlich, Unica Zurn.
From 1962, it supports young artists such as The Cogollo and Boul'ch, publishes prints and works of art avant-garde, like \"Game Frame\" Joel Stein, or \"chatter idyllic\" poet Lettrist Roberto Altmann.
Isodore Isou leader of the movement Lettrist uses the drive.
His work is of such value that André Breton in person will congratulate him.
In 1969, his gallery of Bourbon Street-le-Château (Gallery Suzanne Visat), welcomes permanent works of established artists and beginners, while it opened a new shop at 13 rue du Dragon, still in St. Germain-des-Pres and the number of artists using their talents increases steadily as Arman, Arp, Geneviève Asse, Bacon, Baj, Ben, Bugnon, Chirico, Copley, Dado, Dali, Sonia Delaunay, Niki De St Phalle, Del Pezzo, Fassianos, Giacometti, Graverol, Hartung, Hastings, Hausmann, Hérold, Jacquet, Marcel Jean, Jorn, Kern, Klasen, Lam, Lichtenstein, Malaval, Masson, Mathieu, Matta, Messagier, Michaux, Moore, Nay, Nilsson, Man Ray, Penrose, Richter, Titus-Carmel, Velickovic, Vieira Da Silva, Wilhem.
Copper became the Grail also attracted literary figures André Breton, Tristan Tzara, Prévert, Aragon, Boris Vian, Pieyre de Mandiargues, Arrabal, Eluard, Queneau, Scutenaire, Bataille, Gui Rosey, Pierre Schëffer, Ghérasim Luca, Walberg, Joyce Mansour, Léna Leclerc.  
 
There is undeniable that some of them benefit greatly from this ongoing relationship with them to enrich their graphic work.
Parallel to this, he then resumed his own research, exploring the sometimes mysterious impulses of the unconscious and instinct, sometimes the energy forces of the conscious and the idea.
In 60-70 years, he produced many paintings based on black color idea that was perhaps unnecessary to express an obvious realism. But one day of discouragement, he burned all his paintings.
In the 70s he returned to the personal creation without particular discipline and devoted himself entirely to painting.
From 1972-1976, he mainly uses pastels, graphite, ink and crayons.
In 1977, he resumed painting in oils or he gives free rein to his impulses and his secret domestic metaphysical.
In 1978, he retired in the Béarn Arzacq and is completely devoted to painting.
Thomas West art critic in New York will publish in November 1991 in The Journal of Art:
\"In his paintings and watercolors, he travels to a pre-Newtonian universe, where momentum, speed and distance have been released of the four dimensions.
The space in these works, is intangible, misty colors, and only the presence of small explosions and Semi-opaque suggested a meeting between the painter and his cosmic origins.
In 1987 he was promoted to the rank of Officer of the Order of Arts and Letters for his contribution to French culture.
In 1988, he published \" Travel Extra-Terrestrial a Naive \" which he also wrote the lyrics. The print is made by his daughter Armelle, an original way of perpetuating the family tradition.
George Visat crossed the 20th century alongside the greatest artists for whom he surpassed in the performance of works assigned. From these collaborations have emerged from some friendships last a lifetime.
We can not complete his biography, not to mention one who was present at his side, who evince admiration and love, his wife Suzanne, who work to perpetuate his mémoire.Georges Visat left us February 2, 2001.
Source: http://www.georgesvisat.com/biographie2.html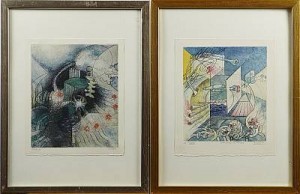 (2) Komposition
Price SEK 1,200 (€130)
Estimated SEK 1,500