Georges Anatolievich POGEDAIEFF

1897–1971, Russia/France
Also known as: Pozhedaev
Georgii Anatolievich Pogedaieff (Georges de Pogedaieff). Georgii Pogédaïeff was born in the Kurskaya Province. He took drawing courses under Yan Tsionglinsky before attending the Nikolaievsky Military School in St. Petersburg in 1914. He served and fought in the army but was discharged due to injury. He carried on with his art studies, first at the Moscow School of Painting, Sculpture and Architecture in 1915 and then at the Imperial Academy of Arts under Dimitri Kardovsky and Gugo Zaleman.
In 1917, Pogédaïeff gave up his studies and became a theatre designer - a career which would dominate his artistic life for many years and place him at the heart of the exciting and vibrant world of the European stage. He began at the Intimate Theatre, then moving to Moscow where he worked at the Korsh and Bolshoi Theatres. In the 1920s, he contributed to various theatre troupes in Berlin, Bucharest and Vienna, designing sets and costumes for Prince Igor, Cyrano de Bergerac, Electra, Macbeth, Turandot and others. In 1922, he worked as director at Boris Romanov\'s Russian Romantic Ballet in Berlin, where he also had a solo exhibition of his sketches for theatre designs and portraits.
From 1925, Pogédaïeff lived permanently in Paris. He worked for Nikolai Baliev\'s famous theatre \'The Bat\', the first Russian cabaret. In 1937, Pogédaïeff abandoned stage design and concentrated on landscapes, still lifes and portraits. He illustrated Russian classics by Gogol, Pushkin and Dostoevsky and also French works by Paul Claudel and others. In 1953, he was awarded the Legion of Honour. He exhibited at the Russian Art exhibition in London in 1935 and had various solo exhibitions throughout Europe, mainly in Paris.
Pogédaïeff excelled in many different genres, but it is in his theatre designs where his unusual imagination can be seen in its most powerful form. Striking figures and lively, bold colours most characterise Pogédaïeff\'s highly individual sketches.
Source: Stockholms Auktionsverk, Stockholm Sweden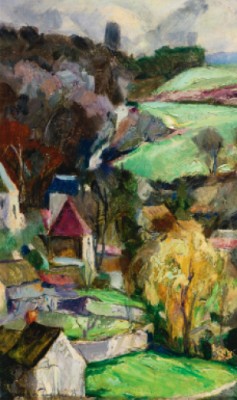 Price USD 13,750 (€10,612) Incl. buyer's premium
Estimated USD 7,000–10,000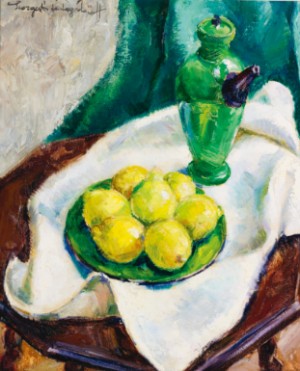 Pogedaieff_georges,anatolievich_(b.1897)
Price USD 8,125 (€6,271) Incl. buyer's premium
Estimated USD 8,000–12,000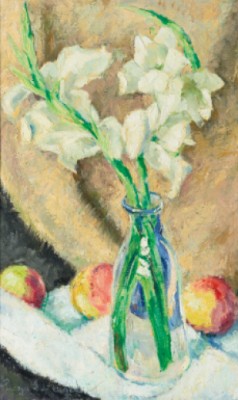 Vase De Fleurs
Price USD 12,500 (€9,648) Incl. buyer's premium
Estimated USD 7,000–9,000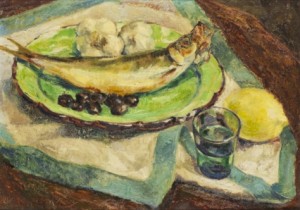 Nature Morte Au Poisson
Price EUR 4,600
Estimated EUR 3,000–4,000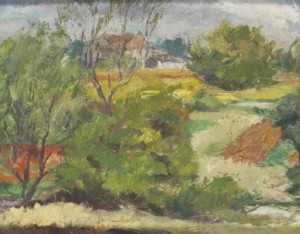 Ménerbes
Price EUR 1,200
Estimated EUR 1,200–1,500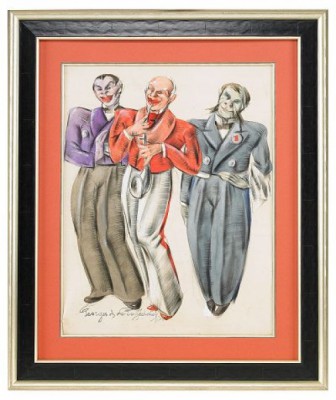 Costume Design
Price SEK 260,000 (€23,214)
Estimated SEK 100,000–120,000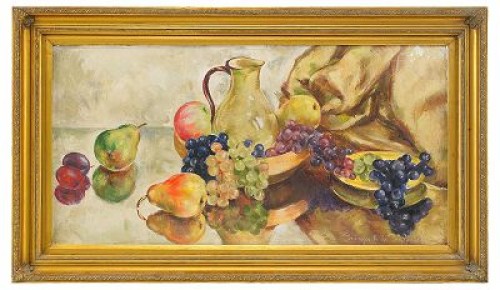 Still Life With Fruit
Price SEK 150,000 (€13,393)
Estimated SEK 80,000–100,000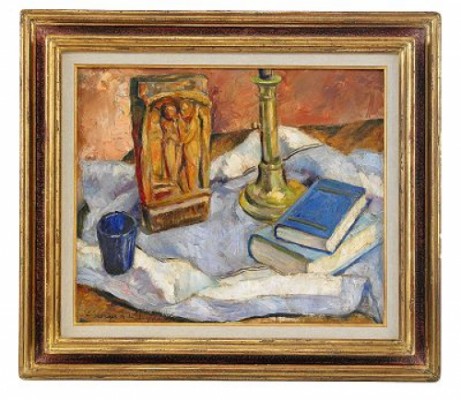 Still Life With Books
Price SEK 90,000 (€8,035)
Estimated SEK 80,000–100,000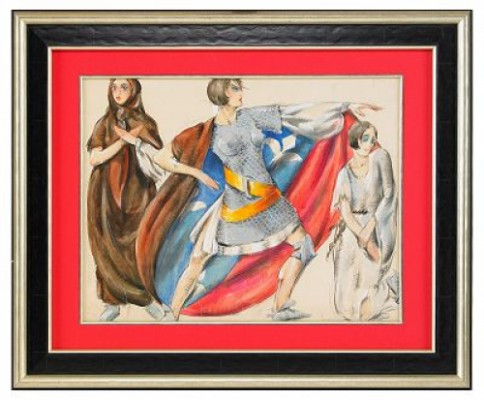 Costume Design
Price SEK 260,000 (€23,214)
Estimated SEK 100,000–120,000