Gerhard ALTENBOURG
1926–1989, Germany
Gerhard Altenbourg biography:

Gerhard Altenbourg was born as Gerhard Ströch in Rödichen-Schnepfenthal/Thuringia in 1926. In the middle of the 1950s he adopted the slightly altered name of the town Altenburg as a pseudonym. The versatile artist attended in his lifetime to painting and graphics as well as sculpture and poetry.
After participating in war he worked at first as a journalist and author in Altenburg. Already in the mid 1940\'s the first oil paintings and coloured pencil drawings were executed during painting lessons with Erich Dietz. Between 1948 and 1950 Altenbourg studied at the Hochshule für Baukunst und Bildende Künste in Weimar under Hans Hoffmann-Lederer. In 1952 Gerhard Altenbourg\'s first solo exhibition took place at the Galerie Springer in Berlin, to which he left most of his works between 1951 and 1962. At the end of the 1950s the first plastic works in marble, plaster and metal were executed as well as first woodcuts. In 1959 he participated in the documenta II. Several exhibitions, et al. in 1969/70 the first retrospective at the Galerie Brusberg in Berlin followed. Altenbourg received several awards for his work, e.g. the prize of \'II. Internationale der Zeichnung\' in Darmstadt in 1967 and the Will-Grohmann-prize one year later. In 1989 Altenbourg died from the consequences of a car accident. His works are represented in many collections at home and abroad, for example at the Museum of Modern Art in New York.
Source: www.kettererkunst.com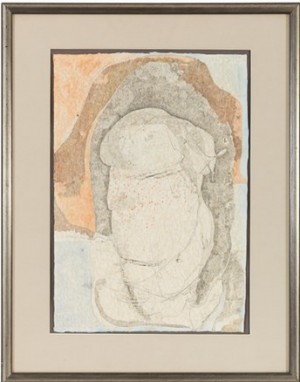 Vor Dachlosen Höhen
(1971)
Price EUR 7,000
Estimated EUR 6,000–12,000