Gottfrid KALLSTENIUS
1861–1943, Sweden

Verdict of guilty
0201-K264446-14
Oil painting on canvas, motifs with pine trees in the archipelago landscape, signed "G. Kallstenius -38", size 65x94 cm. The painting had come to an onlin auction house in Stockholm from an estate. The police took the painting seized when its signature does not match the Godfrey Kallstenius way of signing. In addition, the painting was of too poor quality to be painted by Kallstenius. After the police investigation it was found that the painting was a forgery.
Oljemålning på duk, motiv med tallar i skärgårdslandskap, signerad "G. Kallstenius -38", storlek 65x94 cm. Målningen hade kommit in till ett onlin auktionshus i Stockholm från ett dödsbo. Polisen tog målningen i beslag då dess signatur inte överenstämmer med Gottfrid Kallstenius sätt att signera. Därtill var måleriet av allt för dålig kvalitet för att vara målad av Kallstenius. Efter polisens utredning visade det sig att målningen var en förfalskning.














Name
Gottfrid, Samuel Nikolaus KALLSTENIUS
Godfrey Kallstenius studied at the Art Academy of Edward Perseus. He undertook trips to France and Italy. He was a teacher and became extraordinary professor of decorative arts at the Art Academy. He painted landscapes and nature, often red pines at the water. His earlier work shows a fine mood painting.
Represented: National Museum in Stockholm, Gothenburg Museum of Art, Malmö Museum, New Pinacoteca, Munich, and the museum in Buenos Aires.
Gottfrid Kallstenius studerade vid Konstakademien för Edvard Perséus. Han företog resor till Frankrike och Italien. Han var lärare och blev extra ordinarie professor i dekorativ konst vid Konstakademien. Han målade landskap och natur, ofta röda tallar vid vatten. Hans tidigare arbeten visar ett fint stämningsmåleri.

Offentlig utsmyckning:
Altartavla och pannåer i Västerviks nya kyrka, samt väggmålning i Rederiaktiebolaget Nordstjernans hus i Stockholm.
Han har skrivit värdefulla handböcker om måleriets teknik. Oljemåleriet, färgstoff och bindämnen, 1913 och Handbok i oljemålning, 1915.

Representerad:
Nationalmuseum i Stockholm, Göteborgs Konstmuseum, Malmö Museum, Nya Pinakoteket, München, samt på muséet i Buenos Aires.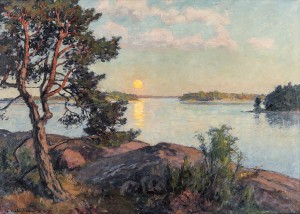 Vidsträckt Skärgårdslandskap Med Solnedgång
(-35)
Price SEK 26,000 (€2,831)
Estimated SEK 17,000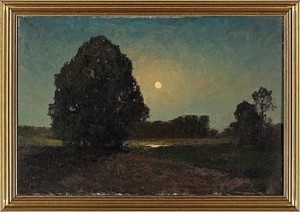 Månsken över Landskap. "junimåne"
(1901)
Price SEK 8,500 (€1,022)
Estimated SEK 5,000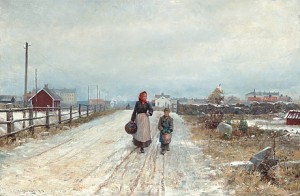 Vid Stadens Utkanter
(-85)
Price SEK 76,500 (€8,599)
Estimated SEK 80,000–100,000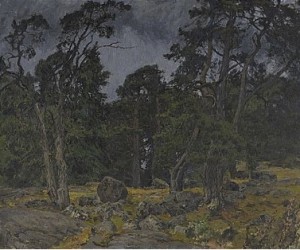 Solbelysta Tallar I Tjust Skärgård
(1910)
Price SEK 18,000 (€1,989)
Estimated SEK 25,000–30,000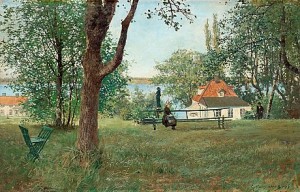 Price SEK 40,000 (€4,320)
Estimated SEK 40,000–50,000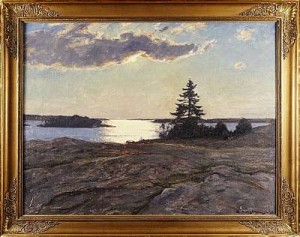 Price SEK 10,000 (€1,098)
Estimated SEK 10,000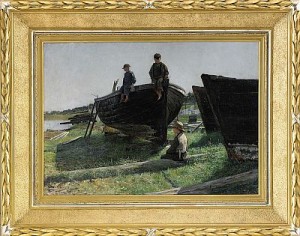 Vårdag Vid Slipen - Mor Med Söner Vid Fiskebåt
(1886)
Price SEK 117,000 (€13,104)
Estimated SEK 150,000–200,000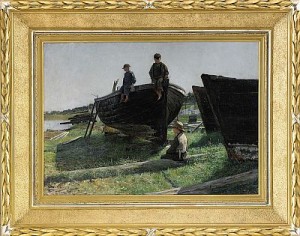 Vårdag Vid Slipen - Mor Med Söner Vid Fiskebåt
(1886)
Price SEK 117,000 (€13,063)
Estimated SEK 150,000–200,000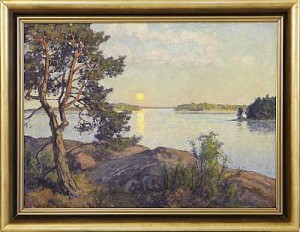 Skärgårdslandskap I Solnedgång
Price SEK 16,000 (€1,776)
Estimated SEK 10,000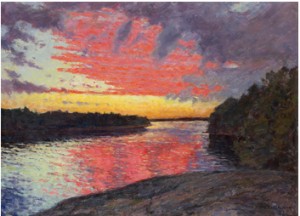 Solnedgång I Skärgården
(1928)
Price SEK 7,500 (€777)
Estimated SEK 8,000–10,000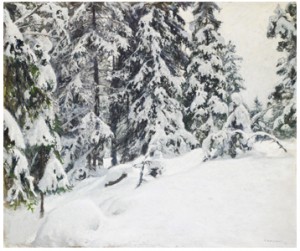 Price SEK 8,500 (€881)
Estimated SEK 6,000–8,000

Afton I Tjust Skärgård
Price SEK 19,000 (€1,978)
Estimated SEK 10,000–12,000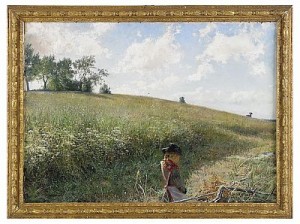 Flicka På Sommaräng
(1888)
Price SEK 420,000 (€43,718)
Estimated SEK 300,000–350,000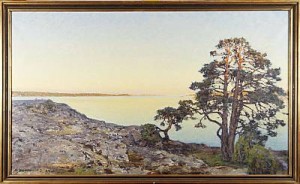 Skärgårdslandskap Med Solbelysta Tallar
(1933)
Price SEK 17,000 (€1,744)
Estimated SEK 15,000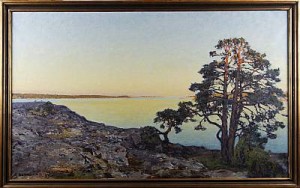 Skärgårdslandskap Med Solbelysta Tallar
(1933)
Price SEK 16,000 (€1,646)
Estimated SEK 15,000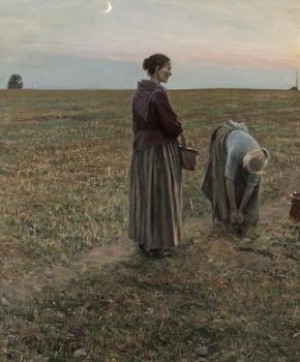 Price SEK 35,000 (€3,493)
Estimated SEK 35,000–40,000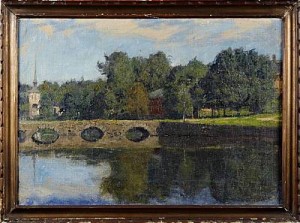 Ankdammen Rydboholm
Price SEK 3,200 (€313)
Estimated SEK 4,000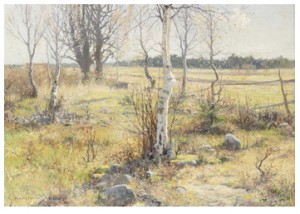 Vårlandskap Med Björkar
(1890)
Price SEK 16,000 (€1,530)
Estimated SEK 20,000–30,000
Solbelysta Tallar I Skärgårdslandskap
(1943)
Price SEK 35,000 (€3,348)
Estimated SEK 15,000–20,000
Skärgårdslandskap Med Solbelysta Tallar
Price SEK 24,000 (€2,296)
Estimated SEK 12,000–15,000
Price SEK 36,000 (€3,443)
Estimated SEK 8,000–10,000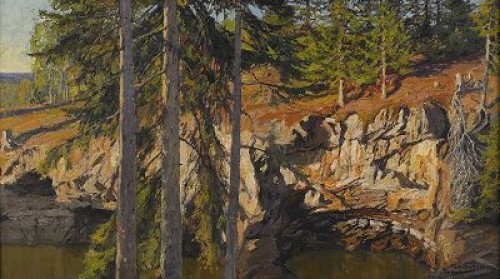 Nyberget - Sommarlandskap Med Granar
(1914)
Price SEK 7,500 (€707)
Estimated SEK 10,000–12,000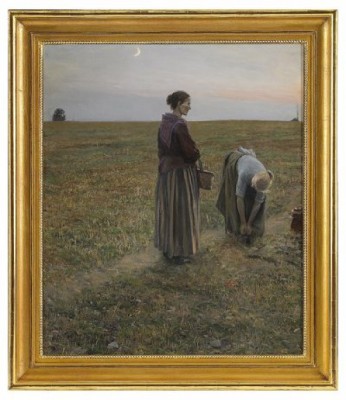 Vid Arbetsdagens Slut
(1890)
Price SEK 0 (€0)
Estimated SEK 60,000–80,000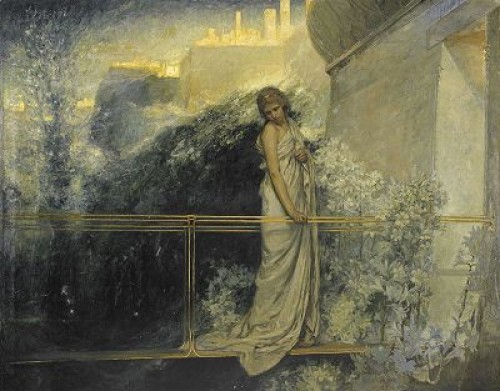 Price SEK 760,000 (€71,645)
Estimated SEK 250,000–300,000