Hans NORSBO

1897–1955, Sweden
Also known as: Johanson
Name
Hans, Fredrik NORSBO
His Norsbo studied at the Art Academy. He undertook study tours to France (Paris) and Italy. He stayed in Rome in Italy for a long time in a couple of occasions. Married to Asta Wiklund. In Sweden, he stayed in Stockholmom winters and summers in Norsbo. Eventually, he remained a resident of Norsbo outside Falun. In 1938 he changed his surname from Johanson to Norsbo. 1931 solo exhibition in Stockholm (Little exhibition). 1942 \"Five Falun Graphic Artist\" exhibition in Falun.
Source: Art Signature Dictionary
Hans Norsbo biografi:

Hans Norsbo studerade vid Glasells målarskola i Falun senare vid Konstakademien. Han företog studieresor till Frankrike (Paris) och Italien. Han vistades i Rom i Italien en längre tid vid ett par tillvällen. Gift med Asta Wiklund. I Sverige vistades han, vintertid, i Stockholm och om somrarna i Norsbo. Så småningom förblev han bofast i Norsbo utanför Falun. 1938 bytte han efternamn från Johanson till Norsbo.
1931, Separatutställning i Stockholm (Lilla utställningen).
1942, \"Fem Falugrafiker\"-utställning i Falun.
Source: Art Signature Dictionary
Price SEK 400 (€45)
Estimated SEK 2,000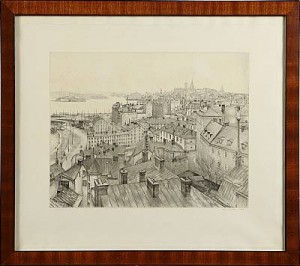 Takåsvy Mot Södermalm
(1950)
Price SEK 1,200 (€137)
Estimated SEK 1,000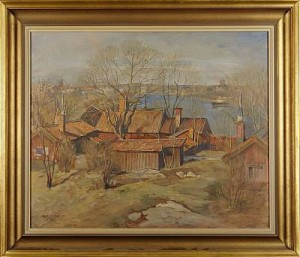 Price SEK 2,200 (€238)
Estimated SEK 2,500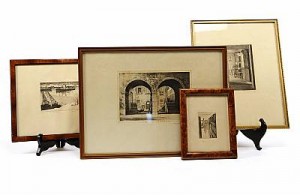 4 St, Varierande Motiv
Price SEK 2,500 (€271)
Estimated SEK 1,500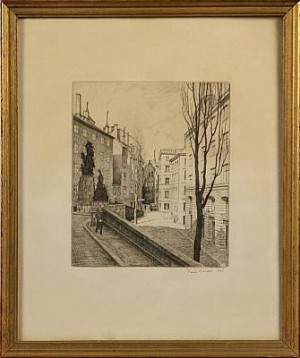 St Göran Och Draken I Gamla Stan
(1944)
Price SEK 1,100 (€113)
Estimated SEK 1,000