Hedvig Gustava 'Ava' LAGERCRANTZ
1862–1938, Sweden/France
Name
Hedvig, Gustava, 'Ava' LAGERCRANTZ
Hedwig Gustava ,Ava, Lagercrantz studying in Stockholm for Kerstin Cardon and later in Paris. She was a portraitist and painted, August Strindberg, in Dramatic Theatre, Stockholm. Was about 20 years living in New York, where she painted miniatures, landscapes and floral still lifes.
Hedvig Gustava \\\"Ava\\\" Lagercrantz studerade för Kerstin Cardon och därefter i Paris 1885-89 samt 1893 under vilka år hon undervisades av bl. a. Jules Lefebvre. Hon deltog i Parissalongen 1888, 1889 (med ett självporträtt, avbildat i utställningskatalogen) samt 1890 (med ett porträtt av fadern viceamiral Jacob Reinhold Lagercrantz). Under sin tid i Paris utförde hon även ett porträtt av August Strindberg (Kungliga Dramatiska Teatern, Stockholm) vilken hon lärt känna där.

1903 bosatte hon sig i New York där hon verkade som målarinna med porträtt i olja, pastell och miniatyr som specialitet. 1908 blev hon inbjuden att i Sverige måla ett miniatyrporträtt av Oscar II varefter hon återvände till New York och etablerade en egen studio i Carnegie Hall. Efter ett mellanspel i Stockholm vilket varade från 1923 till 1936 tillbringade hon återstoden av sitt liv i Paris.

Katalognumret föreställer Greta Torpadie Bratt, en svensk sångerska vilken föddes och verkade i USA och vars popularitet stundom jämfördes med Jenny Linds. Född, uppvuxen samt utbildad i New York under ledning av modern, sångerskan, Hervor Torpadie-Björksten samt fadern, tenoren, Theodor Björksten slog Greta igenom med sopranpartiet i Pierrot Luneaire vid verkets amerikanska premiär i New York 1923. Hon var därefter solist med ledande amerikanska orkestrar under bl. a. Ravel och Stravinskij.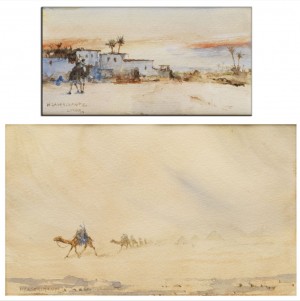 Zwei Orientalische Landschaftsaquarelle
Price EUR 0 Not sold
Estimated EUR 1,300–1,500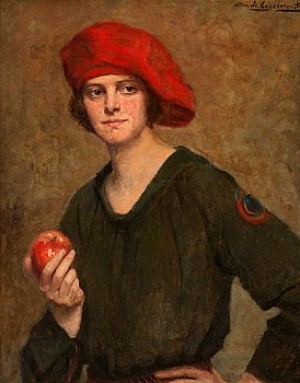 Sopranen Greta Torpadie Bratt
Price SEK 23,000 (€2,390)
Estimated SEK 15,000–20,000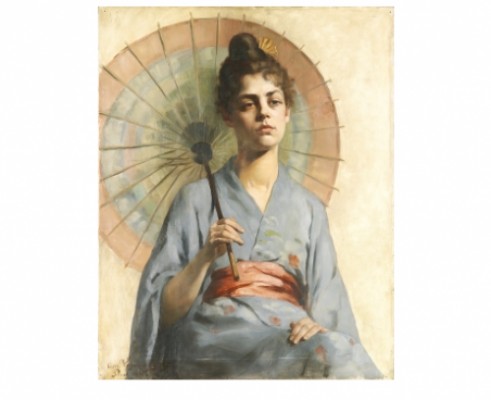 Kvinna I Kimono Och Parasoll - Möjligen Självporträtt
(1888)
Price SEK 38,000 (€3,583)
Estimated SEK 12,000–15,000