Helmtrud NYSTRÖM
1938, Germany/Sweden
Lived & Active In
Lund, Sweden
Helmtrud Nyström studied at Forum, the famous school of graphical art in Malmö, Sweden. Presently she lives in Lund in Southern Sweden. The works available by Helmtrud Nyström are mostly etchings, but she is also a talented painter.

Exhibitions:
Helmtrud Nyström has had a large number of both solo and group exhibitions both on the national and international arena.

Represented:
Nationalmuseum, Stockholm, 
Göteborgs Konstmuseum, 
Malmö Museer, 
National Gallery, Oslo; 
Ateneum, Helsingfors; 
Alvar Alto Museum, Jyväskylä; 
Nordic House, Reykjavik; 
British Museum, London; 
The Culture Museum, Osnabrück; 
The Art Museum, Lodz; 
Nationalmuseum, Prag; 
Kunsthall, Rostock; 
The Academy of Arts, Sarajevo; 
Konstmuseet Menton; 
The Arts Museum, Bhopal; 
The Modern Museum, Rio de Janeiro.
The Art Museum, Stralsund;
The Art Museum, Krakow;
The Cultural Museum, Grifswald;
University Collection, Alberta;
Helmtrud Nyström

Utbildning, aktiviteter:
1998 Gästlärare Icelandic School of Art, Reykjavik
1994-1995 Gästdocent Universitetet i Greifswald
1992 Artist in residence på School of Art, Canberra
1963-1971 Målar och grafikskolan Forum, Malmö

Separatutställningar i urval:
2007 Galerie Möller, Warnemünde
2007 Lomma Konsthall
2006 Galleri Leger
2006 Skövde Konstmuseum
2005 Galleri Astley, Uttersberg
2005 Konsthallen Härnösand
2004 Kungliga Konstakademin, Stockholm
2004 Tomarps Kungsgård, Kvidinge
2004 Galleri Thomassen
2004 Konsthallen Kristinehamn

Samlingsutställningar i urval:
2007 Samtida Grafik, Grafikens Hus, Mariefred
2007 Konstnärens Trädgård, Konsthallen Växjö
2007 Svensk Grafik, Chagallmuseet, Vitebsk
2007 Jin Tai Art Museum och Two Lines Gallery, Beijing
2006 A View From The North, Uppsala Konstmuseum
2006 Nordatlantens Brygge, Köpenhamn
2006 Liu Haisu Art Museum/Galleri Astley, Shanghai
2006 From Tradition To The Future, Moderna Museet, Minsk
2006 Fine Art Prints from Sweden, Guangzhou Museum of Fine Art, Kanton
2006 Stockholm Art Fair/Galleri Leger
2006 Galerie Möller, Warnemünde
2006 Bharat Bhavan International, Delhi
2006 Galleri Svenska Bilder, Stockholm.

Utmärkelser:
1993-2002 Flerårigt Stipendium, Bildkonstnärsfonden, Stockholm
2001 Lunds Stads Kulturpris
1991 Ester Almquist Stipendium, Lund
1992 Första Pris - Internationella Grafik Biennalen, Gdansk, Polen
1989 Första Pris - Internationella Grafik Biennalen, Bhopal, Indien
1988 Stora Priset - Internationella Grafikfestivalen, Menton, Frankrike
1986 Prize of The President - Cracow City. Krakow, Polen
1983 Prize of The Special Committee - Ljubljana, Jugoslavien
1983 Purchase Prize of the International Biennal Jury - Ljubljana, Jugoslavien
1981 Utställningspriset - Grafica Creativa, Jyväskylä, Finland
1978 Första Pris - Internationella Grafik Biennalen, Frechen, Tyskland

Representerad:
Nationalmuseum/Moderna Museet, Stockholm. Konstmuseet, Göteborg.
Malmö Museer. Länsmuseer i Sverige. Nasjonalgalleriet, Oslo. Museum Atheneum, Helsingfors. Alvar Alto Museet, Jyväskylä. Nordiska Huset, Reykjavik. British Museum, London. Kulturmuseet, Osnabrück. Konstmuseet, Lodz. Nationalmuseet, Prag. Nationalmuseet, Warszawa. Konstakademien, Sarajevo. Konsthallen, Rostock. Konstmuseet, Menton. Konstmuseet, Bhopal. Kulturmuseet, Stralsund. Artothek, Oldenburg. Konstgalleriet, Pristina. Moderna Konstmuseet, Rio de Janeiro. Kulturmuseet, Greifswald. Alberta University Collection. Rasjö Collection, Sverige. Svenska ambassaderna i Canberra och Tokyo.
Source: http://www.gallerithomassen.se/artist_hn_bio.shtml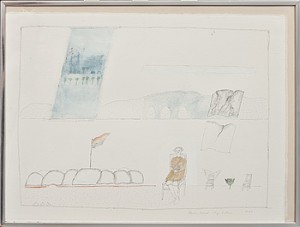 Sittande Person På Stol I Surrealistisk Komposition
(1977)
Price SEK 300 (€35)
Estimated SEK 2,000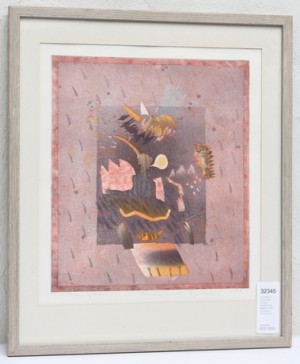 Price SEK 500 (€58)
Estimated SEK 800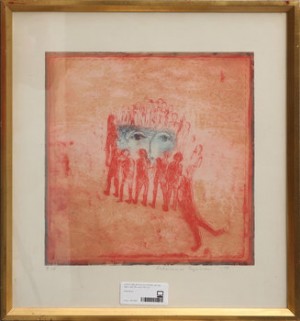 Price SEK 450 (€51)
Estimated SEK 700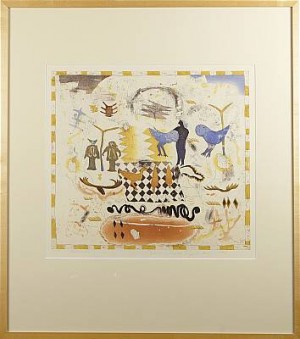 Price SEK 0 (€0) Not sold
Estimated SEK 1,000