Henri ROUSSEAU
1844–1910, France
Also known as: Le Douanier Rousseau
Name
Henri, Julien Félix ROUSSEAU
Henri Julien Rousseau was born in Laval in the Loire Valley into the family of a plumber. He attended Laval High School as a day student and then as a boarder, after his father became a debtor and his parents had to leave the town upon the seizure of their house. He was mediocre in some subjects at the high school but won prizes for drawing and music. He worked for a lawyer and studied law, but "attempted a small perjury and sought refuge in the army," serving for four years, starting in 1863. With his father's death, Rousseau moved to Paris in 1868 to support his widowed mother as a government employee. With his new job in hand, in 1869 he started a relationship with a cabinetmaker's daughter, Clemence Boitard, who became his first wife and he wrote a waltz bearing her name. They went on to have nine children but tuberculosis was rife at the time and seven died at an early age. In 1871, he was promoted to the toll collector's office in Paris as a tax collector. He started painting seriously in his early forties, and by age 49 he retired from his job to work on his art. His wife died in 1888 and he later remarried.

Rousseau claimed he had "no teacher other than nature", although he admitted he had received "some advice" from two established Academic painters, Felix Auguste-Clement and Jean-Leon Gerome. Essentially he was self-taught and is considered to be a naive or primitive painter.
Source: http://www.henrirousseau.org/biography.html
Henri Rousseau var en fransk målare. Han kategoriseras ibland som särlingskonstnär eftersom han var självlärd och inte deltog i det etablerade konstlivet. Trots att Rosseau aldrig reste utomlands, så är hans favoritmotiv djungeln. Han använder sig av ett stort antal gröna nyanser, mer än 50, för att avbilda denna djungel.
Rosseau är en av de mest välkända naiva målarna. Han blev dock erkänd först efter sin livstid. Bland annat fick han mycket uppmärksamhet av de franska surrealisterna vilket förmodligen ledde till att konstvärlden i stort fick upp ögonen för hans konst. Han kallas ofta för Le Douanier (tulltjänstemannen), eftersom han försörjde sig som sådan.
Rosseau hade inte någon konstnärlig utbildning, och började inte måla förrän han var i 40-årsåldern. Han använde sig av relativt billiga färgpigment, troligen på grund av fattigdom. Rosseau använde sig av en målningsteknik där lager lades på lager. Först målade han himlen, och byggde sedan på med ytterligare lager, för att vanligen avsluta med en människa eller ett djur i förgrunden.

Rosseau var son till järnvaruhandlare Julien Rousseau och dennes hustru Eleonore och föddes i staden Laval i norra Frankrike. 1869 gifte han sig med den då 18-åriga Clémence Boitard, (död 1888) tillsammans fick de nio barn. Endast dottern Julia överlevde fadern. Efter hustruns död förtidspensionerade Rosseau sig, och ägnade sig i allt större utsträckning åt konsten.
Source: From Wikipedia, the free encyclopedia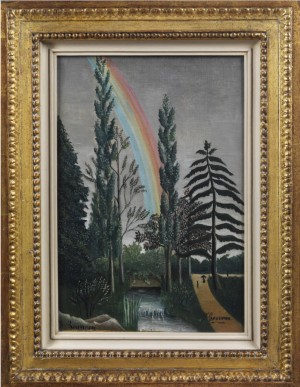 Lac Daumesnil (effet D'orage)/ Der See Von Daumesnil (gewitterstimmung)
(Executed ca. 1898)
Price EUR 240,000
Estimated –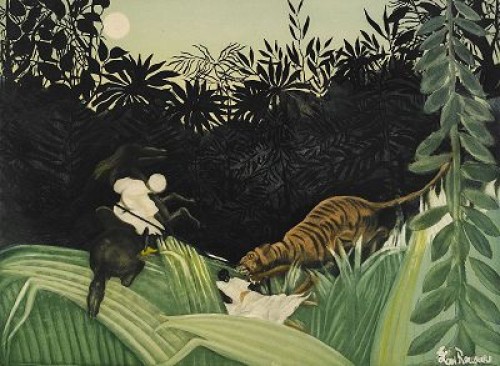 La Chasse Au Tigre
(1924)
Price SEK 4,000 (€372)
Estimated SEK 12,000–15,000