Hjalmar 'Hjmlm' MUNSTERHJELM

1840–1905, Finland
Also known as: HJM, HJMLM

Verdict of guilty
0201-K136031-10
Oil on canvas, 81x117 cm, signed Hj Munsterhjelm. The painting was for sale at a major auction house in Helsinki, Finland, spring 1997. It was cataloged as a work of Hjalmar Munsterhjelm, estimated 30,000 EUR. After consultation with Ateneum, National Public Art in Helsinki, was the painting withdrawn from auction and returned to the owner without action. December 2008, the painting is submitted to a major auction house in central Sweden and cataloged as a work of Hjalmar Munsterhjelm, title "Sailing in the evening redness". Estimated price 150,000 to 175,000 SEK, but the painting was withdrawn before the auction and returned to the owner without action. 2010, the painting is submitted for sale. This time to a smaller auction house in Stockholm Sweden. The painting is cataloged as unknown artists in their online auction, estimated 10,000 SEK. The painting was sold but the buyer made a complaint two weeks later and got back the purchase price. At the police investigation revealed that the painting is a copy of Hjalmar Munsterhjems original painting "Sunset in the archipelago" from 1886. District Court's decision: The forged signature on the painting must be removed and the back must bear the inscription: "Not painted by HJ Munsterhjelm" then will the painting be returned to the owner. Warning. There is a risk that the painting once again imposed a forged signature and is for sale as genuine works. Especially in a foreign market.
Oljemålning på duk, 81x117 cm, signerad Hj Munsterhjelm. Målningen var till salu hos ett stort auktionshus i Helsingfors, Finland, våren 1997. Den var katalogiserad som som ett verk av Hjalmar Munsterhjelm, utropet var satt till 30.000 EUR. Efter samråd med Ateneum, Statens konstråd i Helsingfors, drogs målningen tillbaka från auktionen och återlämnas till inlämnaren utan åtgärd. December 2008 lämnas målningen in till ett stort auktionshus i mellansverige och katalogiseras som ett verk av Hjalmar Munsterhjelm, titel Hemseglats i aftonrodnad. Utrop 150.000-175.000 SEK men målningen drogs tillbaka före auktionen och lämnas tillbaka till inlämnaren utan åtgärd. 2010 lämnas målningen åter in för försäljning. Den här gången till ett mindre auktionshus i Stockholm som katalogiserar målningen som okänd konstnär på sin nätauktion, utrop 10.000 SEK. Målningen säljs men reklameras två veckor senare och köparen återfick summan. Vid polisens utredning framkom att målningen är en kopia av Hjalmar Munsterhjems originalmålning "Solnedgång i skärgården" från 1886 och försedd med förfalskad signatur, ej utförd av Hjalmar Munsterhjelm. Domstolens beslut: Signaturen på målningen ska utplånas och på baksidan förses med texten: "Ej målad av HJ Munsterhjelm" därefter ska ägaren återfå målningen. Varning. Det finns risk att målningen återigen påförs en förfalskad signatur och blir till salu som ett äkta verk. Särskilt på någon utländsk marknad.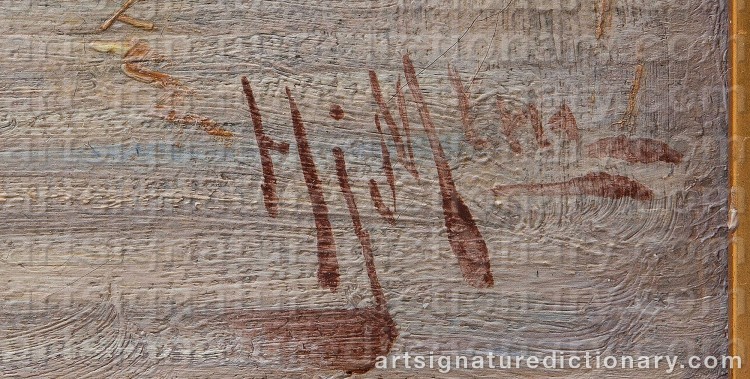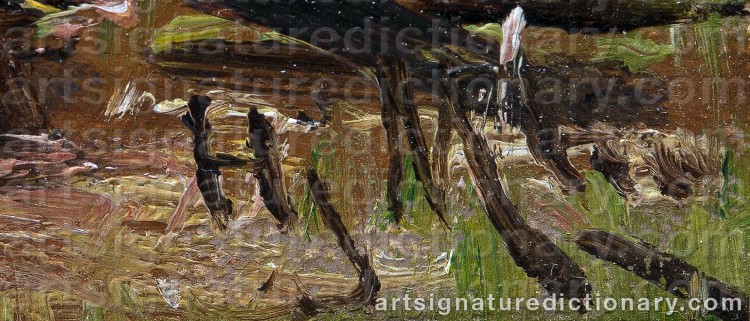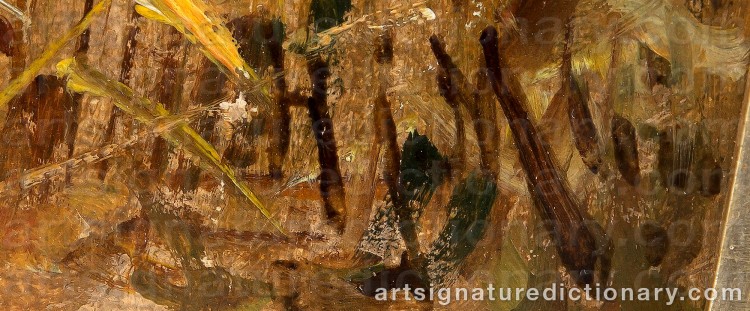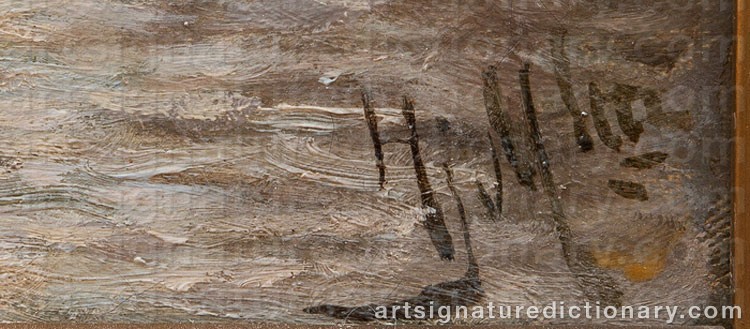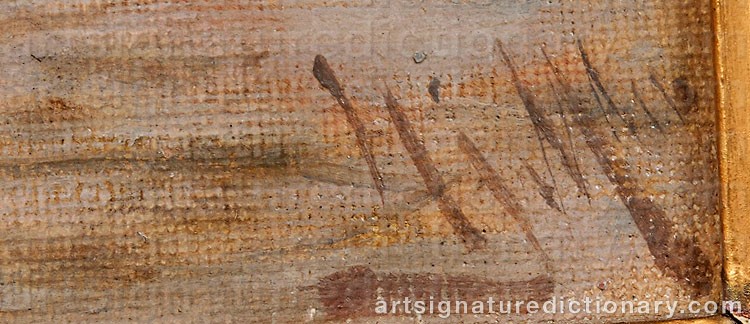 Name
Hjalmar 'Hjmlm' MUNSTERHJELM
Birth
1840, 19/10, Finland
Hjalmar Munsterhjelm studied at the Art Academy in Dusseldorf between 1860 and 1865, first as a student of Hans Frederick Gude and then under Oswald Achenbach. From 1865 to 1870 he worked for Gude in Karlsruhe. During this period he was influenced by Gude realism and romanticism of the Nordic Council and of the older generation of artists in Dusseldorf. His father owned a farm in central Finland, whose geographical position was a source of inspiration for many of his landscape paintings.
Source: Art Signature Dictionary
Hjalmar Munsterhjelm studerade på Konstakademien i Düsseldorf mellan 1860 och 1865, först som elev till Hans Fredrik Gude och sedan under Oswald Achenbach. Från 1865 till 1870 arbetade han under Gude i Karlsruhe. Under denna period var han påverkad av Gudes realism samt av den Nordiska romantiken och av den äldre generationen konstnärer i Düsseldorf. Hans far ägde en gård i mellersta finland vars geografiska läge var en inspirationskälla för många av hans landskapsmålningar.
Source: Art Signature Dictionary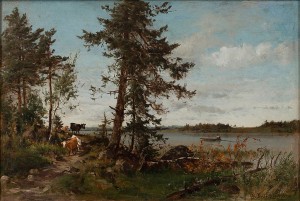 Summer Landscape With Cows
Price EUR 13,000
Estimated EUR 15,000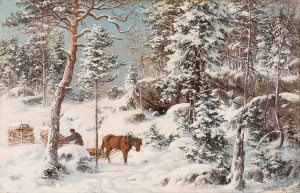 Skogstrakt I Hauho, Tavastland
Price EUR 38,000
Estimated EUR 40,000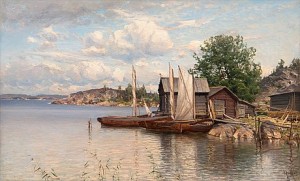 The Archipelago
Price EUR 23,852
Estimated EUR 15,000–20,000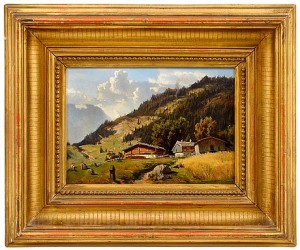 Price EUR 6,596 Incl. buyer's premium
Estimated EUR 2,500–3,000

Checking The Nets
Price EUR 3,900
Estimated EUR 2,000–3,000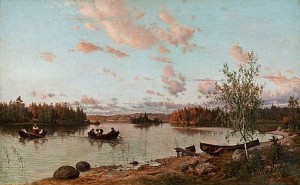 Riverbank At Sunset
(1872)
Price EUR 47,000
Estimated EUR 30,000–40,000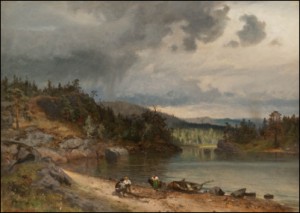 Kalastajia Rannalla
Price EUR 9,000
Estimated EUR 10,000–15,000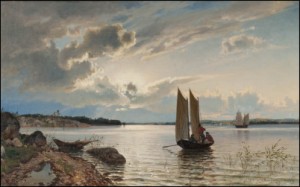 Iltatunnelmaa, Kalastajia
(-69)
Price EUR 13,000
Estimated EUR 15,000–20,000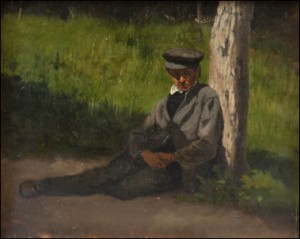 Lepohetki
Price EUR 2,300
Estimated EUR 2,500–3,000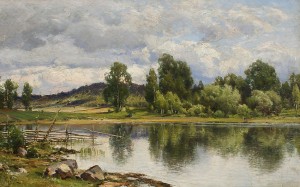 Lake View
Price EUR 9,500
Estimated EUR 10,000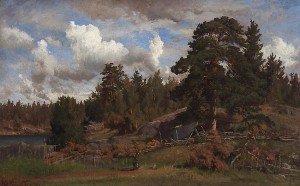 Price EUR 4,500
Estimated EUR 5,000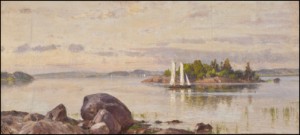 Inre Skärgård
Price EUR 4,800
Estimated EUR 6,000–8,000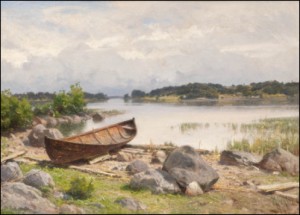 Båt På Stranden
Price EUR 12,000
Estimated EUR 12,000–15,000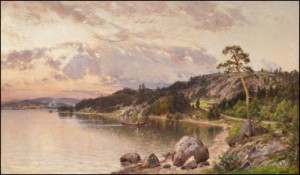 Roddtur I Aftonljus
Price EUR 12,000
Estimated EUR 15,000–20,000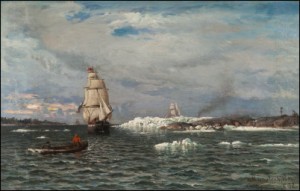 Price EUR 12,000
Estimated EUR 8,000–12,000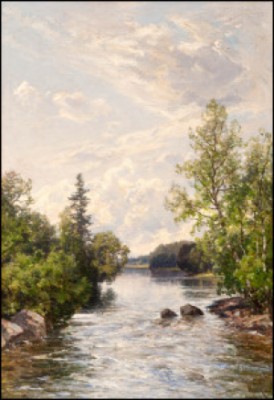 Strömmande Vatten
Price EUR 11,000
Estimated EUR 10,000–12,000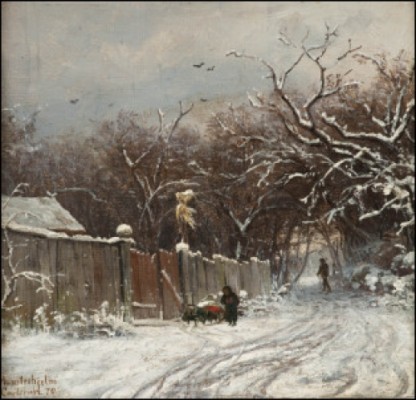 Vinterdag I Karlsruhe
(1870)
Price EUR 14,000
Estimated EUR 10,000–12,000
Kustseglats
Price EUR 10,000
Estimated EUR 10,000–12,000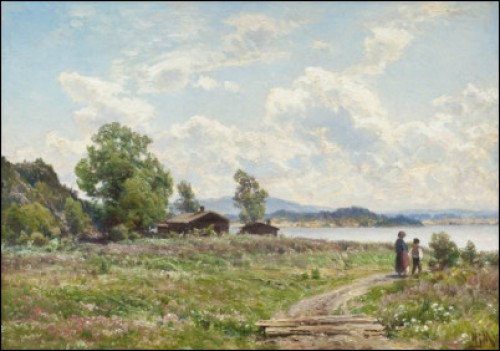 Solig Sommarförmiddag Motiv Från Tavastland
Price EUR 23,000
Estimated EUR 20,000–25,000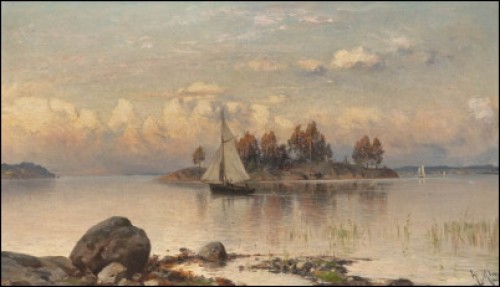 Segling I Barösund
Price EUR 12,500
Estimated EUR 8,000–10,000