Honoré DAUMIER

1808–1879, France
Also known as: HD

Verdict of guilty
DB 199, 1035-72 D. (int.nr.PHM3745:19)
Oil on panel, interior with two men signed "HD", 27x42. Ostensibly depicting a genuine painting by the French artist Honoré Daumier (1808-1879). The painting is part of a major fraud seizures of counterfeit art in Sweden known as "The Society of Art Friends": Three men, aged 30, 37, and 40 years old, were caught in Stockholm, Sweden after a reconnaissance tip from police in Ängelholm, Sweden. Shortly afterwards, another two men were caught. In total, 48 house searches were made through out the nation from which 83 forged paintings were confiscated. Forged art had already been sold for millions of Swedish crowns. Victims of the gang were well known businessmen with considerable incomes. League had good help from educated art experts who have written certificate of authenticity to many of the fake paintings, often at very small remuneration. On a door to a flat in Stockholm the men had displayed a sign with the text "The Society of Art Friends".
Olja på pannå, interiör med två män, signerad "HD", 27x42. Skenbart föreställande en äkta målning utförd av den franske konstnären Honoré Daumier (1808-1879). Målningen ingår i ett stort bedrägeribeslag av förfalskad konst i Sverige kallat "Sällskapet Konstvännerna": Historien om "Sällskapet Konstvännerna": Tre män, 30, 37 och 40 år gamla greps i Stockholm efter ett spaningstips från polisen i Ängelholm, kort därefter greps ytterligare två män. Totalt gjordes 48 husrannsakningar runt om i landet varvid 83 falska målningar togs i beslag. Falsk konst hade redan sålts för miljontals kronor och ligans offer var kända affärsmän med betydande inkomster. Ligan hade god hjälp av bildade konstexperter som för små pengar skrivit ut äkthetsintyg till många av de falska målningarna. Männen hade på en lägenhetsdörr i Stockholm satt upp en skylt med texten "Sällskapet Konstvännerna".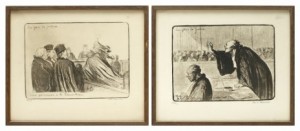 "une Péroraison á La Démasthéme" Och "le Bon Argument" Ur "les Gens De Justice"
Price SEK 1,200 (€126)
Estimated SEK 1,500–20,000