Hugo BACKMANSSON

1860–1953, Finland

Verdict of guilty
T/199502/046_7090/R/52/91
At the turn of the 1980s and 1990s, a complex art forgery case was exposed in Ostroborhnia, involving dozens of Finnish Artists works being churned out and sold. This was the first time when aart forgeries were produced in such a large quantity.
Teos on peräisin väärennystapauksesta, joka liittyy v. 1989 paljastuneeseen Pohjanmaalla tapahtuneeseen taideväärennykseen, jossa väärennettiin kymmeniä Nikolai Lehdon ja Onni Ojan teoksia sekä joitakin Veikko Vionojan maalauksia. Pari vuotta ennen oikeudessa käsitellyn väärennöstehtailun jälkeen Pohjanmaalta löytyi uusia väärennöksiä, kun erään liikemiehen omakotitalosta löydettiin kotietsinnässä lukuisia epäilyttäviä tauluja. Aiemmassa jutussa tuomittua taidemaalaria epäiltiin jälleen, mutta hänen osuutensa jäi todistamatta, vaikka tässä jälkimmäisessäkin Pohjanmaan-tapauksessa oli väärennetty mm. Lehtoa ja Ojaa. Monihaaraiseksi polveutunut tutkinta jaettiin useisiin sivupöytäkirjoihin, ja kaiken kaikkiaan jutun tiimoilta kuulusteltiin n. 200 henkilöä. Pääepäilty oli taidekauppias, joka oli erikoistunut Lehdon tuotantoon ja myynyt paljon itseltään ostamiaan aitoja teoksia. Iäkkään taiteilija professori Lehdon jouduttua sairauden takia vanhainkotiin taidekauppias osti teoksia vielä jonkin aikaa, ennen kuin hänen vierailunsa estettiin uhkaavaksi käyneen käyttäytymisensä takia. Taidekauppias kertoi sittemmin vain parannelleensa Lehdolta saamiaan heikkoja töitä, mutta olikin ilmeisesti itse tehtailut teoksia. Väärennöksiä myymässä oli muutaman miehen joukko, ja heistä ainakin osa tiesi, että teokset oli valmistanut kyseinen taidekauppias. Teoksia kehystytettiin pääepäillyn kaverin kehystämöllä ja taulujen taakse laitettiin merkitä "aitoudesta". Tauluja myytiin hyvään hintaan, eikä niistä saatuja tuloja ilmoitettu verotettaviksi. Taiteilijat itse tunnistivat miesten kauppaamat teokset epäaidoiksi. Päätekijän tuomio oli 1v. 4kk ja myyjänä toimineen miehen 1v. 1kk. Kehystäjä tuomittiin 7kk:n ehdolliseen vankeuteen, mutta hän auttoi paljon tutkimuksissa riitaannuttuaan toverinsa kanssa. Muut väärennykseen sekaantuneet epäillyt saivat ehdollista vankeutta tai sakkoja. Juttu eteni valitusteitse hovioikeuteen, mutta päätekijöiden tuomiot säilyivät. Korkein oikeus kumosi yhden väärennösten myynnistä epäillyn miehen sakkorangaistuksen. Tutkinnassa päästiin myös uuden tekijänoikeusrikoksen jäljille, kun keskipohjalaisesta teollisuushallista löytyi yli 6 000 laitonta grafiikanvedosta Suomen Punaisen Ristin joulukorttisarjassa ilmestyneestä Juhani Palmun teoksesta. Vedoksia oli ehditty painaa lähes 16 000 kappaletta, joista poliisi jäljitti n. 10 000 ympäri Suomea. Laittomat kopiot tuhottiin, ja vain yksi talletettiin Rikosmuseon kokoelmiin.
Vid decennieskiftet 1980-1990 avslöjades en omfattande förfalskingshärva i Österbotten. I härvan fabricerades och såldes tiotals förfalskningar av finländska konstnärers verk.

Verdict of guilty
6070/R/118308/03/TVP/1
watercolor on paper signed "H Backmansson" dated 1927. Ostensibly depicting a genuine painting by Hugo Backmansson. The painting has been seized by police and after examination been assessed as a forgery.
Akvarell på papper signerad "H Backmansson" daterad 1927. Skenbart föreställande en äkta målning utförd av Hugo Backmansson. Målningen har tagits i beslag av polis och efter utredning bedömts som en förfalskning.














Name
Hugo, Elias BACKMANSSON
Hugo Backman son studied at Turku drawing school and at the Academy in St. Petersburg. He was an officer but ended his military career in 1899 and devoted his time to art. He painted mainly portraits, landscapes, genre paintings and motifs related to military life and paintings of North Africa.
Hugo Backmansson studerade vid Åbo Ritskola och vid Konstakademin i Sankt Petersburg. Han var övertelöjtnant men tog avsked som militär 1899 och ägnade sig därefter åt konsten. Han målade främst porträtt, landskap, genremålningar och motiv med anknytning till militärlivet samt motiv från nordafrika.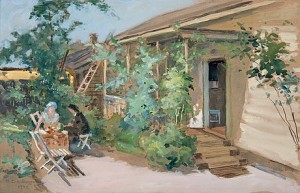 A Coffee Break In The Garden
(1942)
Price EUR 1,023 Incl. buyer's premium
Estimated EUR 800–1,200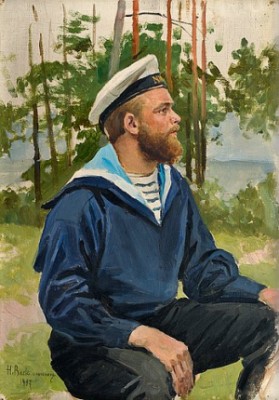 Price EUR 2,935 Incl. buyer's premium
Estimated EUR 1,000–1,200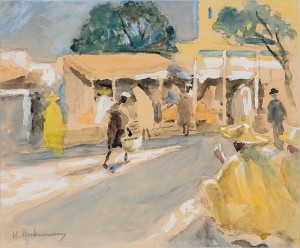 From Tanger
Price EUR 1,050
Estimated EUR 1,500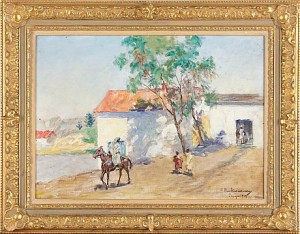 Sydländskt Landskap Med Byggnader Och Ryttare
(1939)
Price SEK 3,400 (€376)
Estimated SEK 5,000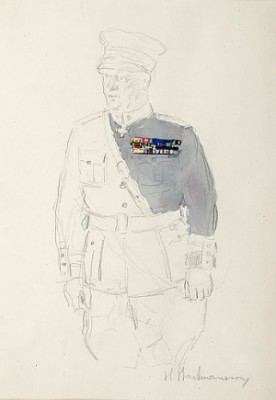 Portrait Of Hjalmar Siilasvuo
Price EUR 160
Estimated EUR 300–400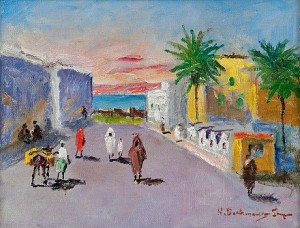 Motif From Tanger
Price EUR 700
Estimated EUR 600–800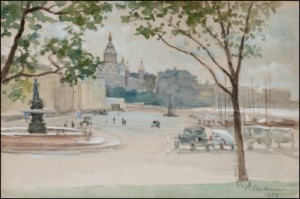 Aihe Helsingin Kauppatorilta
(1934)
Price EUR 2,200
Estimated EUR 2,000–2,300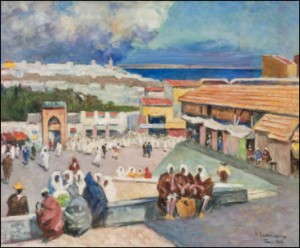 Torinäkymä Tangerista
(1909)
Price EUR 1,000
Estimated EUR 1,000–1,500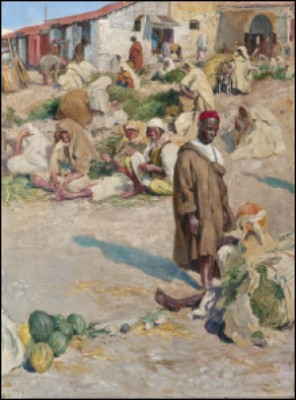 Kauppiaat
Price EUR 2,600
Estimated EUR 1,000–1,500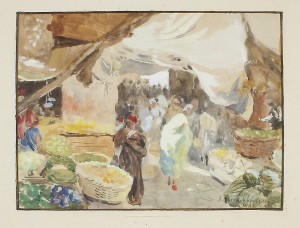 Price EUR 450
Estimated EUR 300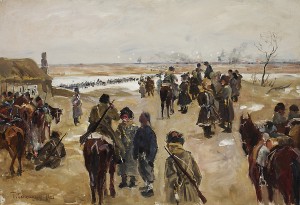 The Battle Of Sandepú January 1905
(1905)
Price EUR 11,000
Estimated EUR 2,000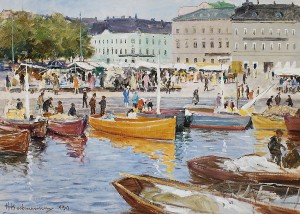 Helsinki Market Square
(1930)
Price EUR 5,000
Estimated EUR 2,500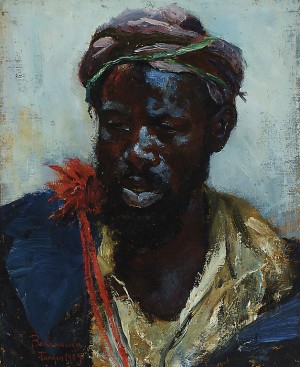 Price EUR 1,700
Estimated EUR 800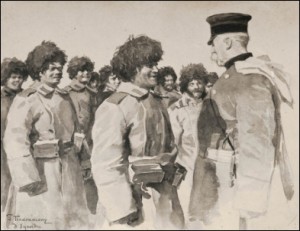 General Kaulberg Talar Till Soldaterna Före Den Andra Attacken
Price EUR 2,100
Estimated EUR 400–600