Hugo SALMSON
1843–1894, Sweden
Also known as: HS
Name
Hugo, Fredrik SALMSON
Hugo Salmson studied at the Art Academy in Stockholm and was a pupil of John Christopher Boklund. He undertook trips to France and was a student of Ch. Comte in Paris.Han settled in Paris. His real success dates from the time he joined the contemporary French direction, which occupied outdoor study. As open-air painter, he was quite moderate and self-controlled, studies in the open air was produced and reproduced in the studio. More famous is perhaps the artist for his depictions of peasant life, both from France, Picardy, and from Dalarna. Salmson was a very talented painter and he had a major impact on the Swedish art in the sense that he was the first of his compatriots and colleagues presented the program for 1870 - and 1880-numbers modern denomination painting and he brought with him the most advanced technology from France to home. Hugo Salmson in 1880 became a member of the Academy of Fine Arts in Stockholm. He was one of the opponents of 1885 and then put into the Artists\' League auspices. As a person who correctly perceived Salmson and maybe a little to weird. In a Parisian gallery of artists\' portraits, he was presented as un silencieux. Member of the Academy of Arts 1880.
Represented: National Museum in Stockholm, Gothenburg Museum, Malmo Museum, Prince Eugen\'s villan.
Hugo Salmson studerade vid Konstakademien i Stockholm och var elev hos Johan Christoffer Boklund. Han företog resor till Frankrike och var elev för Ch. Comte i Paris.Han slog sig ned i Paris. Hans egentliga framgång daterar sig från den tid då han slöt sig till den samtida franska riktning, som upptog friluftsstudiet. Som friluftsmålare var han dock ganska måttfull och behärskad, studier i fria luften sammanställdes och reproducerades i ateljén. Mer känd är konstnären måhända för sina folklivsskildringar, både från Frankrike, Picardie, och från Dalarna.
Salmson var en mycket skicklig målare och han fick stor betydelse för den svenska konsten därigenom att han var den förste som för sina landsmän och kollegor framlade programmet för 1870- och 1880-talens moderna valörmåleri och han förde med sig den mest avancerade teknik från Frankrike till hemlandet. Hugo Salmson blev 1880 medlem av Konstakademien i Stockholm. Han var en av Opponenterna av år 1885 och ställde sedan ut i Konstnärsförbundets regi.
Som person uppfattades Salmson som korrekt och kanske en smula tillknäppt. I ett parisiskt galleri av konstnärsporträtt presenterades han som un silencieux.
Ledamot i konstakademien 1880.


Representerad:
Nationalmuseum i Stockholm, Göteborgs Museum, Malmö Museum, Prins Eugens Waldemarsudde.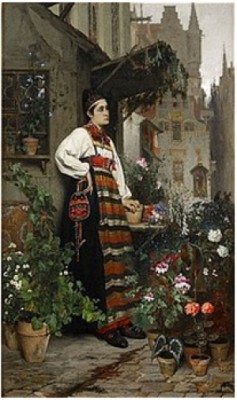 Blomsterförsäljerska Iklädd Rättviksdräkten
Price SEK 25,000 (€2,759)
Estimated SEK 25,000–30,000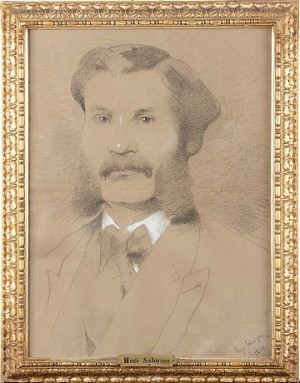 Självporträtt
Price SEK 1,500 (€169)
Estimated SEK 3,000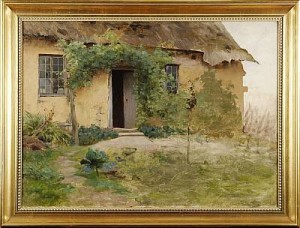 (tillskriven) Hus Med Trädgård
Price SEK 15,000 (€1,438)
Estimated SEK 20,000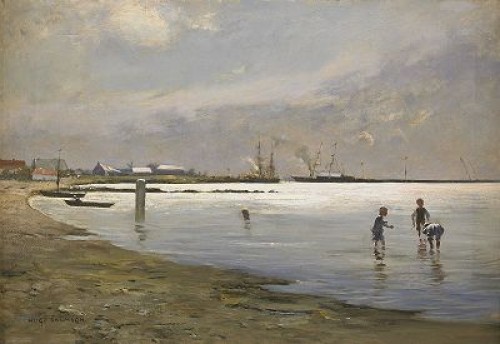 Lekande Pojkar I Vattenbrynet - Motiv Från Trelleborgs Hamn
Price SEK 17,000 (€1,603)
Estimated SEK 15,000–20,000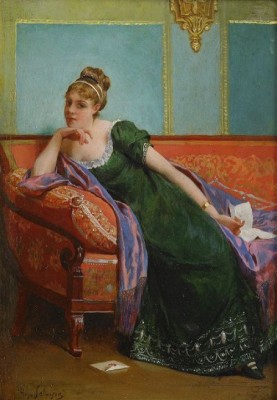 I Tankar
Price SEK 0 (€0)
Estimated SEK 10,000–12,000