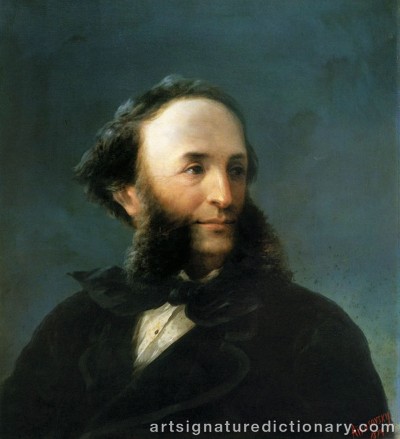 Ivan Konstantinovich AIVAZOVSKY

1817–1900, Armenia/Russia
Also known as: A, Aivazovski, Aivazowskij

Verdict of guilty
0201-K324839-08
Oil on canvas, motif title: The ninth wave, 85x112 cm, signed with monogram "A" of Ivan Aivazovsky. An individual submitted a number of forged art objects to a Scandinavian auction house for internet sales. The auction house was convinced about the art objects' authenticity, two paintings signed R Falk and Puni and two "Faberge objects." The items were valued at SEK 9,400.000 (approx. € 940,000). A major advance of SEK 800,000 (approx. €80.000) was paid to the man! This painting was found by police in a search of the man's home. It turned out, at a later police questioning, that he was not the owner of the objects, he had been asked by an acquaintance to sell the objects on his behalf, but that the objects in fact owned by a third person. The District Court's decision: All of the seized objects besides painting Ninth wave would be forfeit. The investigation concluded that the painting "The Ninth Wave" is not painted by Ivan Aivazovsky. Therefore it should be on the back of the painting and the frame, clearly written text: "this is a copy of Ivan Konstantinovich Aivazovsky's painting" the Ninth Wave. "The painting will then be returned to the owner. Warning: The painting is thus back on the market.
Oljemålning på duk, motiv titel: Nionde vågen, 85x112 cm, signerad med monogram "A", för Ivan Aivazovsky. En privatperson lämnade in ett flertal falska konstföremål till ett skandinaviskt auktions hus för internetförsäljning. Auktionshuset övertygades om konstföremålens äkthet, två målningar signerade R Falk respektive Puni samt två "Faberge föremål". Föremålen värderades till SEK 9,400.000. Ett stort förskott på SEK 800.000 utbetalades till mannen! Denna målning påträffades av polisen vid en husrannsakan i mannens bostad. Det visade sig, vid senare polisförhör, att han inte alls var ägare till föremålen, han hade fått i uppdrag av en bekant att sälja föremålen för dennes räkning men att föremålen i själva verket ägdes av en tredje person. Tingsrättens beslut: Samtliga i beslag tagna föremål förutom målningen Nionde vågen skulle förverkas. Utredningen kom fram till att målningen den "Nionde vågen" ej är målad av Ivan Aivazovsky. Därför skall det på målningens baksida samt på ramen, tydligt, skrivas texten: "Detta är en kopia av Ivan Konstantinovich Aivazovsky's målning "Nionde Vågen". Målningen skall därefter lämnas tillbaka till ägaren. Varning: Målningen är alltså tillbaka på marknaden.

Verdict of guilty
T/200702/009. 2400/R/219/04
Rikoksesta epäillyt kolme mieshenkilöä tekivät taulukauppoja siten, että yksi miehistä oli innostanut yrityksen omistanutta tuttavaansa sijoittamaan taiteeseen v. 2003. Kolmas mies tuli mukaan vuoden lopulla. Maksuna kaupoissa käytettiin pääasiassa yrityksenomistajan omistamia asunto-osakkeita, mutta myös tavaraa sekä käteistä rahaa. Kauppojen hinnat merkittiin kauppakirjoihin ylisuuriksi tai asunto-osake osoittautui vähäarvoiseksi. Tauluja kaupattiin taidekauppiaalle, joka totesi ne väärennöksiksi. Taidekauppias näytti tauluja myös taidekonsultille, joka myös huomasi teokset väärennetyiksi. Vuoden 2004 alussa yrityksen omistajan on epäilty yrittäneen erehdyttää asianomistaja Bukowski Oy Ab:n silloista toimitusjohtajaa tarjoamalla huutokaupattavaksi väärennettyjä tauluja yhden epäillyistä toimiessa välittäjänä ja myyjänä. Mahdolliselle ostajalle olisi aiheutunut tappiota hänen maksaessaan vähäarvoisesta taulusta aidon teoksen hinnan, ja asian paljastuttua Bukowski Oy olisi menettänyt välityspalkkionsa. Osa tauluista esiteltiin Bukowskin edustajalle ja näytettin myös listaa, jossa oli muitakin tauluja. Listassa oli arvio kustakin taulussa huutokaupassa mahdollisesti saatavasta hinnasta (yht. n. 1 milj. euroa). Mukana oli nimekkäiden venäläisten (esim. Malevits), suomalaisten (esim. Gallen-Kallela) ja eurooppalaisten taiteilijoiden (esim. Matisse) tekemiksi merkittyjä teoksia. Bukowskin edustaja on huomannut heti taulut väärennetyiksi, joten epäilty teko on jäänyt yritykseksi. Yrityksen omistajan on täytynyt tietää, että kaikki hänen ostamistaan teoksista eivät ole aitoja, vaikka niitäkin saattoi joukossa olla. Hän kertoi tiedustelleensa taulujen aitoutta asiantuntijoilta, mutta saaneen epämääräisiä vastauksia. Ei ollut riittävää näyttöä, että hänen tarkoituksenaan olisi ollut saada väärennettyjä teoksia myyntiin, vaan se, että asiantuntija seuloo aidot vääristä. Oikeus määräsi osan teoksista palautettaviksi omistajalleen, osa tuomittiin menetettäväksi valtiolle. Teokset ovat todenneet väärennöksiksi mm. Valtion taidemuseon intendentti, Bukowskin taidehuutokaupan toimitusjohtaja sekä Hagelstamin taidehuutokaupan edustaja. Venäläiset taulut tutkittiin Moskovassa ja Mary Cassattille nimetty teos The Mary Cassatt Catalogue Raisonné Committeessa New Yorkissa.