Ivar JOHNSSON

1885–1970, Sweden
Also known as: IJ
Name
Ivar, Viktor JOHNSSON
Ivar Johnsson studied at the Technical School, Academy in Stockholm and in Paris. Undertook trips to Italy and Denmark, and settled for a short period of Copenhagen. Became a teacher of sculpture at the Art Academy in Stockholm and included the Member of the State Art Council. Honorary member of the Danish Academy of Arts and w. president of Academy of Fine Arts in Stockholm.
Source: Art Signature Dictionary
Ivar Johnsson studerade vid Tekniska skolan, Konstakademin i Stockholm, samt i Paris. Företog resor till Italien och Danmark och bosatte sig under en kortare period i Köpenhamn. Blev lärare i skulptur vid Konsthögskolan i Stockholm och var bl.a. ledamot av statens konstråd. Hedersledamot av danska Konstakademien och v. preses för konstakademien i Stockholm.
Offentlig utsmyckning:
Flickan med sjötrollen, fontän i Kungsparken Göteborgs centrum, 1919. Den vrede Apollo, 1927, bronsstaty i Stadsbibliotekets fackavdelning, Norrköping. Dansande ungdom, Observatorielunden i Stockholm 1937. David, staty i brons, Helsingborg 1921, för vilken han fick Grand prix i Paris, finns även i Zurich, Afrodite med den döende Adonis, Göteborgs Konstmuseum 1923 och på Malmö Museum, ett par altarskåp, Kungen rider Eriksgata, beställdes till Marabouparken av Marabou, granit 1942-1945. Mor och barn, De fyra vindarna, självporträtt, på Moderna Muséet.
Pojke bestiger häst, 1956 i granit, Tyska Stallplan i Stockholm. Den vandaliserades två gånger 1988, men reparerades och återuppsattes.
Nordenskiöldsmonumentet vid Riksmuséet, Stockholm. Kvinna vid havet, monument vid Sjöfartsmuséet i Göteborg 1932, även kallad sjömanshustrun. Flicka på delfin 1940, Parken vid Centralstationen Uppsala, samt en på Rotsunda torg i Sollentuna. Vindarna, Nanaskolan Uppsala 1947. Fris, 1950, Stadsteatern Uppsala. Fontänen, Arbetets ära och glädje, Eskilstuna, 1942. Fontän på Kapitelhusets gård i Lund. Georg Karlin, byst i Lund. De fyra elementen, Åtvidabergshuset. Apollon, Jönköpings stadsbibliotek. Livets brunn, Hertig Johans torg i Skövde. Monument över Kockum, Ronneby. Människan och hennes genius, Vasatorget i Linköping, Torgny Segerstedt, 10 m. hög obelisk på Vasaplatsen Göteborg, 1955. Thycho Brahe-statyn på Ven. Fredsmonumentet, som restes 1955 till minne av unionsupplösningsförhandlingarna i Frimurarhuset. Karlstad. Carl XI-monumentet, i Landskrona, samt Äventyret, i Eslövs kommun 1945. Uppståndelsekapellet Skogskyrkogården i Stockholm en gavelgrupp.
Representerad:
Nationalmuseum, Uppvaknande Venus bronsstatyett. Göteborgs museum. Fransyska och Parisflicka, samt Kvinnohuvud i ebenholtz 1914. Människans åldrar Muséet i Linköping.
Han tillhörde skånegruppen De tolv och blev ledamot av Konstrådet 1946 och erhöll Sergelpriset 1950.
1920-1970 Atelje och bostad på Heleneborg i Stockholm.
Source: Art Signature Dictionary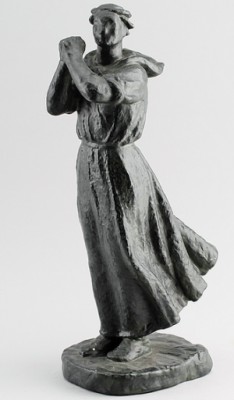 "kvinna Vid Havet". Monument över Sjökrigens Offer
Price SEK 0 (€0) Not sold
Estimated SEK 4,000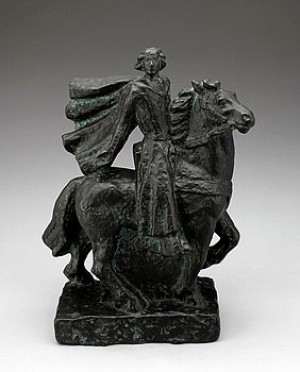 Kungen Rider På Eriksgatan
Price SEK 6,200 (€704)
Estimated SEK 8,000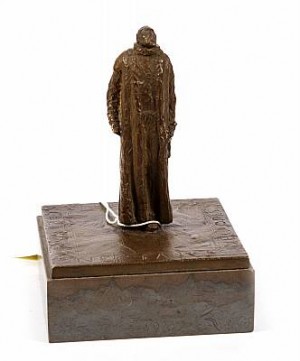 Mansfigur
Price SEK 5,000 (€506)
Estimated SEK 2,500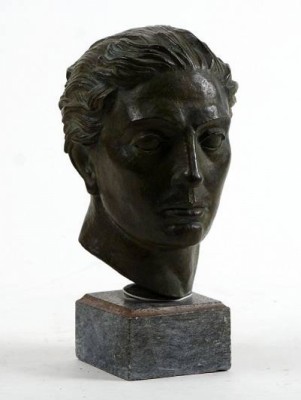 Porträttbyst
Price SEK 2,500 (€240)
Estimated SEK 3,000