James WEBB

1825–1895, England
Little is known about James Webb. Born circa 1825, he exhibited in London at both the Royal Academy and the British Institute between 1850 and 1888, and many of his works still hang in London in the collections of the Victoria and Albert Museum and the Tate Gallery.

Webb cannot be readily assigned to any one school. He depicted his own subjective relationship to a landscape in delicate brushwork, bathing the scene in soft light. He was particularly drawn to overseas locations, such as Constantinople (now Istanbul), Turkey and Mont Saint-Michel, France.

Webb lived in the age of Queen Victoria, when Britain acquired unprecedented prosperity, but at the expense of such destruction of nature as to deject the human spirit. Unconsciously, the artists of this time were painting their own nostalgia for a lost world that preceded the Industrial Revolution. They turned for their subjects to Ancient Greece and Rome, and to the exotic East.

Heidelberg Castle here looks older than it does today, although this picture was painted more than a century ago. Perhaps this is a case of Victorian nostalgia at work.
Source: http://marubeni.com/gallery/painting_f/paint_16.html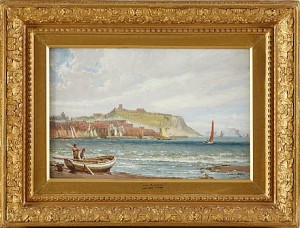 Near Brixham
Price SEK 3,200 (€337)
Estimated SEK 4,000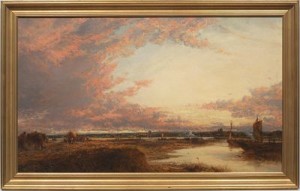 Twilight
Price USD 1,955 (€1,443)
Estimated USD 2,000–3,000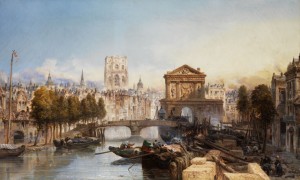 Vedute Von Rotterdam
Price EUR 0 Not sold
Estimated EUR 22,000–35,000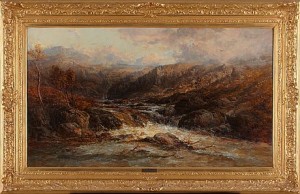 N Bala, North Wales
(1872)
Price SEK 0 (€0) Not sold
Estimated SEK 20,000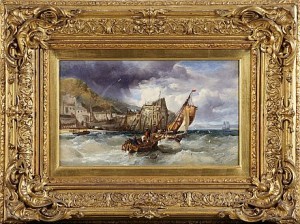 Marinmotiv Med Båtar
(1855)
Price SEK 8,200 (€908)
Estimated SEK 8,000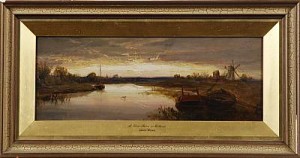 A River Scene
Price SEK 2,500 (€265)
Estimated SEK 3,000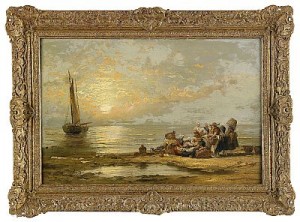 Aftonstämning över Strandparti Med Fiskarkvinnor
Price SEK 15,000 (€1,561)
Estimated SEK 20,000–25,000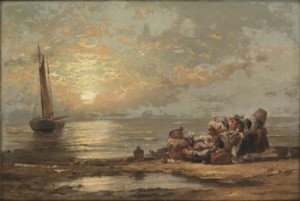 Strandmotiv Med Figurer
Price SEK 11,000 (€1,098)
Estimated SEK 15,000–18,000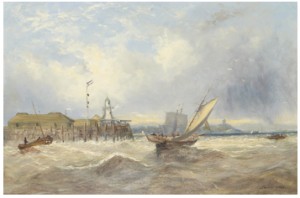 Segelfartyg Utanför Pir, (attrib.)
Price SEK 8,000 (€765)
Estimated SEK 10,000–12,000