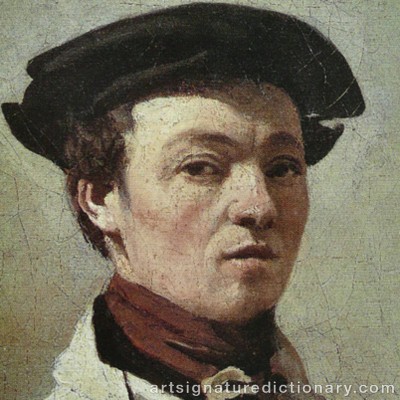 Jean Baptiste Camille COROT
1796–1875, France

Verdict of guilty
PHM Nr,62
Oil on canvas, landscape with bridge, 39x29 cm, signed 'Corot'. Investigation of UV light revealed that the painting varnish ever been uncovered at the site of the current signature. Since then, the painting re varnished. The signature has most likely been painted there before the second varnishing. In the lower left corner has an after signing occurred in red. Similar motif with bridge, water and trees found in Corot, but the color treatment and artistic quality of this painting is not Corot. The painting has the character of outdoor realistic study from the 1880s. A style that art historically, is later than Corot. The shadows are insensitive painted and the paint is too green. Court: The painting has been provided with a forged signature, with the intention of misleading the market in the belief that it is made of Corit. The painting is not done by Corot. It is a forgery.
Oljemålning på duk, landskap med bro, 39x29 cm, signerad Corot. Undersökning med uv-ljus visar, att målningens fernissa någon gång blivit frilagd på platsen för den nuvarande signaturen. Därefter har målningen åter fernissats. Signaturen har med största sannolikhet skrivits dit vid tillfället före den andra fernissningen. I vänstra nedre hörnet har en eftersignering skett med röd färg. Det behövs förstoringsglad för att Corots namn skall kunna urskiljas. Liknande motiv med bro, vatten och träd finns hos Corot, men färgbehandlingen och konstnärlig kvalitet är ej Corot's. Målningen har karaktär av friluftsrealistisk studie från 1880- talet. En stil som konsthistoriskt sett ligger senare än Corots vars målningar är mera gråstämda och stämningsbetonade. Corot dog 1875. Skuggorna är okänsligt målade och hela målningen är för grön. Tingsrättens bedömning: Målningen har försetts med förfalskad signatur, i efterhand, i avsikt att vilseleda marknaden i tron att den är utförd av Corit. Målningen är ej utförd av Corot. Det är en förfalskning.

Verdict of guilty
PHM Nr,22
Oil on canvas, lake, landscape, 45x90 cm, signed Corot. The painting is signed later in the lower right corner, otherwise there are no changes. It is probably painted in the late 1800s. The motive may be true with Corot choice of subject but is not particularly like Corot. The painting has not Corot's quality or the treatment of the subject. It is unctuous painted with a heavy layer of oil. Corot painted lighter. The District Court's assessment: The painting has not been painted or signed by Corot, it is a forgery.
Oljemålning på duk, sjölandskap, 45x90 cm, signerad Corot. Målningen har eftersignerats i det nedre högra hörnet, i övrigt har undersökningen inte visat på några förändringar. Den är dubblerad, förstärkt med en stödduk och ganska skör. Den är antagligen från slutet av 1800- talet. Motivet kan stämma med Corots motivval men är ej särskilt likt. Tavlan har ej Corots kvalitet eller behandling av motivet. Den är smetigt målad med ett tungt oljeskikt. Corot målade lättare. Tingsrättens bedömning: Tavlan har ej målats eller signerats av Corot utan utgör en förfalskning.

Oil on wood panel, landscape with figure. signed "Corot", 21x27 cm. Technical examination by radiography shows that there are residues of an over-painted signature in the lower left corner which can be interpreted to "...berg?". On top of this, the the forger applied a new signature that is very superficial. Neither this painting is Corot's works. The motif is similar to Corot but the technique is too rough for him and it's too much green color in the painting. The District Court's assessment: The painting is a forgery.
Oljemålning på trä pannå, landskap med figur. signerad "Corot", 21x27 cm. Teknisk undersökning med röntgenfotografering visar att det finns rester av en övermålad signatur i nedre vänstra hörnet som kan tydas till "...berg?". Ovanpå detta har förfalskaren applicerat en ny signatur som ligger mycket ytligt. Ej heller denna målning är Corots verk. Motivet liknar Corots men tekniken är för grov för denne och det är för mycket grön färg i målningen. Tingsrättens bedömning: Tavlan är en förfalskning.






The son of a Parisian shopkeeper, the young Corot was hired as a salesman by a cloth merchant, despite his evident gift for drawing. Clearly lacking an aptitude for business, he was already twenty-six when his father gave him an allowance so that he could devote himself entirely to his vocation.

Studying with A. Michallon, with whom he painted his first landscapes in the Forest of Fontainebleau, and then with Victor Bertin, he took his first trip to Italy in 1825. There he enjoyed the friendship of Caruelle d'Aligny and Edouard Bertin who shared his passion for painting from nature. On his return three years later, he adopted a pattern of work, which he maintained throughout his life, of painting in his Paris studio during the winter and devoting the summer to traveling in France, interrupted by frequent visits to Ville d'Avray, Chailly and Barbizon.

From spring to autumn, he lived with his parents at Ville d'Avray. He worked in the mornings and evenings, capturing the light and atmosphere of his favorite times of day. He was an extremely kind and generous man much loved by his fellow artists, whom he was always ready to help with money and advice.

During his long career he became one of the most celebrated artists of his generation and exerted tremendous influence on the painters of the Impressionist movement. He was awarded numerous medals and the coveted Legion of Honor in 1846. Acknowledged as the world's foremost landscape painter, fame did not spoil the simplicity of his character. His work can be found in important public collections around the world.

The title of the present work, Le Dormoir, refers to a shaded space where herds of cattle or sheep can rest. Le Dormoir was painted towards the end of Corot's life and captures the poetic beauty and dreamy quality present in his final paintings. Unlike his earlier works, Corot's paintings of the 1870s feature increasingly mythical and romantic subject matter, a softer paint application, and lyrical subtext. In 1873, the year in which he painted Le Dormoir, Corot created a number of vertical landscapes featuring small dancing and working figures beneath towering trees (i.e. Pastorale Souvenir d Italie, Glasgow Art Gallery and Museum). Like Pastorale, Le Dormoir is a harmonious composition that invites the viewer to a romantic vision of the forest and rural life.

Museum Collections Include:
Musee du Louvre, Paris; Metropolitan Museum of Art, New York; Yale University Art Gallery; Le Petit Palais, Paris; The Frick Collection, New York; The Phillips Collection, Washington D.C.; The Hermitage, St Petersburg; J. Paul Getty Museum, Los Angeles; The Art Institute of Chicago; Fitzwilliam Museum at the University of Cambridge; Guggenheim Hermitage Museum, Las Vegas; Museum of Fine Arts, Boston; Museum of Fine Arts, Houston; Corcoran Gallery of Art, Washington D.C.; Fine Arts Museums of San Francisco; High Museum of Art, Atlanta; Kimbell Art Museum, Fort Worth, TX; Kunstmuseum Basel, Switzerland; Los Angeles County Museum of Art; Norton Simon Museum, Pasadena; Neue Pinakothek, Munich; numerous other French, European, and American museums
Source: http://rogallery.com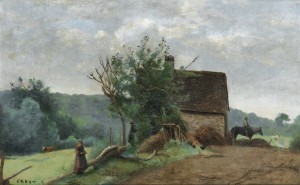 Cour De Ferme Avec Un Cavalier Et Une Petite Fille Au Premier Plan Jean-baptiste-camille Corot ; Little Girl And A Cavalier In A Barn Yard
Price EUR 35,000
Estimated EUR 30,000–40,000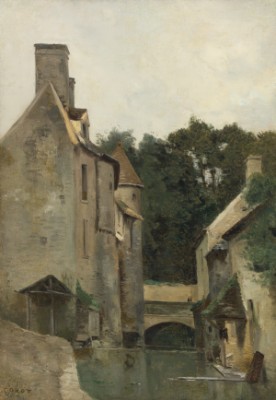 Ile-de-france, Lavandière Au Moulin
Price USD 68,750 (€54,694) Incl. buyer's premium
Estimated USD 50,000–70,000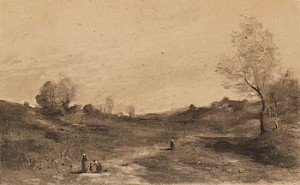 Skogslandskap Med Figurer
Price SEK 0 (€0) Not sold
Estimated SEK 80,000–100,000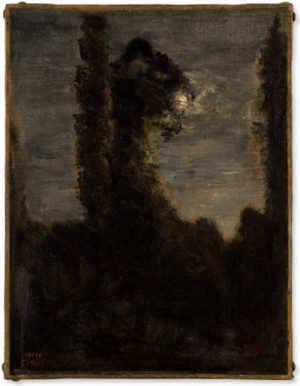 Peupliers Au Bord De L'eau', 1860-65
(ca. 1860-65)
Price EUR 21,250
Estimated EUR 17,000