Jean ARP

1887–1966, France/Switzerland
Also known as: ARP
Jean Arp biography:

The French-German artist Jean Arp (also: Hans Arp) was born in Strasbourg on September 16, 1887. He begins his art studies at the Strasbourg School of Applied Arts and changes to the Weimar Art School in 1904, where he studies under Ludwig von Hofmann until 1907. Afterwards he attends the Académie Julian in Paris as of 1908. He moves to Weggis in Switzerland in 1909, where he founds the "Moderne Bund" (Modern Federation) together with Walter Helbig and Oskar Lüthy in 1911. He is introduced to the "Blaue Reiter" (Blue Rider) in Munich by Paul Klee, and participates in the movement's second exhibition in 1912. In 1913 he shows works in the "Ersten Deutschen Herbstsalon" (First German Fall Salon) in Berlin.
In 1914 he shows works with Max Ernst in the context of the exhibition of the Work Federation in Cologne. In 1914/15 he is in Paris again, moving to Zurich in 1915, where he has his first one-man show with abstract works in the gallery Tanner. This is also where he meets the artist Sophie Täuber, whom he marries in 1922.
Together with Tristan Tzara, Hugo Ball, Richard Hülsenbeck and others, Jean Arp belongs to the Zurich Dada movement, they regularly meet in the Cabaret Voltaire between 1916 and 1919. Besides the illustrations for the "Phantastischen Gebeten" (Phantastic Prayers) and the work "Schalaben, Schalabai, Schalamezomai" by Richard Hülsenbeck or the "Vingt - Cinq Poèmes" by Tristan Tzara, he also makes collages, pictures from paper and cloth and reliefs in colors from wooden boards.
In 1919 he is in Cologne, together with Max Ernst he works on the "Fatagaga-Pictures" and on magazines such as "Die Schammade" or "Dada W/3". In Berlin he is in close contact with El Lissitzky and Kurt Schwitters, working for his magazine "Merz". Numerous further Dada works and events follow. However, in 1925 Jean Arp, like so many Dada artists, turns to Surrealism. He partakes in the surrealist's group exhibition in the Paris gallery Pierre. Arp lives in Paris and settles in Meudon in 1926.
Together with Sophie Täuber-Arp and Theo van Doesburg he designs the cafe "Aubette" in Strasbourg from 1926 to 1928. Besides collages from paper, the so-called "Papiers Dechirés", he also makes plastics as of 1930. His sculptures show organic forms and are characterised by an enormous harmony and esthetics.
In 1930 Jean Arp joins the group "Cercle et Carré", and becomes a member of the follow-up group "Abstraction-Création" in 1932.
He flees the German troops to Zurich in fall 1942. A year later his wife dies. Arp returns to Meudon in 1946. In his late artistic period he makes commissioned works for murals, such as the UNESCO building in Paris and Harvard University in Cambridge. He moves to Locarno in 1959, the same year he marries his second wife Marguerite Hagenbach.
Jean Arp dies in Basle on June 7, 1966.
Source: http://www.kettererkunst.com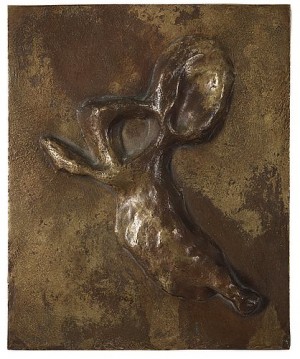 Price SEK 0 (€0) Not sold, incl. buyer's premium
Estimated SEK 60,000–80,000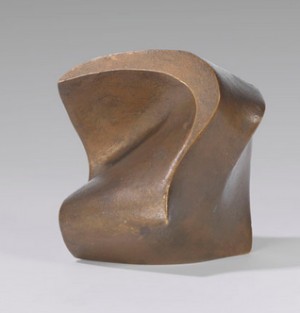 Price EUR 23,750
Estimated EUR 10,000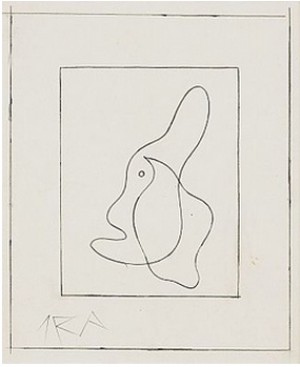 Untitled
(Executed ca. 1960)
Price SEK 0 (€0) Not sold
Estimated SEK 25,000–30,000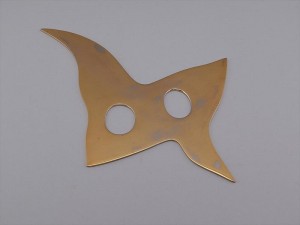 Masque Oiseau
Price USD 1,560 (€1,133) Incl. buyer's premium
Estimated USD 200–400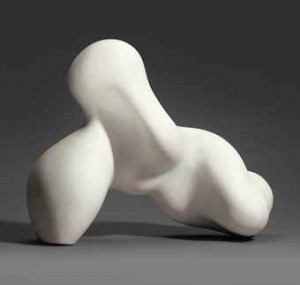 S'accroupissant
(Conceived in 1960)
Price USD 1,082,500 (€845,811)
Estimated USD 600,000–800,000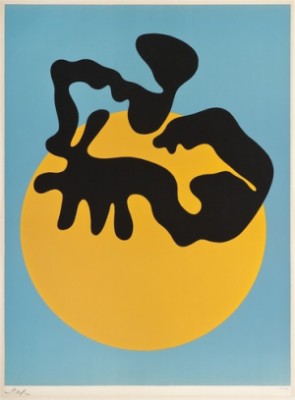 Composition
Price EUR 550
Estimated EUR 600–800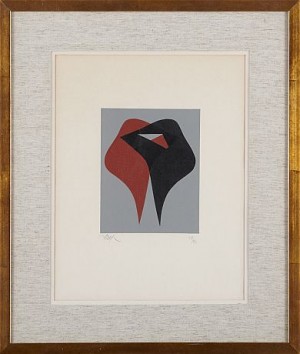 Abstrakt Komposition
Price SEK 4,000 (€423)
Estimated SEK 3,000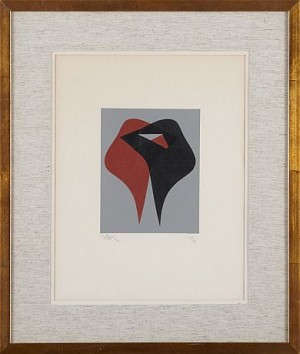 Abstrakt Komposition
Price SEK 4,000 (€452)
Estimated SEK 3,000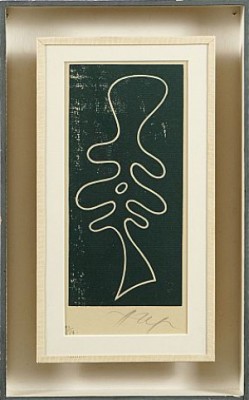 Komposition
Price SEK 3,600 (€395)
Estimated SEK 3,000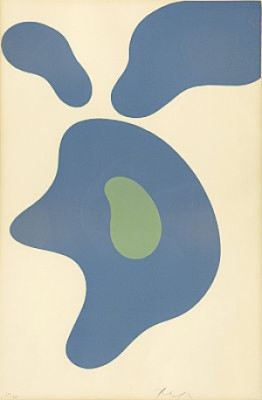 Price SEK 6,000 (€654)
Estimated SEK 4,000–5,000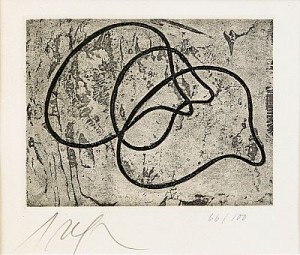 Komposition
Price SEK 5,000 (€543)
Estimated SEK 2,000–3,000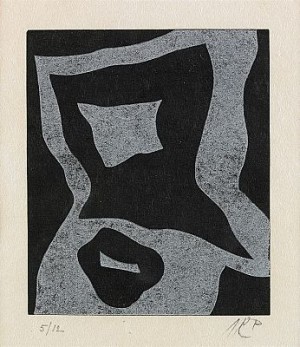 Composition
Price SEK 4,000 (€418)
Estimated SEK 4,000–5,000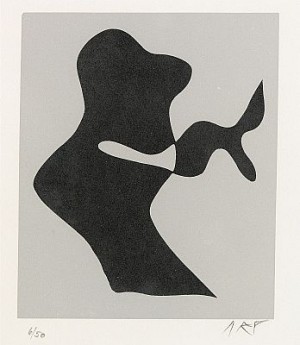 (2) Le Voilier Dans La Forêt
(1957)
Price SEK 10,000 (€1,045)
Estimated SEK 6,000–8,000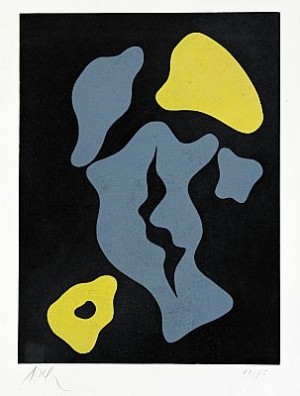 Composition With Five Forms
Price SEK 10,000 (€998)
Estimated SEK 6,000–8,000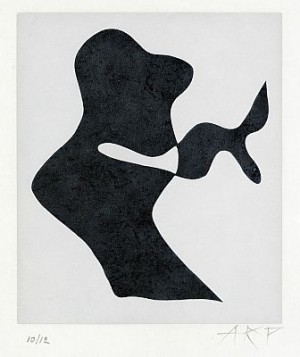 Composition With Two Forms
Price SEK 12,000 (€1,198)
Estimated SEK 3,000–4,000