Jean SKOGLUND

1908–1948, Sweden

Verdict of guilty
PHM Nr. 13
Oil painting on panel, 36x50 cm, signed Jean Skoglund. The motif is taken from Dalarna in Sweden, and painted in romantic style. It is a copy after Hilding Per Jons. The original signature has been painted over and then signed again with Jean Skoglund. At the technical inspection with infrared light emerges an underlying signature "Per Jons -45 KOP." The painting was painted around 1930 and 1950. The district court's assessment: The painting has a new signature and is therefore a forgery.
Oljemålning på pannå, 36x50 cm, signerad Jean Skoglund. Motivet är hämtat från Dalarna och målat i romantisk stil. Det är en kopia efter Hilding Per Jons. Den ursprungliga signaturen har övermålats och senare signerats på nytt med Jean Skoglund. Vid teknisk undersökning med infrarött ljus framträder en underliggande signatur "Per Jons -45 KOP." Målningen är målad omkring 1930 och 1950. Tingsrättens bedömning: Genom att den ursprungliga signaturen tagits bort och målningen åsatts en ny signatur har den blivit en förfalskning.







Name
Jean, Fredrik Theodor SKOGLUND
Skoglund, Jean Fredrik Theodor studerade på Blombergs målarskola i Stockholm.
Han har utfört porträtt samt sommar- och framför allt vinterlandskap med motiv från skärgården.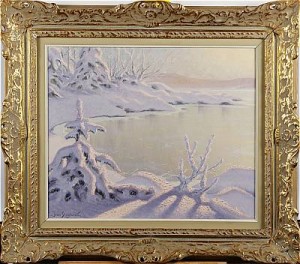 Price SEK 3,300 (€334)
Estimated SEK 1,500
Utsikt över Tegelviken Mot Stockholm
Price SEK 700 (€69)
Estimated SEK 1,000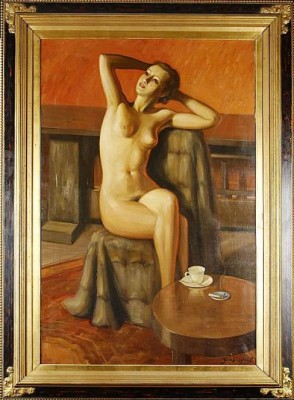 Price SEK 5,000 (€499)
Estimated SEK 6,000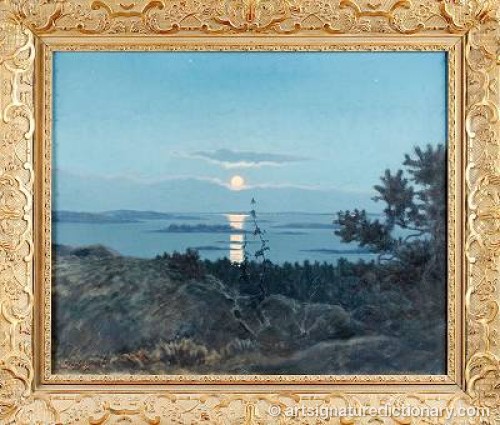 Price SEK 1,600 (€170)
Estimated SEK 1,500