Jeff Koons (AMERICAN, 1955)
Jeff Koons is widely regarded as one of the most important, influential, popular, and controversial artists of the postwar era. His works are characterized by a garish, loud and colorful style and reproductions of banal objects, oscillating between the poles of 'art' and 'kitsch'.

------------------------------

Jeff Koons is an American artist known for his giant reproductions of banal objects such as balloon animals produced in stainless steel with mirror finish surfaces, often brightly colored. Koons\' work has sold for substantial sums including at least one world record auction price for a work by a living artist. Critics are sharply divided in their views of Koons. Some view his work as pioneering and of major art-historical importance. Others dismiss his work as kitsch: crass and based on cynical self-merchandising. Koons himself has stated that there are no hidden meanings in his works.

Early life and work
Koons was born in York, Pennsylvania and as a child he went door to door after school selling gift-wrapping paper and candy to earn pocket-money.[1] As a teenager he revered Salvador Dalí, to the extent that he visited him at the St. Regis Hotel in New York City. Koons studied painting at the School of the Art Institute of Chicago and the Maryland Institute College of Art. After college, he worked as a Wall Street commodities broker while establishing himself as an artist. He gained recognition in the 1980s and subsequently set up a factory-like studio in a SoHo loft on the corner of Houston and Broadway in New York. It was staffed with over 30 assistants, each assigned to a different aspect of producing his work—in a similar mode as Andy Warhol\'s Factory.[2]
Koons\'s early work was in the form of conceptual sculpture, an example of which is Three Ball 50/50 Tank (1985), consisting of three basket balls floating in distilled water that half-fills a glass tank.
Arts journalist Arifa Akbar reported for The Independent that in "an era when artists were not regarded as 'stars', Koons went to great lengths to cultivate his public persona by employing an image consultant.\" Featuring photographs by Matt Chedgey, Koons placed \"advertisements in international art magazines of himself surrounded by the trappings of success" and gave interviews "referring to himself in the third person."[3]
Koons then moved on to Statuary, the large stainless-steel blowups of toys, followed by the Banality series that culminated in 1988 with Michael Jackson and Bubbles, a series of three life-size gold-leaf plated porcelain statues of the sitting singer cuddling Bubbles, his pet chimpanzee. Three years later, one of these sold at Sotheby\'s New York for $5.6 million and now is in the permanent collection of the San Francisco Museum of Modern Art. The statue was included in a 2004 retrospective at the Astrup Fearnley Museum of Modern Art in Oslo which traveled a year later to the Helsinki City Art Museum. It also featured in his second retrospective at the Museum of Contemporary Art, Chicago, in 2008.

Relationships
Koons and his college girlfriend had a daughter together who was given up for adoption: now named Shannon Rodgers, she reconnected with Koons in 1995.
In 1991, he married Italian-born naturalized-Italian pornography star Cicciolina (Ilona Staller) who for five years (1987–1992) pursued an alternate career as a member of the Italian parliament. His Made in Heaven series of paintings, photographs, and sculptures portrayed the couple in explicit sexual positions and created even more controversy.
In 1992, they had a son, Ludwig. The marriage ended soon afterward. They agreed to joint custody of the child, but Staller absconded from New York to Rome with the child, where mother and son remain. A long custody battle ensued with the award of sole custody to Koons by the U.S. court in 1998, which had also dissolved the marriage. However, he ended up losing custody when the case went to Italy\'s Supreme Court.[4]
In 2008, Staller filed suit against Koons for failing to pay child support.[5]
Koons is now married to Jusine Wheeler, an artist and former employee who began working for Koons\' studio in 1995.[6]

Puppy 1992
Koons was commissioned in 1992 to create a piece for an art exhibition in Bad Arolsen, Germany. The result was Puppy, a forty-three feet (12.4 m) tall topiary sculpture of a West Highland White Terrier puppy, executed in a variety of flowers on a steel substructure. In 1995, the sculpture was dismantled and re-erected at the Museum of Contemporary Art on Sydney Harbour on a new, more permanent, stainless steel armature with an internal irrigation system.
The piece was purchased in 1997 by the Solomon R. Guggenheim Foundation and installed on the terrace outside the Guggenheim Museum Bilbao.[7] Before the dedication at the museum, an Euskadi Ta Askatasuna (ETA) trio disguised as gardeners attempted to plant explosive-filled flowerpots near the sculpture, [8] but was foiled by Basque police officer Jose María Aguirre, who then was shot dead by ETA members.[9][10] Currently the square in which the statue is placed bears the name of Aguirre. In the summer of 2000, the statue travelled to New York City for a temporary exhibition at Rockefeller Center.
Media mogul Peter Brant and his wife, model Stephanie Seymour, have an exact Jeff Koons duplicate of the Bilbao statue on the grounds of their Connecticut estate.
In 1999, Koons commissioned a song about himself on Momus\' album Stars Forever.

Recent work
In 2001, Koons undertook a series of paintings titled Easyfun-Ethereal, using a collage approach that combined bikinis (with the bodies removed), food, and landscapes painted under his supervision by assistants.
In 2006, he appeared on Artstar, an unscripted television series set in the New York art world and from February 15 to March 6, 2008, he donated a private tour of his studio to the Hereditary Disease Foundation for auction on www.charitybuzz.com.
In 2006, Koons showed his Hanging Heart, a 9 feet tall highly polished, steel heart, one of a series of five differently colored examples, part of his Celebration series. [11] Large sculptures from that series were exhibited at the Metropolitan Museum of Art in New York in 2008.
A drawing similar to his Tulip Balloons was placed on the front page of the Internet search engine Google. The drawing greeted all who visited Google\'s main page on April 30, 2008 and May 1, 2008.[12]
Cracked Egg (Blue) won the 2008 Charles Wollaston Award for the most distinguished work in the Royal Academy\'s Summer Exhibition.[13]
Considered as his first retrospective in France, the 2008 exhibition of seventeen Koons sculptures at the Chateau de Versailles also marked the first ambitious display of a contemporary American artist organized by the chateau. The New York Times reported that "several dozen people demonstrated outside the palace gates" in a protest arranged by a little-known, right-wing group dedicated to French artistic purity.[14]
Koons had a minor role in the 2008 film Milk playing state assemblyman Art Agnos.[15]
The May 31 – September 21, 2008 Koons retrospective at the Museum of Contemporary Art, Chicago,[16][17][18] which was widely publicized in the press, broke the museum\'s attendance record with 86,584 visitors.[19][20] In July 2009, Koons had his first major solo show in London, at the Serpentine Gallery. Entitled, \"Jeff Koons: Popeye Series,\" the exhibit included cast aluminum models of children's pool toys and \"dense, realist paintings of Popeye holding his can of spinach or smoking his pipe, a red lobster looming over his head.\" [21]
On October 13 2009, the giant silver rabbit used during the Macy\'s Thanksgiving day parade was put on display for Nuit Blanche in the Eaton Centre in Toronto.

Art prices
Koons\' works have sold for astronomical prices at auctions and privately. In 2001, one of his three Michael Jackson and Bubbles porcelain sculptures sold for $5.6 million. On November 14, 2007, a magenta Hanging Heart, one of five in different colors, sold at Sotheby\'s New York for $23.6 million becoming, at the time, the most expensive piece by a living artist ever auctioned. [22] It was bought by the Gagosian Gallery in New York, which the previous day had purchased another Koons sculpture entitled \"Diamond (Blue)\" for $11.8 million from Christie\'s London. [23] Gagosian appears to have bought both Celebration series works on behalf of Ukrainian steel oligarch, Victor Pinchuk.[24] In July 2008, his Balloon Flower (Magenta) also sold at Christie\'s London for a record $25.7 million. During the late 2000s recession, however, art prices plummeted and a violet Hanging Heart sold for $11 million in a private sale.[25] However prices for the artist\'s earlier Luxury and Degradation series appear to be holding up. The Economist reported that Thomas H. Lee, a private-equity investor, sold "Jim Beam J.B. Turner Train" in a package deal brokered by Giraud Pissarro Segalot for more than $15 million.[26]
Source: http://auctionata.com/ From Wikipedia, the free encyclopedia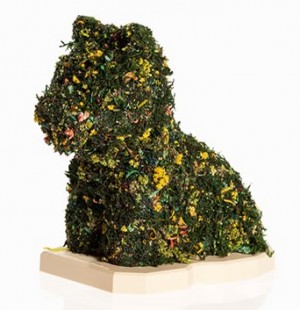 Price EUR 1,000
Estimated EUR 700–1,400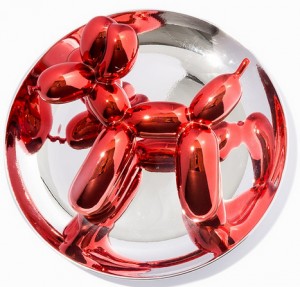 Price USD 11,000 (€8,873)
Estimated USD 8,000–16,000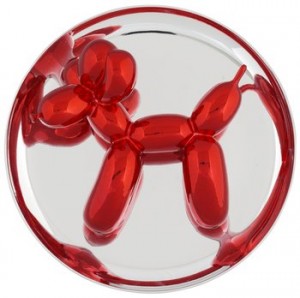 Ballon Dog, Red
Price SEK 10,000 (€957)
Estimated SEK 25,000–30,000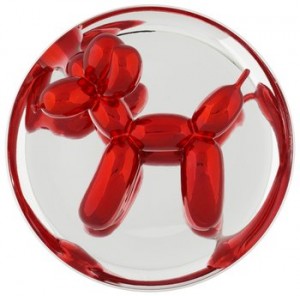 Ballon Dog, Red
Price SEK 36,000 (€3,443)
Estimated SEK 25,000–30,000