Jenny NYSTRÖM

1854–1946, Sweden
Also known as: JN, Stoopendaal-Nyström
Name
Jenny, Eugenia NYSTRÖM
Jenny Nyström (1854-1946)
Jenny Nyström ist ein Mädchen aus Kalmar, die nach Paris fuhr und eine von Schwedens beliebtesten Illustratorinen wurde.
Sie war eine Künstlerin mit einer umfassenden akademischen Ausbildung, die in einer Zeit lebte, als man der Ansicht war, dass es die wichtigste Aufgabe einer Frau war, sich um Heim und Familie zu kümmern.
Das Leben bis sie eine anerkannte Künstlerin wurde...
Das Kalmar-Mädchen Jenny Nyström wurde am 13. Juni 1854 geboren, als die Obstbäume in vollster Blüte gestanden haben müssen. Ihre Kindheit war glücklich und in Gedanken ist sie immer wieder zu ihrer Zeit in Kalmar zurückkehrt..
"Ja, da kam der traurigen Tag da, als ich von Kalmar wegziehen sollte. Ich habe mich von Allem verabschiedet, damit ich jedes Ding in Erinnerung behalten würde."
Daniel Nyström, Jennys Vater, erhielt im Jahr 1862 eine Stelle als Hauplehrer an einer Schule in Göteborg und die Familie zog dafür im Jahr 1862 nach Göteborg. Zu der Zeit war Jenny acht Jahre alt und sie erinnert sich gut daran. Am Anfang fühlte sie sich dort nicht wohl und hatte Probleme damit, Freunde zu finden.
Nach einem Jahr begann sie mit der Schule, wo sie neue Freunde fand. Sie widmete sich dem Zeichnen und Malen und begann später an der Zeicher- und Malerschule in Göteborg. Jenny war sehr gut und wurde als begabte Schülerin bekannt.
Sie studierte fleissig und wurde vom Landeshauptmann nach Stockholm eingeladen, wo sie wichtigen akademischen Persönlichkeiten vorgestellt wurde.
Sie machte Zeichnungen für Viktor Rydbergs Märchen "Lille Viggs äfventyr på julafton". Nachdem die Illustrationen bei verschiedenen Verlags gewesen waren, landeten sie schließlich auf dem richtigen Tisch. Das Buch ist seitdem in 15 Auflagen gedruckt und in vielen Sprachen übersetzt worden. Mit diesen Illustrationen begann sie Ihre lebenslange Beziehung mit dem Tomte.
Sie wurde im Jahr 1873 als Studentin bei der Kunstakademie in Stockholm angenommen, wo sie acht Jahre blieb. Sie arbeitete fleissig an den übernommenen Bestellungen um das nötige Geld zusammenzubekommen, was sie für Miete, Essen, Materialien fürs Zeichnen und manchmal auch zum Vergnügen brauchte.
Jenny traf ihren künftigen Mann Daniel Stoopendal im Jahr 1880. In dieser Zeit hatte sie ein Atelier im Hotell Brunkeberg gemietet, wo sie in aller Ruhe mit ihren Illustrationen arbeitete.
Weil die Sehnsucht nach Paris so groß war, musste sie die königlische Madaille erobern. Für ein Bild von Gustav Vasa bekam sie ein Stipendium und die Möglichkeit nach Paris zu fahren.
Das große Ziel in Paris war "Im Salongen" einen Platz zu bekommen und eine internatioal anerkannte Künstlerin zu werden. Jenny arbeitete hart und zielbewusst, um ihre Malkunst zu vervollkommen. Im Jahr 1884 debutierte sie "Im Salongen" mit einem einzigartigen Selbstbildnis in Öl und ihr Glück war damit
Jenny Nyström studied at the Gothenburg Museum drawing school, at the Arts Academy, the Académie Colarossi in Paris and later at the Académie Julian with Albert Edelfeldt. She is the first woman to be awarded a Royal medal at a prize at the Academy of Arts 1881. She has painted genre pictures, but is best known for her Christmas illustrations and illustrations in children\'s books. She will be exhibiting at the Salon in Paris. She then goes with the Artists Association. The magazine \"Santa Claus\" begins to come out 1891. She paints Christmas cards, postcards and greeting cards. Married 1887 with Dr. D. Stoopendaal.
Represented: National Museum in Stockholm, Gothenburg Art Museum, the Nordic Museum and the Museum of Kalmar, Ministry of Foreign Affairs, Stockholm City Museum.

----------------

Jenny Nyström (1854-1946)
Jenny Nyström is the girl from Kalmar that went to Paris and became one of Sweden's most beloved illustrators.
She was an academically skilled artist in a time when a woman's role was to take care of home and family.
Life before recognition as an artist
The Kalmar girl Jenny Nyström was born on 13 June 1854, when the fruit trees must have been in full blossom. Her childhood in Kalmar was happy, and she would often refer to it in her artistry.
"The sad day came, when I had to move away from Kalmar. I then went and said goodbye to every little thing, so that I would remember them all."
Daniel Nyström, Jenny's father, got appointed head teacher at a school in Gothenburg. In 1862 the family moved there. Back then Jenny was 8 years old, she would remember this time very well. At first, she did not like the new place very much, since she had a hard time finding new friends.
After one year, she attended to a primary school, she made new friends there and began to draw and paint.
She later began to study at The Gothenburg Museum Fine Arts School. Jenny was a good student, and considered as very talented.
She studied hard and got recognized by Albert Ehrensvärd, the County Governor of Gothenburg. He invited her to Stockholm, where she was introduced to highly educated people at the Royal Academy of Liberal Art. (Kungliga Konstakademien)
She made Illustrations to Viktor Rydbergs tale "Little Viggs Adventure on Christmas Eve". The book, with Jenny's Illustrations have since then been printed in at least 15 editions, it has also been translated into several languages. It is safe to say that these illustrations established her life long relationship with the Tomte character.
In 1873 she was admitted as a pupil at the Royal Academy in Stockholm. She studied there for eight years. During this time life was about getting money for rent, food, painting material and payment for the studio.
Jenny met her future husband Daniel Stoopendal during the 1880's. At this time she rented a studio at the Brunkeberg hotel, where she in piece and quiet worked with her artistry.
Languishing for Paris, she had to win the Royal Medal. She portrayed "Gustav Vasa som barn inför kung Hans" (Gustavus Vasa as a Child before King Hans). With this painting, Jenny Nyström received the Royal Medal, together with 2000 Swedish crowns from the Academy's special travel support fund. Finally she could go to Paris.
The big goal in Paris was to exhibit on the Salon, and by that become an acknowledged artist. Jenny worked hard and determined, improving in her artistry. In 1884 Jenny made her first appearance at the Salon with a unique self portrait in oil. Her dreams were fulfilled.


Jenny Nyström studerade vid Göteborg Musei Ritskola, vid Konstakademien, Paris Académie Colarossi och senare Académie Julian för Albert Edelfeldt. Hon får som första kvinna kungamedalj vid en pristävling på Konstakademien 1881. Hon illustrerade Victor Rydbergs, Tomten. Hon har målat genretavlor, men är mest känd för sina illustrationer till barnböcker och julpublikationer. Hon har givit jultomten ett ansikte i Sverige. Hon ställer ut på Salongen i Paris. Hon ansluter sig till opponenterna och går då med i Konstnärsförbundet. Jultidningen, Tomten börjar att komma ut 1891. Hon tecknar julkort, vykort och gratulationskort.
Gift 1887 med doktor D. Stoopendaal.
Representerad:
Nationalmuseum i Stockholm Gosse 1885, Göteborgs Konstmuseum, Nordiska muséet och Kalmar museum ett självporträtt, Gustav Vasa som barn inför Kung Hans. 1881 . Utrikesdepartementet, porträtt på Albert Ehrensvärd 1890. Stockholms Stadsmuseum.

---------------

Jenny Nyström är en Kalmarflicka som for till Paris och som blev en av Sveriges mest folkkära illustratörer.
Hon var en konstnärinna med en gedigen akademisk utbildning som levde i en tid när man ansåg att kvinnans främsta uppgift var att sköta hem och familj. Hon levde i sin tid men lämnade samtidigt efter sig tusentals verk.
Livet fram till dagen som erkänd konstnärinna…
Kalmartösen Jenny Nyström föddes den 13 juni 1854 då fruktträden måste ha stått i fullaste blom. Hon hade en ljus och lycklig barndom och återkommer alltid till härliga minnen från sin tid i Kalmar.
"Ja, så kom den sorgliga dagen, då jag skulle flytta ifrån Kalmar. Jag gick då och sade farväl till allt, så att jag skulle komma väl ihåg varenda sak"
Daniel Nyström, Jennys far hade fått platsen som förste lärare på en skola i Göteborg och 1862 flyttade familjen dit. Jenny var då 8 år gammal och kommer ihåg det väl. I början av sin vistelse trivdes hon inte och hon hade svårt att hitta vänner.
Efter ett års tid började hon i småbarnsskola där hon fann nya vänner och började satsa på teckning och målning.
Några år senare påbörjade hon sina studier på Göteborgs Musei Rit- och Målarskola. Jenny var duktig och blev känd som en begåvad elev. Hon studerade flitigt och blev där även uppmärksammad av landshövding Albert Ehrensvärd. Han bjöd upp henne till Stockholm där hon presenterades för akademiskt uppsatta personer.
Hon gjorde teckningar åt Viktor Rydbergs saga "Lille Viggs äfventyr på julafton", som sedan skars ut i träblock. Efter vandring mellan olika förlag hamnade dessa till sist på rätt bord och berättelsen har efter det tryckts i 15 upplagor, samt översatts till många olika språk. Med denna illustration påbörjade hon sitt livslånga förhållande till tomten.
1873 antogs hon som elev vid Konstakademin i Stockholm. Här studerade hon i åtta år och under alla dessa år handlade det om att jaga pengar till hyra, mat, målarmaterial, hyra för ateljé och någon gång till lite nöjen.
Jenny träffade sin blivande man Daniel Stoopendaal under 1880-talet då hon även hyrde en ateljé på Brunkebergs hotell. Här arbetade hon i lugn och ro med sina verk och illustrationer.
Trånandes efter Paris var hon tvungen att erövra stipendiet den kungliga medaljen. Hon avbildade "Gustav Vasa som barn inför kung Hans", den s.k. Medaljtavlan. Genom denna fick hon möjlighet att söka det resestipendium som skulle ta henne till Paris.
Det stora målet i Paris var att komma med på konstutställningen "Salongen" och bli en erkänd konstnärinna. Jenny arbetade hårt och målmedvetet och förkovrade sig i målarkonsten. 1884 debuterade Jenny på Salongen med ett unikt självporträtt i olja och hennes lycka var gjord.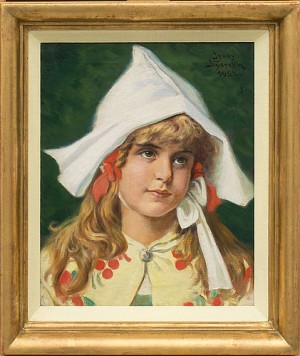 Price SEK 114,750 (€12,341) Incl. buyer's premium
Estimated SEK 20,000–25,000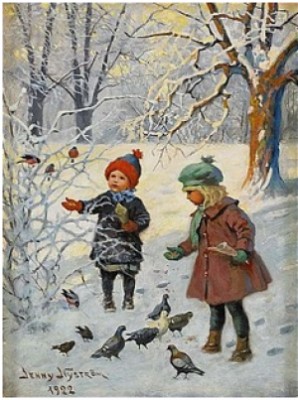 Price SEK 250,000 (€26,908)
Estimated SEK 175,000–200,000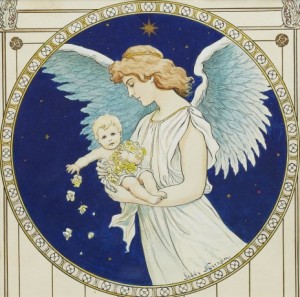 ängel Och Barn
(Executed in 1890's)
Price SEK 23,000 (€2,475)
Estimated SEK 12,000–15,000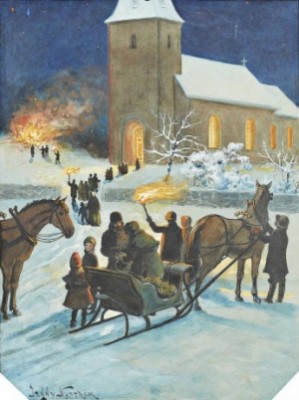 Jultidning För Alla
Price SEK 27,000 (€2,906)
Estimated SEK 12,000–15,000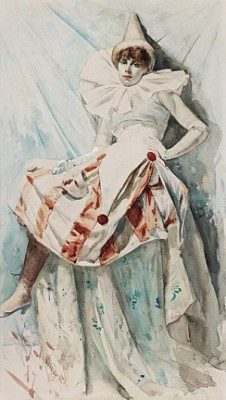 Price SEK 19,125 (€2,036) Incl. buyer's premium
Estimated SEK 20,000–25,000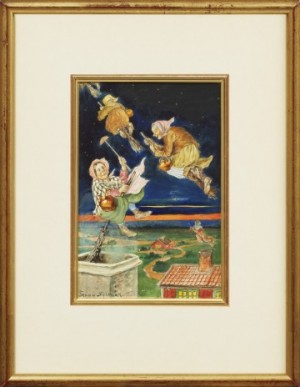 På Väg Till Blåkulla
Price SEK 12,000 (€1,301)
Estimated SEK 8,000–10,000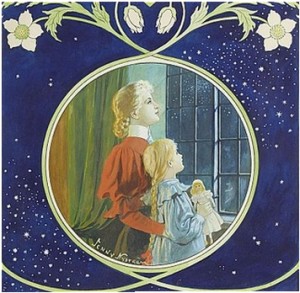 Vintergatan
(Executed in 1907)
Price SEK 24,000 (€2,649)
Estimated SEK 30,000–40,000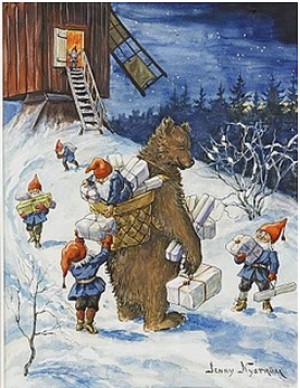 Fem Tomtar Lassar På Björn Med Klappar
(Executed in 1920's)
Price SEK 300,000 (€33,111)
Estimated SEK 200,000–250,000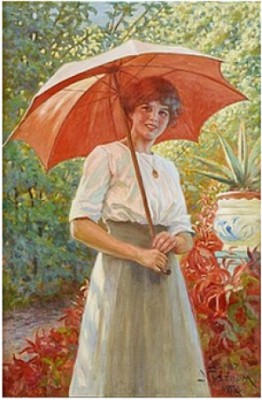 Det Röda Parasollet
(1917)
Price SEK 300,000 (€33,111)
Estimated SEK 350,000–400,000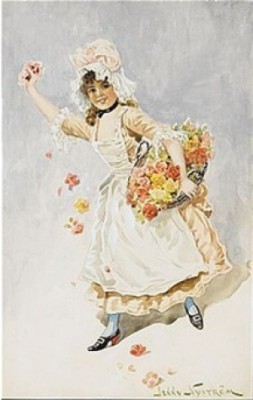 Flicka Med Korg
(Executed in 1915)
Price SEK 26,000 (€2,870)
Estimated SEK 30,000–35,000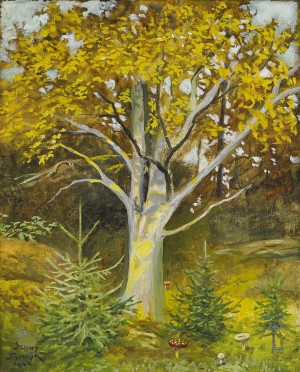 Price SEK 16,000 (€1,862)
Estimated SEK 18,000–20,000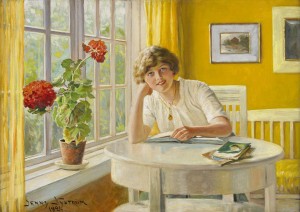 Price SEK 65,000 (€7,566)
Estimated SEK 80,000–100,000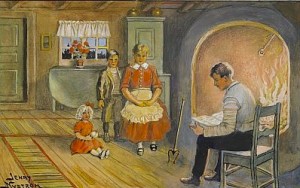 Stuginteriör
Price SEK 10,000 (€1,128)
Estimated SEK 8,000–10,000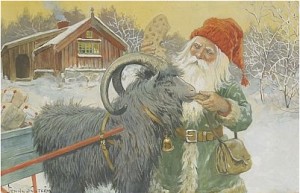 Tomte Med Julklappar
Price SEK 95,000 (€10,720)
Estimated SEK 25,000–30,000

Snöbollskriget
Price SEK 250,000 (€28,210)
Estimated SEK 200,000–250,000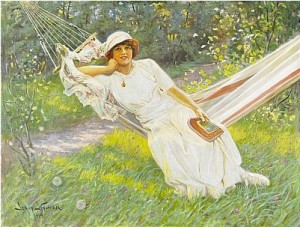 Price SEK 500,000 (€56,420)
Estimated SEK 500,000–700,000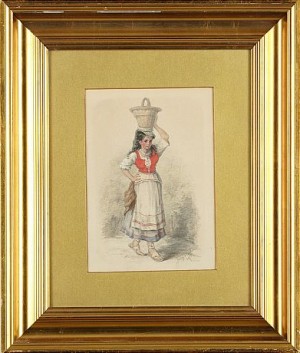 Sydländsk Kvinna Med Korg
(1875)
Price SEK 5,000 (€553)
Estimated SEK 7,000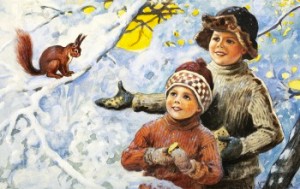 Gossar Matar Ekorre
Price SEK 52,000 (€5,847)
Estimated SEK 20,000–25,000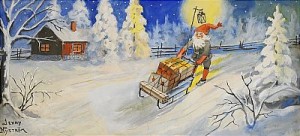 Tomte Med Julklappar
(Executed 1945-1950)
Price SEK 55,000 (€6,141)
Estimated SEK 60,000–80,000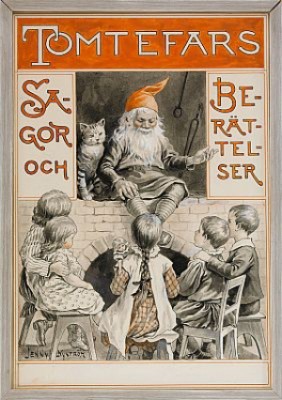 Tomtefars Sagor Och Berättelser Nr 1
(Executed 1898)
Price SEK 18,000 (€2,010)
Estimated SEK 25,000–30,000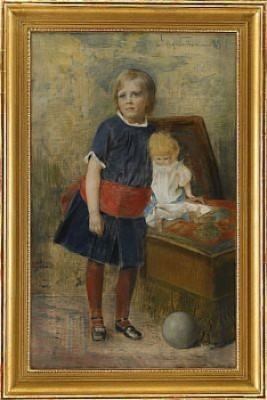 Price SEK 75,000 (€8,374)
Estimated SEK 100,000–125,000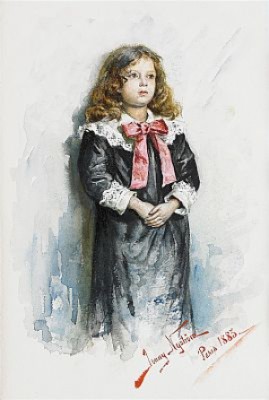 Price SEK 60,000 (€6,581)
Estimated SEK 60,000–80,000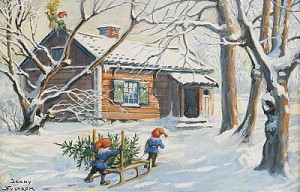 Julgranen Kommer
Price SEK 46,000 (€5,046)
Estimated SEK 20,000–25,000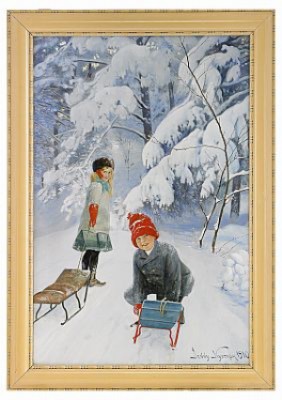 Price SEK 525,000 (€57,587)
Estimated SEK 250,000–300,000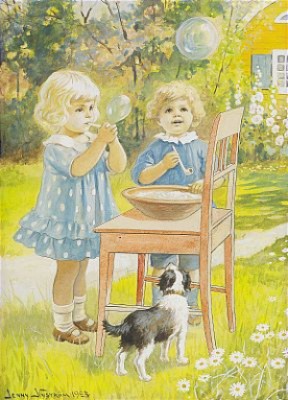 Price SEK 55,000 (€6,033)
Estimated SEK 50,000–60,000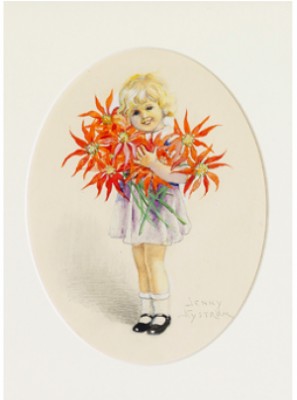 Flicka Med Blommor
Price SEK 13,000 (€1,347)
Estimated SEK 10,000–12,000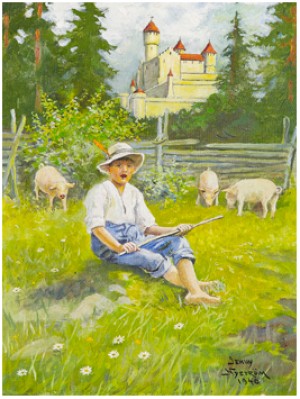 Price SEK 30,000 (€3,108)
Estimated SEK 20,000–25,000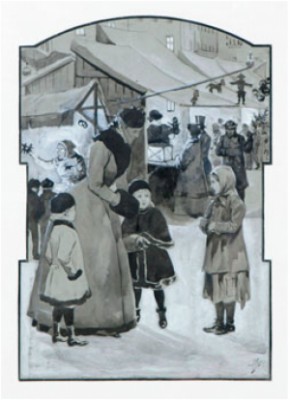 Julmarknad - Bokillustration
Price SEK 4,300 (€420)
Estimated SEK 3,000–4,000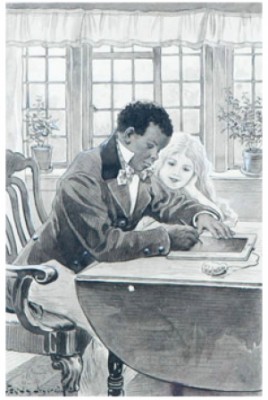 Skrivlektion - Illustration Till Onkel Toms Stuga
Price SEK 5,500 (€538)
Estimated SEK 3,000–4,000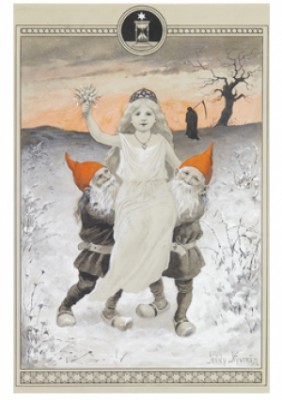 Det Nya året Bärs Av Julens Tomtar
Price SEK 22,000 (€2,103)
Estimated SEK 15,000–18,000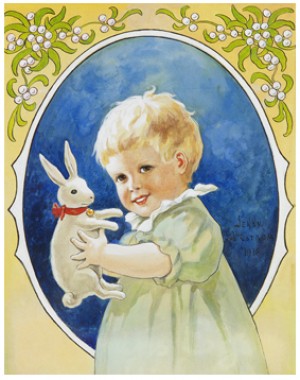 Price SEK 18,000 (€1,721)
Estimated SEK 12,000–15,000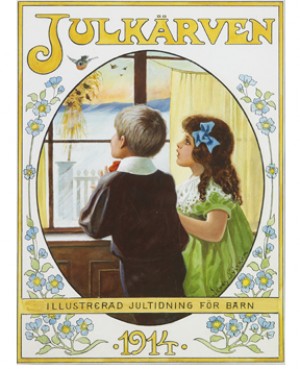 Julkärfven
Price SEK 11,000 (€1,052)
Estimated SEK 12,000–15,000
Segelbåt I Solnedgång
(1899)
Price SEK 21,000 (€2,009)
Estimated SEK 8,000–10,000
Vingåkerskulla - Bröstbild
(1921)
Price SEK 46,000 (€4,400)
Estimated SEK 20,000–25,000
Porträtt Av Ung Kvinna Med Solfjäder
(1913)
Price SEK 45,000 (€4,304)
Estimated SEK 10,000–12,000
Liten Flicka Vid Fågelbur
Price SEK 16,000 (€1,495)
Estimated SEK 15,000–20,000
Scheelegatan-bergsgatan - Motiv Från Kungsholmen, Stockholm
Price SEK 18,000 (€1,682)
Estimated SEK 15,000–18,000
Gråtande Flicka Vid Grind
Price SEK 7,000 (€654)
Estimated SEK 8,000–10,000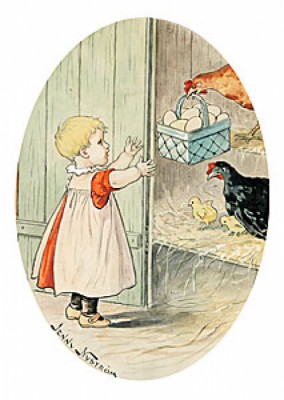 Påskäggen Levereras
Price SEK 23,000 (€2,149)
Estimated SEK 15,000–18,000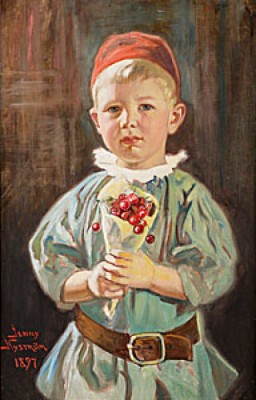 Price SEK 36,000 (€3,364)
Estimated SEK 35,000–40,000