Johan ERICSON

1849–1925, Sweden
Also known as: JE
Birth
1849, 17/10, Sweden
John Ericson studied at the Art Academy in Stockholm, later also in France. In 1885 he became a teacher of freehand drawing at Chalmers University in Gothenburg. Director vor Valand painting school in Gothenburg 1889-1890. He has painted landscapes in oils and watercolors from France, the Swedish west coast, Gotland and Scania.
Represented: National Museum in Stockholm, Helsingborg, Linkoping and Gothenburg Museum of Art.
Johan Ericson studerade vid Konstakademien i Stockholm, senare även i Frankrike. 1885 blev han lärare i frihandsteckning vid Chalmers i Göteborg. Föreståndare vör Valands målarskola i Göteborg 1889-1890. Han har målat landskap i olja och akvarell från Frankrike, svenska västkusten, Gotland och Skåne.
Representerad: Nationalmuseum i Stockholm, Hälsingborg, Linköping och Göteborgs Konstmuseum.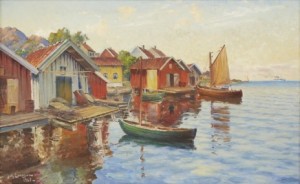 Fiskeläge I Bohuslän
(1925)
Price SEK 12,000 (€1,296)
Estimated SEK 12,000–15,000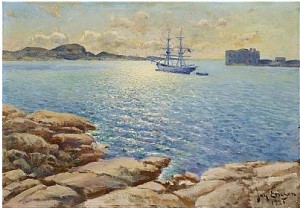 Sommardag, Marstrand
(1921)
Price SEK 15,000 (€1,620)
Estimated SEK 18,000–20,000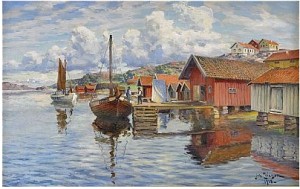 Fiskeläge, Bohuslän
(1918)
Price SEK 22,000 (€2,376)
Estimated SEK 25,000–30,000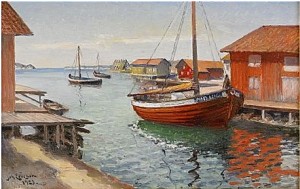 Price SEK 26,000 (€2,870)
Estimated SEK 20,000–25,000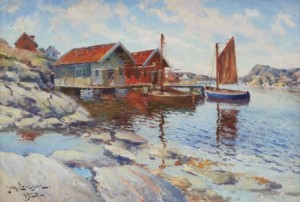 Price SEK 8,000 (€919)
Estimated SEK 10,000–12,000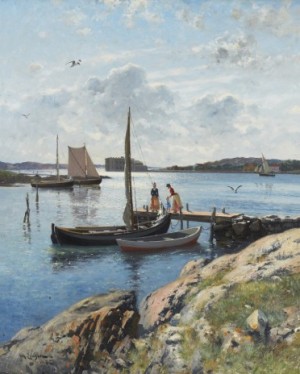 På Bryggan, Sommarmotiv Från Marstrand
(1886)
Price SEK 155,000 (€17,810)
Estimated SEK 30,000–40,000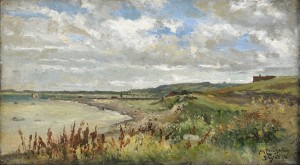 Kustmotiv Från Båstad
(-76)
Price SEK 16,000 (€1,862)
Estimated SEK 12,000–15,000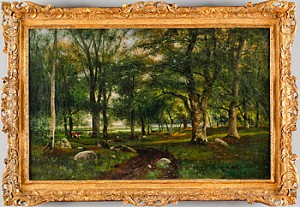 Skogen Fontainbleue
(1881)
Price SEK 10,000 (€1,202)
Estimated SEK 15,000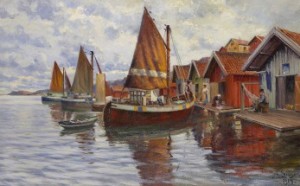 Fiskeläge I Bohuslän Med Figurer
(1919)
Price SEK 16,000 (€1,799)
Estimated SEK 20,000–25,000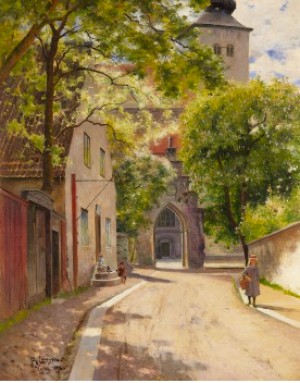 Barn På Norra Kyrkogatan, Visby
(1898)
Price SEK 40,000 (€4,498)
Estimated SEK 30,000–35,000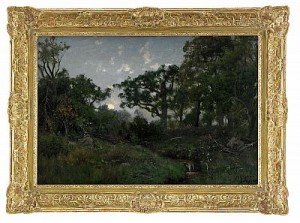 Månuppgång Fontainebleuskogen
(1879)
Price SEK 16,000 (€1,792)
Estimated SEK 20,000–25,000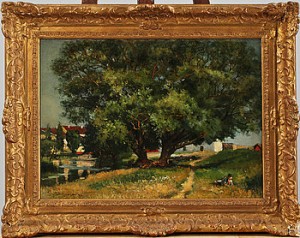 Landskapsmotiv
Price SEK 17,510 (€1,970)
Estimated SEK 15,000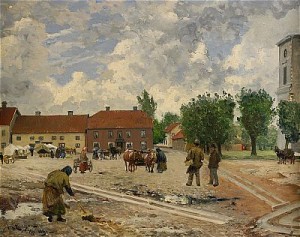 Folkliv På Torget I Hjo
(1891)
Price SEK 14,000 (€1,536)
Estimated SEK 15,000–18,000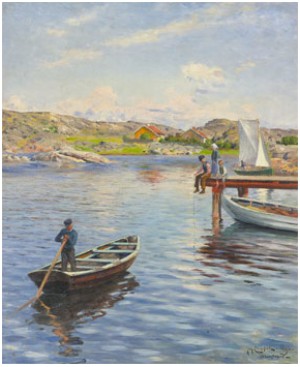 Kustlandskap Med Metande Barn
(1896)
Price SEK 32,000 (€3,464)
Estimated SEK 30,000–40,000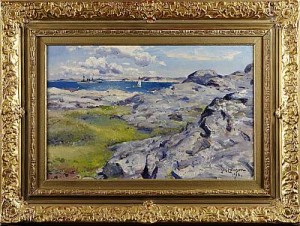 Price SEK 7,000 (€758)
Estimated SEK 8,000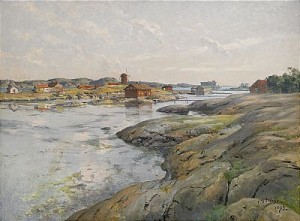 Price SEK 32,000 (€3,331)
Estimated SEK 20,000–25,000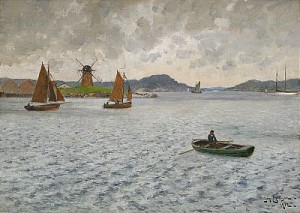 Utsikt Från Marstrands Hamn
(1912)
Price SEK 10,000 (€1,041)
Estimated SEK 12,000–15,000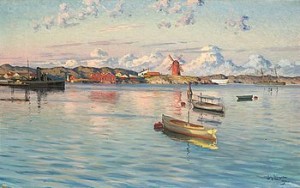 Sommarmotiv Från Marstrand
(1911)
Price SEK 21,000 (€2,182)
Estimated SEK 30,000–35,000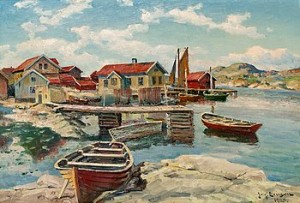 Motiv Från Kärringön
(1923)
Price SEK 15,000 (€1,559)
Estimated SEK 15,000–20,000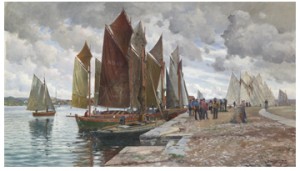 Motiv Från Marstrand
(1902)
Price SEK 92,000 (€8,795)
Estimated SEK 60,000–80,000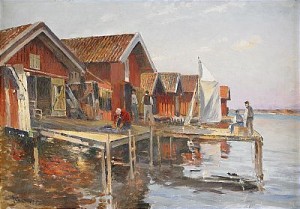 Fiskeläge - Bohuslän
Price SEK 26,000 (€2,487)
Estimated SEK 15,000–18,000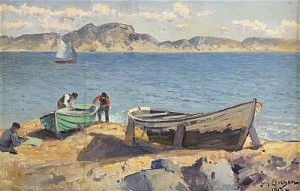 Strandparti Med Fiskare Och Uppdragna Båtar - Motiv Från Marstrand
(1917)
Price SEK 15,000 (€1,435)
Estimated SEK 15,000–18,000
Price SEK 7,000 (€670)
Estimated SEK 8,000–10,000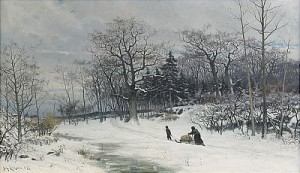 Vinterlandskap I Skymning
(1877)
Price SEK 37,000 (€3,539)
Estimated SEK 50,000–60,000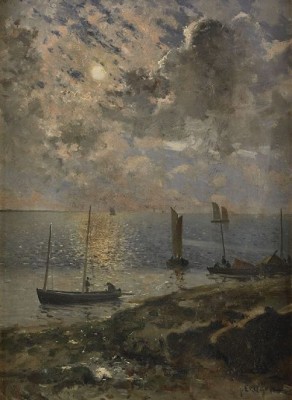 Bretagniska Fiskebåtar I Månsken
Price SEK 15,000 (€1,414)
Estimated SEK 15,000–18,000
Sommarmotiv Med Väderkvarn
(1916)
Price SEK 0 (€0)
Estimated SEK 15,000–18,000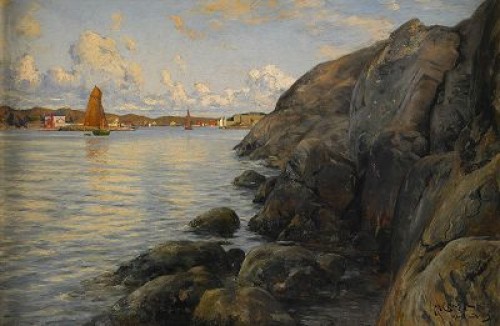 Sommardag I Marstrand
(1896)
Price SEK 18,000 (€1,697)
Estimated SEK 15,000–20,000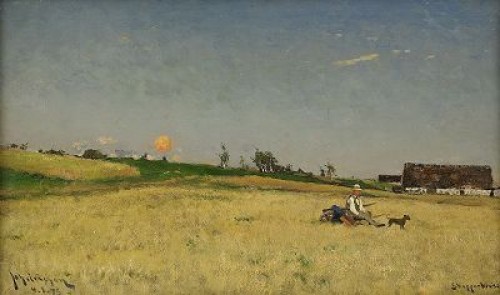 Sommarmotiv Från Skepparkroken - Skälderviken
(1878)
Price SEK 14,000 (€1,320)
Estimated SEK 15,000–18,000
Motiv Från Arilds Läge
(1878)
Price SEK 9,000 (€882)
Estimated SEK 10,000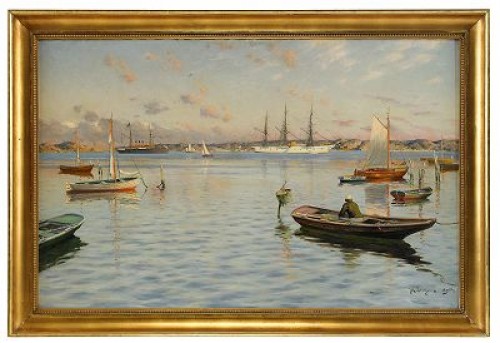 Främmande Krigsfartyg På Göteborgs Redd
(1895)
Price SEK 70,000 (€6,364)
Estimated SEK 80,000–100,000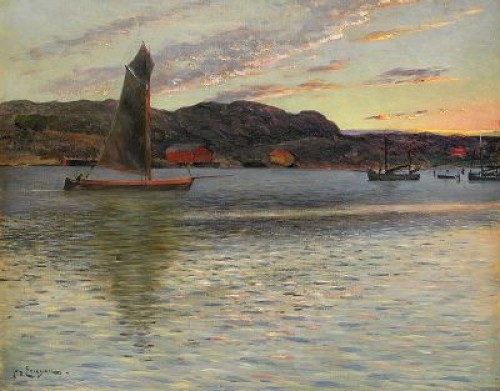 Aftonljus över Marstrand
Price SEK 11,000 (€982)
Estimated SEK 12,000–15,000