John Maclauchlan MILNE
1886–1957, Scotland
Name
John Maclauchlan MILNE
Died
1957, 28/10, Scotland
Like his father, Joe Milne qv, John Maclauchlan Milne was primarily a landscape painter. He was born in Edinburgh in 1886 and educated there, at George Watson's College. He studied at the Edinburgh College of Art, moving afterwards to Kingoodie, overlooking the Firth of Tay, near Dundee. Around 1908 he went to Canada, spending several years there, and worked as a cowboy for a time. On his return he visited Paris and, like Peploe "saw Cezanne and was immediately conquered" (Gaudie).

During the Great War of 1914-18, he served in the Royal Flying Corps. After the War, he returned briefly to Dundee before leaving again to study in Paris, where he painted a series of street scenes. He married a French woman and spent much time in France with her at the exquisite mediaeval village of Lavardin, near Vendome in the Loire Valley, supported by the patronage of Alex Keiller, head of the Dundee marmalade manufacturers, who paid him a stipend in return for some of his work. This enabled him to absorb the culture and atmosphere of France, free from financial worry.

Between 1919 and 1932, Maclauchlan Milne spent part of every year in France, first in the rue des Quatres-Vents on the Left Bank in Paris, but then in the Mediterranean, at Cassis and St Tropez, often with Peploe, Duncan Grant and Cadell. Strongly influenced by the Impressionists, the impact of his French experience and the dazzling light of the Cote d'Azur, remained throughout all his subsequent work.

His work is painted in a broad and colourful manner reminiscent of Cezanne and Van Gogh, as well as his compatriots, the Colourists. Duncan Macmillan, in "Scottish Art 1460-1990", describes the younger painters who mixed with Cadell and Peploe in France "the Second Generation of Colourists"; indeed, Sotheby\'s, in the catalogue for their 2007 Scottish Sale in Edinburgh , refer to him as the \"fifth Colourist\" (26th April 2007, Lot 118 \"Springtime in Arran\", sold for £31,250). He painted numerous works under the generic title of "Paysage de Provence". The lessons he\'d learnt on the continent were applied to the familiar landscapes of his homeland in Perthshire and on the East coast to beautiful effect. He spent summers around Iona and the west of Mull, painting with Cadell, Peploe, William Glass and John Duncan. He was popular with other artists and Hardie describes his personality as "attractive, ebullient and urbane". Milne was elected ARSA in 1934 and RSA in 1938. He exhibited 47 works at the RSA and 50+ at the RGI.

Shortly before the outbreak of the Second World War, he settled finally in High Corrie, on the Isle of Arran, where he lived for 19 years. He continued to paint there, the palette of his late work becoming more direct.
He died on Arran, on 28th October 1957 aged 71.
Source: caltongallery.co.uk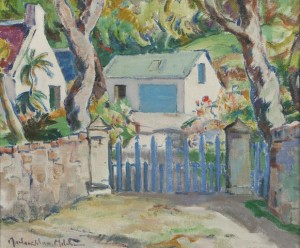 Cromla, Corrie, Arran
Price GBP 20,000 (€25,360) Incl. buyer's premium
Estimated –