Jonathan LASKER
1948, USA
Lived & Active In
New York, USA
Jonathan Lasker studied at the School of Visual Arts, New York (1975-77) and California Institute of the Arts, Valencia (1977).
He is well-known for large-scale abstract naive expression paintings.
Jonathan Lasker gick på 1970-talet emot sina lärare vid den konceptinriktade konstskolan Cal Arts i Kalifornien, där man konstaterade att måleriet var dött. Lasker plockade i stället fram penslarna och började utforska måleriets möjligheter efter minimalismen.
Lasker rör sig i gränslandet mellan det föreställande och det abstrakta. På ett till synes lekfullt sätt, undersöker han i sina verk begreppet figuration. Han för ett samtal med betraktaren om vedertagna moderna begrepp som konceptuell konst kontra abstrakt expressionism och visar på en fortsättning och en vidareutveckling av dessa termer.
Genom att i sina verk arbeta med olika lager och nivåer lyckas Lasker förena både ett undermedvetet och autonomt måleri med ett mycket strikt och välregisserat. Även om konstnären själv vill tona ner sin bakgrund som musiker, medger han att det finns tydliga paralleller i hur man komponerar musik och måleri.
Lasker menar att måleriet av tradition definieras som tvådimensionellt, medan han ser sina egna målningar snarare som tredimensionella verk.
- Jag tänker ofta att jag skulle kunna lyfta av de biomorfa former, som ligger som pusselbitar ovanpå grundmönstret i mina målningar och hänga dem på väggen för ett ögonblick. Bara låta dem hänga där på en klädhängare helt separerade från vad som händer i målningens grund.
Jonathan Lasker har gjort ett stort antal internationella soloutställningar och hans verk finns bland annat på MoMA i New York och Moderna Museet i Stockholm.
Source: Stockholms Auktionsverk, Stockholm Sweden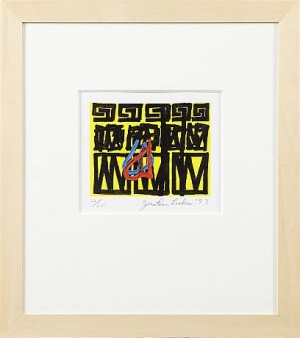 Price SEK 3,400 (€380)
Estimated SEK 1,000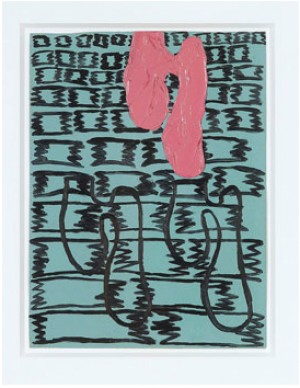 Price SEK 20,000 (€2,165)
Estimated SEK 25,000–30,000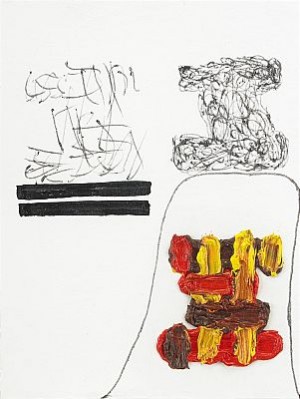 Why People Are So Nice (study)
(1996)
Price SEK 32,000 (€3,328)
Estimated SEK 25,000–30,000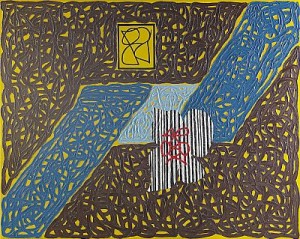 Price SEK 420,000 (€41,244)
Estimated SEK 400,000–500,000