Jorge KRALLIS

1937, Greece/Sweden
Lived & Active In
After 1966, Sweden
Jorge Krallis studied at the Academy in Munich, Amsterdam School Graphics. He studied graphics at the Academy in Stockholm. He works in painting and graphics, and has never lost his childhood toys and the fabulous world of Greece. There are a lot of animals in his motives. Represented:
Represented in several museums and collections in Europe, USA and Sweden.
Jorge Krallis studerade vid Konstakademin i München, Grafikskolan i Amsterdam och Kontshögskolans Grafikskola i Stockholm. Han arbetar i måleri och grafik och har aldrig släppt sin barndoms leksaks- och fabelvärld i Grekland. Det finns mycket djur i hans motiv.

Separatutställningar:
1968 Gröna Paletten, Stockholm
1970 Galleri Belle, Västerås
1972 Gallaria Insicione, Milano
1972 Galleri Hedenius, Stockholm
1973 Konstfrämjandet, Stockholm och Malmö

Samlingsutställningar:
Deltagit i flera samlingsutställningar i Sverige, Norge, Tyskland, Grekland, Italien, Schweiz, England, USA, Japan, Argentina m fl länder.

Representerad:
Representerad i flera museer och samlingar i Europa, USA och Sverige.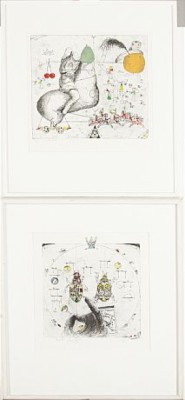 2 St., "beetles" Resp "pavonet"
(-79-85)
Price SEK 500 (€58)
Estimated SEK 1,200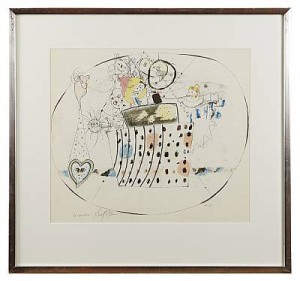 La Anciene
Price SEK 700 (€78)
Estimated SEK 1,000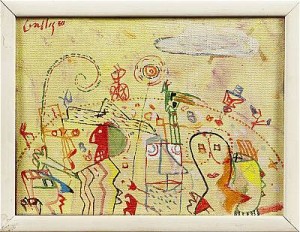 Circus
Price SEK 1,200 (€129)
Estimated SEK 1,200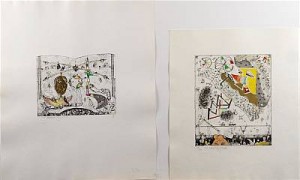 Puss, Baganota
Price SEK 700 (€72)
Estimated SEK 1,200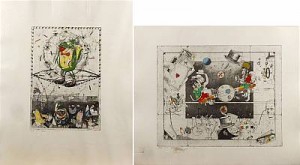 2) Froggie, Monikie Business
Price SEK 900 (€88)
Estimated SEK 1,500