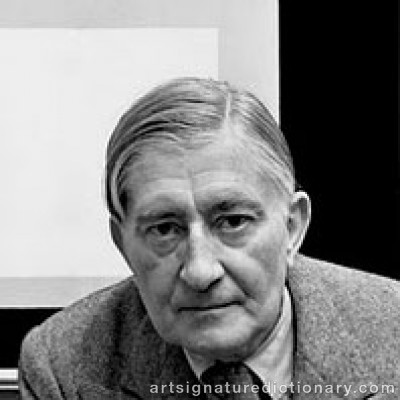 Josef ALBERS

1888–1976, Germany/USA
Also known as: A
Der deutsch-amerikanische Maler und Kunstlehrer Josef Albers wird am 19.3.1888 in Bottrop geboren. 1905 absolviert er in Langenhorst und Büren die Ausbildung zum Lehrer und ist in Büren bis 1913 tätig. Dann geht er nach Berlin und studiert dort 1913-15 an der Königlichen Kunstschule, macht auch die Prüfung als Kunstlehrer. 1916 wechselt er nach Essen und besucht dort bis 1919 die Kunstgewerbeschule. Danach geht er an die Akademie in München, wo er in die Malklasse von Franz von Stuck aufgenommen wird. 1920 schließlich schreibt sich Albers am Bauhaus in Weimar ein. 1923 erhält er von Walter Gropius einen Lehrauftrag für Werklehre, 1925 erfolgt die Ernennung zum Jungmeister. Josef Albers übernimmt die Glaswerkstatt und leitet gemeinsam mit László Moholy-Nagy den Vorkurs, ab 1928 alleine. Als Marcel Breuer 1928 das Bauhaus verlässt, übernimmt Albers die Möbelwerkstatt.
Josef Albers' gestalterische Tätigkeit erreicht in der Bauhauszeit ihren ersten Höhepunkt. Er setzt die neuen Ideen, wonach jegliche künstlerische Tätigkeit gleichermaßen vom Zweck des Werkstücks wie auch durch die Gegebenheiten des Materials bestimmt werden müssen, in seinen Entwürfen zu Möbeln, Gebrauchsgegenständen, aber auch Typografien, Linolschnitten und Lithografien um. Diesen Lehren fühlt er sich sein Leben lang verpflichtet. Besonders spürbar wird während der Bauhauszeit in Josef Albers' Werken aber auch der Einfluss der holländischen Künstlergruppe "De Stijl".
Nach der Schließung des Bauhauses emigriert Josef Albers in die USA. Er folgt dem Ruf an das neu gegründete Black Mountain College in North Carolina und übernimmt dort bis 1949 die Leitung der Kunstabteilung.
1933-36 ist Josef Albers Mitglied der Gruppe "Abstraction-Création", 1938 tritt er der Vereinigung "American Abstract Artists" bei. 1950 wird er Direktor des Department of Design an der Yale University. 1969 zieht der Künstler mit seiner Frau Anni Albers nach Orange bei New Haven.
Berühmt werden Josef Albers' Variationen der "Hommage to the Square", an denen er ab 1949 arbeitet und die sein Spätwerk bestimmen. Sie entstehen aus seinen wahrnehmungstheoretischen Überlegungen heraus, die er auch in einer Reihe von Schriften formuliert, 1963 erscheint "Interaction of Color", 1972 "Formulation: Articulation". Josef Albers' Wirken sowohl als Künstler, Theoretiker und Lehrer hat großen Einfluss auf die Entstehung der amerikanischen Farbfeld-Malerei sowie der Op-Art.
In den 1960er und 1970er Jahren arbeitet der Künstler verstärkt mit den druckgrafischen Techniken, besonders Serigrafie und Lithografie.
Josef Albers stirbt am 25.3.1976 in New Haven, Connecticut.
Source: www.josef-albers.de
The German-American painter and art teacher Josef Albers was born in Bottrop on March 19, 1888. In 1905 he is trained to be a teacher in Langenhorst and Büren and works in Büren up until 1913. From 1913 to 1915 he attends the "Königliche Kunstschule" in Berlin, where he also takes the examination for art teachers. He changes to Essen in 1916 and attends the School of Arts and Crafts until 1919. Afterwards he attends the Munich Academy and is accepted into the drawing class of Franz von Stuck. He enrolls at the Bauhaus in Weimar in 1920. In 1923 he is given a teaching assignment by Walter Gropius, in 1925 he is appointed "Jungmeister" (Young Master) at the Bauhaus. Josef Albers takes over the glass workshop and leads the preparatory course along with László Moholy-Nagy, as of 1928 he holds this position by himself. He takes over the furniture workshop when Marcel Breuer leaves the Bauhaus in 1928.
Josef Albers' artistic activities reach their peak during his Bauhaus years. His designs of furniture, objects of utility, but also typographs, linocuts and lithographs clearly reflect an idea according to which all artistic activities are determined by both the object's intended use and the material. He feels obliged to this philosophy throughout his life. The influence of the Dutch artist group "De Stijl" becomes obvious in Albers' Bauhaus works.
Josel Albers immigrates to the USA after the Bauhaus had been closed. He follows a call to the newly found Black Mountain College in North Carolina, where he is head of the art department until 1949.
From 1933 to 1936 Josef Albers is a member of the group "Abstraction-Création", and joins the "American Abstract Artists" in 1938. He becomes director of the Department of Design at Yale University in 1950. The artist and his wife Anni move to Orange near New Haven in 1969.
Josef Albers' variations of the "Hommage to the Square", on which he works as of 1949 become quite famous and also determine his later works. They originate from his ponderings on theories of reception, on which he also makes a number of writings, he releases "Interaction of Color" in 1963 and "Formulation: Articulation" in 1972. Josef Albers' activities as an artist, theoretician and teacher can be observed in American Colourfield Painting as well as in Op-Art.
He increasingly uses graphic techniques, especially silkscreen and lithography, in the 1960s and 1970s.
Josef Albers dies in New Haven, Connecticut on March 25, 1976.
Source: www.albers-josef.com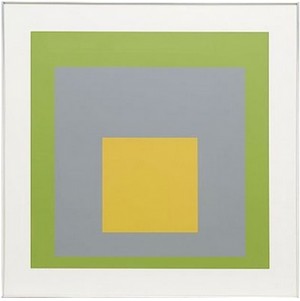 Price SEK 11,000 (€1,216)
Estimated SEK 10,000–12,000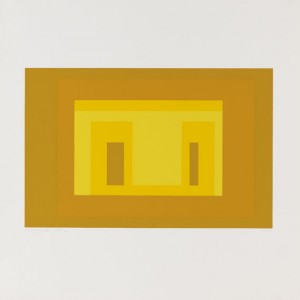 Ten Variants, The Portfolio Comprising 10 Silkscreen In Colors
(1967)
Price EUR 16,250 Incl. buyer's premium
Estimated EUR 12,000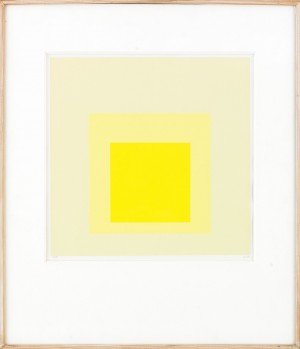 Hommage To The Square
(-64)
Price SEK 10,000 (€1,165)
Estimated SEK 12,000–15,000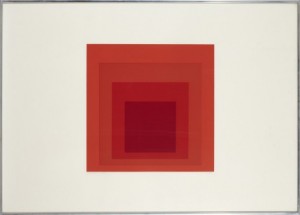 Jhm 1
Price SEK 16,000 (€1,853)
Estimated SEK 8,000–10,000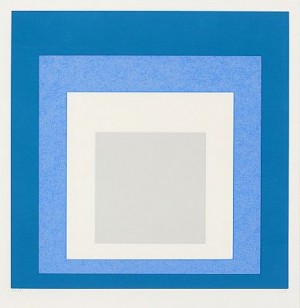 Hommage To The Square
(1964)
Price SEK 26,000 (€2,836)
Estimated SEK 15,000–18,000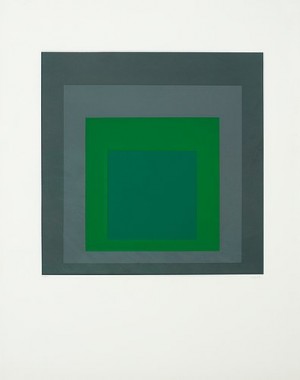 Hommage Au Carré
(1964/65)
Price SEK 16,000 (€1,728)
Estimated SEK 15,000–20,000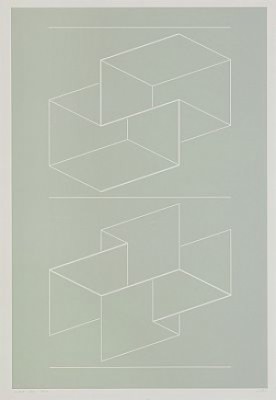 Price SEK 4,000 (€434)
Estimated SEK 5,000–6,000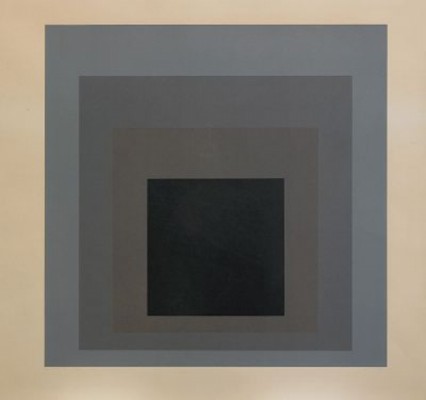 Price SEK 20,000 (€1,826)
Estimated SEK 5,000–6,000