Jules René HERVÉ

1887–1981, France/USA

Verdict of guilty
0201-K276924-11
Oil on canvas, 80x40 cm, signed, motives "Le Pont, Paris' ostensibly picturing an authentic painting by the French artist" Jules René Hervé ". The painting was for sale in a small auction house, via the internet. It was sold for 8.000 SEK (ca. 8.000 EUR), but the buyer did not complete the purchase. Shortly thereafter, the painting was sold for 19.618 SEK (ca. 1.962 EUR). via the Internet by another major auction houses. The buyer suspected that the painting was a forgery and contacted a major foreign auction house that he collaborated with. They respond that the painting is probably not authentic. The purchase went back and police engaged. The painting was examined by experts who concluded that it had been tampered with. A previous signature had been removed and that it has a new varnish in some places. The seller stated during questioning that he had bought the painting for 2.000 SEK (ca. 200 EUR). That it was painted in a style that he thought consistent with Hervé's paintings. That he had removed the existing signature and instead had forged Jules Rene Herve's signature to raise the painting value and thus make more money. The seller had a time bought and sold art. When this did not yield the expected revenue, it became all too tempting to instead forge art. Court: The painting Le Pont, Paris is not painted or signed by Jules Rene Herve. It is a forgery and shall be forfeited.
Oljemålning på duk, 80x40 cm, signerad, motiv "Le Pont, Paris" skenbart föreställande en äkta målning av den franske konstnären "Jules René Hervé". Målningen var till salu hos ett mindre auktionshus, via internet. Den såldes för 8.000 kr men köparen ville ej fullfölja köpet. Målningen lämnades därefter till ett större auktionshus och såldes via internet för 19.618 kr. Köparen misstänkte att målningen var en förfalskning och kontaktade då ett stort utländskt auktionshus som han samarbetade med. De svarar att målningen troligen inte är äkta. Köpet reklameras och polis kopplas in. Målningen undersöktes av expertis som konstaterade att den hade manipulerats. Att en tidigare signatur hade avlägsnats samt att den har nyare fernissa på vissa ställen. Säljaren uppgav vid förhör att han hade köpt målnings för 2.000 kr. Att den var målad i en stil som han tyckte överensstämmer med Hervé's måleri. Att han hade avlägsnat den befintliga signaturen och i stället hade förfalskat Jules Rene Hervé's signatur för att höja målningens värde och på så sätt tjäna mer pengar. Säljaren hade en tid handlat med konst. När detta inte gav de förväntade inkomsterna blev det allt för lockande att i stället förfalska konst. Domstolens beslut: Målningen Le Pont, Paris är varken målad eller signerad av Jules Rene Hervé. Det är en förfalskning och skall förverkas.









Jules René Hervé, an impressionist for our time, was the type of artist who worked mainly on his own, indifferent to the fashion and trends of the day. He never ceased to deepen the technical secrets of his art; and after fifty years of artistic experience, he arrived at complete mastery of the science of this art which absorbed him. Born in 1887 in Langres, a town in the eastern part of France, he began his art studies at an evening school in his hometown. As far back as he could remember, Herve always wanted to become an artist and thus to be able to express through color, the beauty of everything he saw.

Hervé went to Paris where he first continued his studies at the L'Ecole nationale supérieure des Arts Décoratifs and then at the École des Beaux-Arts. His work was given great recognition as early as 1914 when, at the age of twenty seven, he was awarded the Medaille d'Argent at the Salon des Artistes Francais, where he exhibited regularly. Numerous awards, honors and distinctions followed throughout his life, as he continued to show his paintings in the various Paris Salons. Obtaining his teaching diploma, he taught painting to many generations of young artists from 1911 to 1943. Jules' palette was always distinctive with its shimmering colors, applied in small light touches, reminiscent of the great Impressionists. With his sophisticated coloration and light touch, Hervés images, were critically acclaimed as the "jewels" of the Salon of French Artists in 1940.

Jules René Hervé was both a painter of daily country themes in which there are characters at their daily tasks, and a painter of Parisian scenes. He interpreted his scenes with sensibility, putting all his heart into his work. All his artistic sensitivity was achieved by incredible strokes of light and color.

Paris as seen by Hervé is a city of poetry. The City of Lights under its most touching aspects, and at its most charming. It is the real part of Paris, with its sentimental life and feelings, its special character, that inspired Hervé to paint.

Not only was Hervé a painter of great talent, he represented the purest tradition of French art. He painted like the great impressionists of former times, playing with his colors as a musician does with his musical instruments. He obtained in each of his works a harmony of color and light. Jules René Hervé, thankfully, left us a huge legacy of work.


Source: http://www.wallyfindlay.com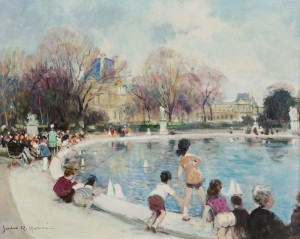 Boats On The Pond
Price USD 8,125 (€6,535) Incl. buyer's premium
Estimated USD 6,000–8,000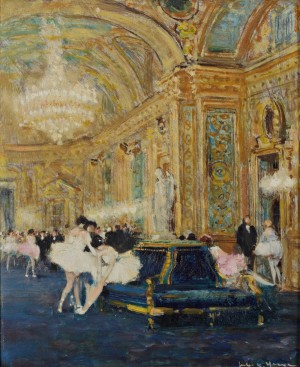 Danseuse Au Foyer De L'opéra De Paris
Price EUR 1,900
Estimated EUR 1,200–1,500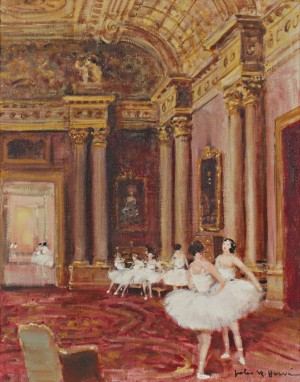 Danseuse Au Foyer De L'opéra De Paris
Price EUR 1,800
Estimated EUR 1,200–1,500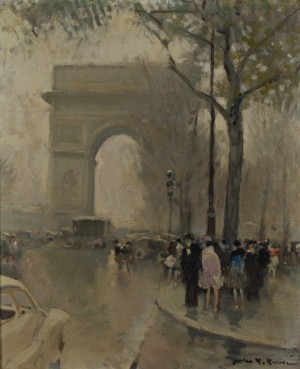 Les Champs Elysées Et L'arc De Triomphe
Price EUR 3,200
Estimated EUR 1,200–1,500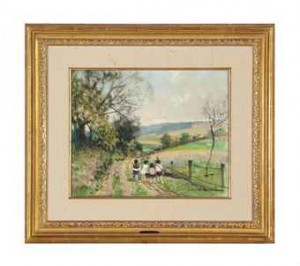 Children Walking Down A Country Path
Price USD 3,000 (€2,397)
Estimated USD 800–1,200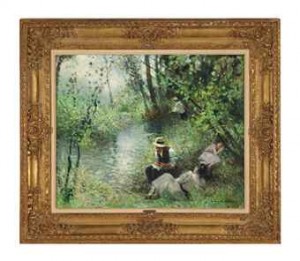 A Leisurely Day Beside The Stream
Price USD 6,000 (€4,795)
Estimated USD 1,500–2,000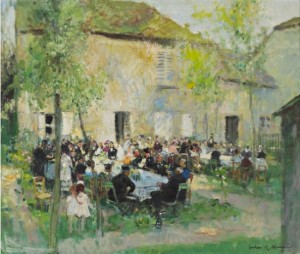 Banquet De Noces
Price EUR 4,200 Not sold
Estimated EUR 6,000–10,000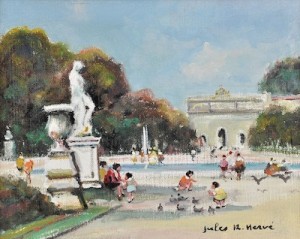 Fountain
Price USD 1,783 (€1,327)
Estimated USD 2,000–4,000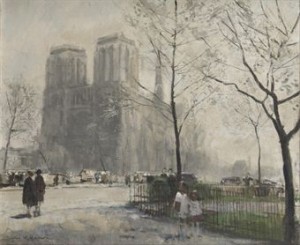 Notre Dame, Paris
Price EUR 2,500
Estimated EUR 2,000–3,000