Karl HÖGLUND

1940, Sweden
Karl-Erik Höglund have been doing all his life with color and form in which the interplay between light and shadow, often with very small displacements denomination that allows the graphic image is strikingly similar to a painting. He often depicts the Swedish summer, setting up meetings between people play a central role. Karl-Erik Höglund have been many exhibitions around Sweden behind him and is represented in companies, institutions and counties across the country.
Karl-Erik Höglund har hela sitt liv sysslat med färg och form där spelet mellan ljus och skugga, gärna med mycket små valörförskjutningar som gör att den grafiska bilden blir slående lik en målning. Han skildrar ofta den svenska sommaren där möten mellan människor intar en central roll.

Karl-Erik Höglund har många utställningar runt om i Sverige bakom sig och finns representerad på företag, landsting samt institutioner över hela landet.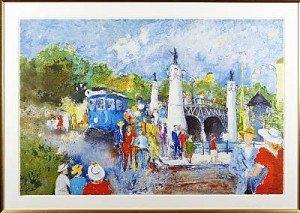 Djurgårdsbron
Price SEK 3,200 (€365)
Estimated SEK 2,000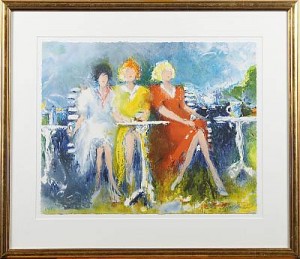 Cafédamer
Price SEK 1,500 (€155)
Estimated SEK 1,200
Cyklande Par
Price SEK 2,500 (€244)
Estimated SEK 1,800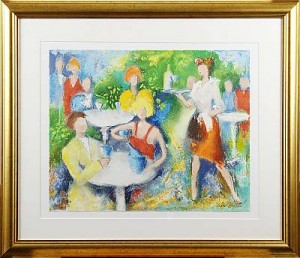 Uteservering
Price SEK 1,800 (€177)
Estimated SEK 1,500