Konrad KLAPHECK

1935, Germany
From the 1950s onwards, the German artist Konrad Klapheck used his art to explore industrial machines as well as everyday objects such as sewing machines, typewriters and valves, to which he applied psychological, social and political dimensions. The titles constitute a significant part of the works and emphasise the human properties. Names such as Die Maitresse (The Mistress) and Die Mütterliche Vater (The Motherly Father) also feature sexual undertones that lead thoughts unswervingly in the direction of surrealist art.
During an extended visit to Paris in 1956-57, Klapheck encountered the work of Max Ernst and published a small booklet of drawings to which he applied Ernst\'s special techniques of klecksography and decalcomania.
In 1962, Klapheck received a visit from Leo Castelli, the legendary American gallery owner who had put on exhibitions of the works of Andy Warhol, for example. Castelli stated his opinion that there were clear parallels between the new direction of art in the United States - termed \"Pop Art\" - and Klapheck\'s art, and purchased four works on the spot. Klapheck exhibited in New York several years later, but at the Sidney Janis gallery, which arranged the trailblazing exhibition entitled The New Realism in 1962. This exhibition featured works by a range of artists including Andy Warhol, Roy Lichtenstein, Claes Oldenburg and James Rosenquist.
In parallel with this, Klapheck held an exhibition in Paris, participating in the last major exhibition of the surrealists.
Konrad Klapheck\'s art constitutes an important link between surrealism and pop art.
Source: Stockholms Auktionsverk, Stockholm Sweden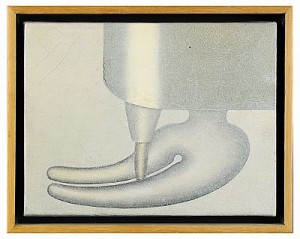 The Cruel Woman
(1959-60)
Price SEK 310,000 (€30,938)
Estimated SEK 125,000–150,000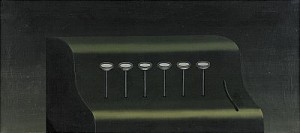 Day After Day
Price SEK 800,000 (€79,840)
Estimated SEK 250,000–300,000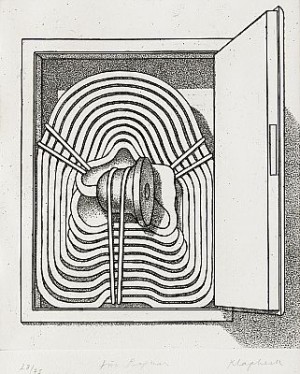 Untitled
Price SEK 3,600 (€359)
Estimated SEK 2,000–3,000