Kræsten IVERSEN
1886–1955, Denmark
Also known as: KI
Name
Kristen, Kræsten, IVERSEN
Kristen \"Kræsten\" Iversen was a Danish artist who is remembered both for his paintings and his painted glass windows.
While studying at Copenhagen\'s Technical Academy, he quickly developed contacts with the artists of the day. By 1919, his colourful work was already being successfully exhibited. In 1920, he visited Bornholm for the first time where the natural colours and distinctive light influenced his landscapes. He thus became one of the Bornholm school of painters.
His first work with glass was for the church in Risskov. Iversen also designed the window in the North Chapel at Fårevejle Church. He went on to decorate the windows of the Danish church in Buenos Aires.
He decorated a number of other buildings including Christiansborg, the city hall in Aarhus and the windows of Sankt Nikolaj\'s church in Svendborg.
Iversen was exceptionally diversified in his art work which covered oils, frescos, watercolours, mosaics and glass painting.
Source: From Wikipedia, the free encyclopedia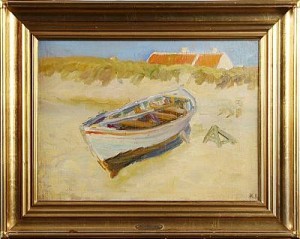 Kustmotv
Price SEK 1,400 (€144)
Estimated SEK 1,000