Kyaw THAUNG

1948, Myanmar
Kyaw Thaung

1948 Born in North Dagon Township, Yangon, Myanmar
1965 Graduated from State School of Fine Art, Yangon, Myanmar
1974 Grauated from Institute of Education (B.Ed), Yangon, Myanmar
Prizes Awarded
1965 First Prize in both Water colour & Oil painting contests held on the Worker's Day(May Day), by Artists and Artisans Association
1972 Consolation Prize in "The World to Live" by UNESCO

He is the founder of the "White Line Art Gallery and has displayed more than 30 exhibitions. He has also participated in Government's Board of Judge Members in the inter-State School art Competition.

His paintings are collected by National Museum, Yangon and Dhammikayama, Burmese Buddhist Temple, Penang, Malaysia.
Source: http://www.asia-fineart.com/page.php/artist/Kyaw_Thaung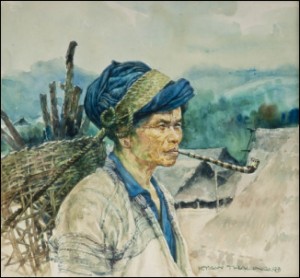 Price EUR 0 Not sold
Estimated EUR 500–600