Lars Holm studied at the Art School at NBV-Tollare in Sweden. He has been much appreciated for its delicate natural scenes and that he has a sophisticated sense of color value wealth.
He has held several exhibitions in Sweden: Norrtälje, Sundsvall, Umeå, Stockholm, Gothenburg, Luleå, and Gotland.
Represented: In several counties, municipalities and the National Arts Council\'s collections.
Source: Art Signature Dictionary
Lars Holm studerade vid Konstskolan på NBV-Tollare. Han har uppskattats mycket för sina känsliga naturnära skildringar och att han har en avancerad känsla för färgernas valörrikedom.
Han har haft ett flertal utställningar i Norrtälje, Sundsvall, Umeå, Stockholm, Göteborg, Luleå samt på Gotland.

Representerad:
På ett flertal landsting, kommuner och Statens konstråds samlingar.
Source: Art Signature Dictionary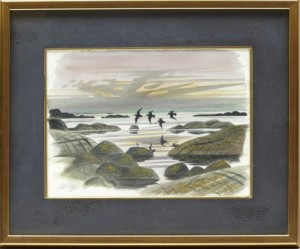 Skärgårdslandskap
Price SEK 950 (€100)
Estimated SEK 1,000–1,500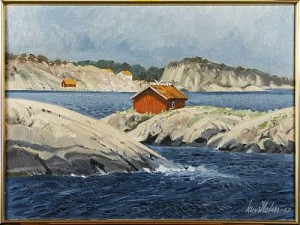 Price SEK 2,500 (€257)
Estimated SEK 2,000