Lars LINDEBERG
1925, Sweden
Lars Lindeberg studied for Otte Sköld, at the Art Academy, graphics board, and in London. He was a teacher at the Royal Institute of Technology from 1964 to 1965. He worked with vigorous brush strokes and bright colors, realistic urban and industrial images, as well as religious motives. Member of the graphics group IX, which had several group exhibitions.
Represented: National Museum in Stockholm, Malmo Museum, HMK, museums in Norrköping, Linköping, Statens Museum for Kunst in Copenhagen, National Gallery in Oslo.
Source: Art Signature Dictionary
Lars Lindeberg studerade för Otte Sköld, vid Konsthögskolan, grafiklinjen, samt i London. Han var lärare vid Kungliga Tekniska högskolan 1964-1965. Han arbetade med kraftfulla penseldrag och i klara färger realistiska stads och industribilder, samt även religiösa motiv. Medlem i grafikgruppen IX, som hade ett flertal samlingsutställningar.
Representerad: Nationalmuseum i Stockholm, Malmö Museum, H.M.K., muséerna i Norrköping, Linköping, Statens Museum för Kunst i Köpenhamn, Nasjonalgalleriet i Oslo.
Source: Art Signature Dictionary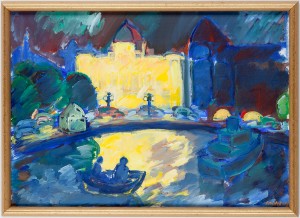 Vy över Nybrokajen
Price SEK 1,200 (€128)
Estimated SEK 3,000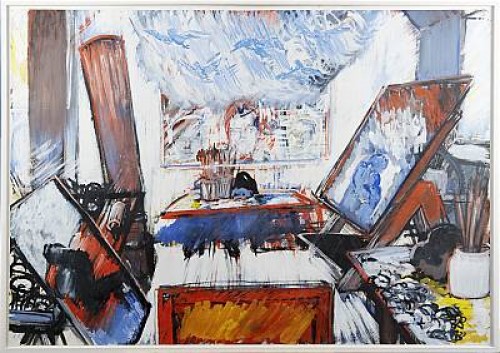 I Ateljen
Price SEK 1,700 (€169)
Estimated SEK 1,500