Laszlo PATAKY VON SOSPATAK
1857–1912, Hungary
Name
Laszlo PATAKY VON SOSPATAK
Bedeutender ungarischer Maler. Schüler von Mihály Munkácsy, studierte an der Münchner Akademie und gelangte in den Einfluss der Münchner Schule, später in Paris, wobei er wechselnd in München, Budapest und Paris gewirkt hat. Neben Genreszenen malte er auch Landschaften aus Ungarn und etliche Dokumente aus dem Kriegsgeschehen der Zeit.
Source: http://www.hampel-auctions.com/
Major Hungarian painter. Student of Mihály Munkácsy, studied at the Munich Academy, and came under the influence of the Munich school, and later in Paris, where he has worked alternately in Munich, Budapest and Paris. In addition to genre scenes, he also painted landscapes of Hungary and some documents from the war events of the time.
Source: http://www.hampel-auctions.com/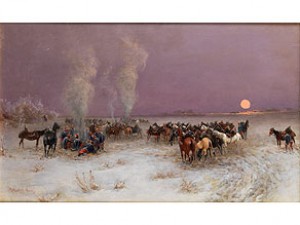 Französische Kavallerie Bei Der Rast
Price EUR 0 Not sold
Estimated EUR 5,000–7,000