Lennart BERNADOTTE
1909–2004, Sweden
Lennart Bernadotte was the son of Prince William, second son of Gustaf V, and Grand Duchess Maria Pavlovna of Russia. February 20, 1932 married Prince Lennart to Karen Nissvandt (1911-91) and lost because of this the prince title and the succession to the Swedish throne. In 1951 he was awarded the title of Count of his father\'s second cousin Grand Duchess Charlotte of Luxembourg.
SWE:
Bernadotte, Gustaf Lennart Nicolaus Paul af Wisborg, greve, född som prins av Sverige den 8 maj 1909 i Stockholm, död 21 december 2004 på Mainau, Baden-Württemberg, Tyskland. Bar som prins titeln hertig av Småland.

Lennart Bernadotte var son till prins Wilhelm, andre son till Gustaf V, och Maria Pavlovna av Ryssland. 20 februari 1932 gifte sig prins Lennart med Karin Nissvandt (1911-91) och förlorade på grund av detta prinstiteln och arvsrätten till den svenska tronen. 1951 tilldelades han titeln greve av sin fars syssling Storhertiginnan Charlotte av Luxemburg. Äktenskapet med Karin Nissvandt upplöstes i december 1971. 29 april 1972 gifte greven om sig med Sonja Haunz (f. 1944).

År 1932 köpte Lennart slottet Mainau, på en ö i Bodensjön i södra Tyskland, av sin far. Familjen bosatte sig där 1952. Fram till sin död ägde och förvaltade Lennart slottet Mainau. Slottets park är känd som ett blomsterparadis. Hustrun Sonja Bernadotte har sedan länge varit VD för anläggningen. Lennart Bernadotte led under sista tiden av sitt liv av svår lungemfysem.
Source: http://sv.wikipedia.org/wiki/Lennart_Bernadotte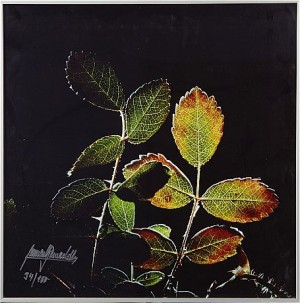 Löv
Price SEK 1,500 (€165)
Estimated SEK 1,200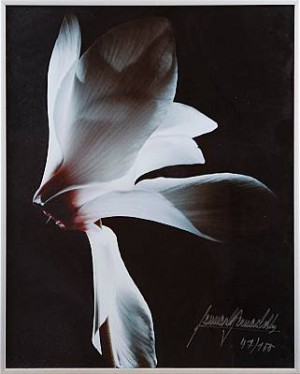 Orkidé
Price SEK 1,500 (€145)
Estimated SEK 2,000