Lennart BLOMQVIST
1879–1954, Sweden
Lennart Blomquist painted urban and street scenes often from Paris. He exhibited at the Göteborg Konsthall 1930th Together with Carl Frisendahl and Hadar Jonze. \"Lennart Blomqvist was a long time a fixture in the Swedish artists\' colony in Paris. He painted intimate and colorful street scenes, both from Paris and traveling in southern Europe. For the Swedish audiences debuted Blomqvist at Gummeson art gallery in 1929 and then followed several exhibitions; including at the Galerie Moderne. \"
Source: Bukowski in Stockholm.

Represented: Moderna Museet in Stockholm.
Lennart Blomquist målade stads- och gatubilder ofta från Paris. Han ställde ut på Göteborgs Konsthall 1930. tillsammans med Carl Frisendahl och Hadar Jönzen.
\"Lennart Blomqvist var under en lång tid en fast punkt i den svenska konstnärskolonin i Paris. Han ställde flera gånger ut på Salongen och målade intima och färgstarka gatuscener, både från Paris och från resor i Sydeuropa. För den svenska publiken debuterade Blomqvist på Gummesons konsthall 1929 och därpå följde flertalet utställningar, bl a på Galerie Moderne.\"
Källa: Bukowskis i Stockholm.

Representerad:
Moderna Museet i Stockholm.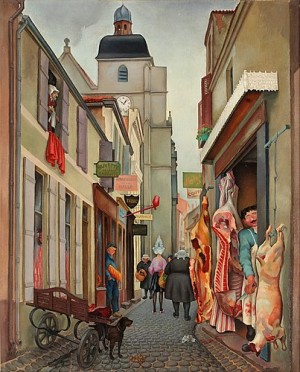 Gata Sables D' Olonne
Price SEK 26,000 (€2,824)
Estimated SEK 12,000–15,000