Lennart SEGERSTRÅLE

1892–1975, Finland

Verdict of guilty
T/200702/005_2400/R/219/04
Oil on canvas, Seascape with flying swans, signed "L. Segerstråle", 102x136 cm. The painting was submitted for sale to a major auction house in Helsinki by three men. They tried to sell a number of counterfeit paintings worth a total of about one million Euros. The artists were European and Russian. This painting was for sale for EUR 12,000. The men were never convicted of lack of evidence.
Rikoksesta epäillyt kolme mieshenkilöä tekivät taulukauppoja siten, että yksi miehistä oli innostanut yrityksen omistanutta tuttavaansa sijoittamaan taiteeseen v. 2003. Kolmas mies tuli mukaan vuoden lopulla. Maksuna kaupoissa käytettiin pääasiassa yrityksenomistajan omistamia asunto-osakkeita, mutta myös tavaraa sekä käteistä rahaa. Kauppojen hinnat merkittiin kauppakirjoihin ylisuuriksi tai asunto-osake osoittautui vähäarvoiseksi. Tauluja kaupattiin taidekauppiaalle, joka totesi ne väärennöksiksi. Taidekauppias näytti tauluja myös taidekonsultille, joka myös huomasi teokset väärennetyiksi. Vuoden 2004 alussa yrityksen omistajan on epäilty yrittäneen erehdyttää asianomistaja Bukowski Oy Ab:n silloista toimitusjohtajaa tarjoamalla huutokaupattavaksi väärennettyjä tauluja yhden epäillyistä toimiessa välittäjänä ja myyjänä. Mahdolliselle ostajalle olisi aiheutunut tappiota hänen maksaessaan vähäarvoisesta taulusta aidon teoksen hinnan, ja asian paljastuttua Bukowski Oy olisi menettänyt välityspalkkionsa. Osa tauluista esiteltiin Bukowskin edustajalle ja näytettin myös listaa, jossa oli muitakin tauluja. Listassa oli arvio kustakin taulussa huutokaupassa mahdollisesti saatavasta hinnasta (yht. n. 1 milj. euroa). Mukana oli nimekkäiden venäläisten (esim. Malevits), suomalaisten (esim. Gallen-Kallela) ja eurooppalaisten taiteilijoiden (esim. Matisse) tekemiksi merkittyjä teoksia. Bukowskin edustaja on huomannut heti taulut väärennetyiksi, joten epäilty teko on jäänyt yritykseksi. Yrityksen omistajan on täytynyt tietää, että kaikki hänen ostamistaan teoksista eivät ole aitoja, vaikka niitäkin saattoi joukossa olla. Hän kertoi tiedustelleensa taulujen aitoutta asiantuntijoilta, mutta saaneen epämääräisiä vastauksia. Ei ollut riittävää näyttöä, että hänen tarkoituksenaan olisi ollut saada väärennettyjä teoksia myyntiin, vaan se, että asiantuntija seuloo aidot vääristä. Oikeus määräsi osan teoksista palautettaviksi omistajalleen, osa tuomittiin menetettäväksi valtiolle. Teokset ovat todenneet väärennöksiksi mm. Valtion taidemuseon intendentti, Bukowskin taidehuutokaupan toimitusjohtaja sekä Hagelstamin taidehuutokaupan edustaja. Venäläiset taulut tutkittiin Moskovassa ja Mary Cassattille nimetty teos The Mary Cassatt Catalogue Raisonné Committeessa New Yorkissa. Segerstrålen teokset toisentyyppisiä samalta aikakaudelta, kun "Muutto Lappiin" -teos. Teos oli myynnissä hinnalla 12.000 €.
Oljemålning på duk, sjölandskap med flygande svanar, signerad "L. Segerstråle", 102x136 cm. Målningen lämnades in för försäljning till ett stort auktionshus i Helsingfors av tre män. De försökte sälja ett flertal förfalskade målningar till ett sammanlagt värde av ca en miljon Euro. Konstnärerna var europeiska och Ryska. Denna målning var till salu för EUR 12.000. Männen blev aldrig dömda i brist på bevis.


















Name
Lennart, Rafael SEGERSTRÅLE
Birth
1892, 17/6, Finland
Lennart Segerstråle was self-taught. He studied at the university\'s drawing school in Helsinki. He undertook trips to England, France, Italy and Scandinavia. He is a noted painter of landscapes and birds and figurative compositions. He has made many decorative stained glass for many churches.
Source: Art Signature Dictionary
Lennart Segerstråle var autodidakt. Han studerade bl.a. vid universitetets ritskola i Helsingfors. Arbetade en kortare tid som forstmästare men övergick snart till att helt ägna sig åt konsten. Företog resor till bl.a. England, Frankrike, Italien samt Skandinavien. Han är en uppmärksammad målare av landskap och fåglar. Under 1920 talet arbetade han med dekorativa figurkompositioner, tilldelades utsmyckningsuppgifter och blev en pionjär för modernt monumentalmåleri i Finland. Han har gjort många dekorativa glasmålningar till en mängd kyrkor och anlitats som freskmålare i såväl hemlandet som i Sverige.
Offentlig utsmyckning: 14 meter höga altarfresken, Elämän lähde, Livets källa, målades år 1951, i Rovaniemi i finska Lappland och i Vuollerims kyrka Jokkmokk, 1958. Burträsks Kyrka altarfresker.
Source: Art Signature Dictionary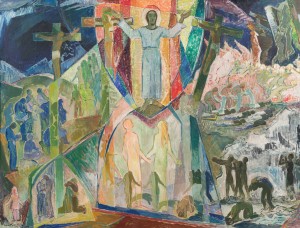 Världsförsoningen
(1948-49)
Price EUR 2,400
Estimated EUR 3,000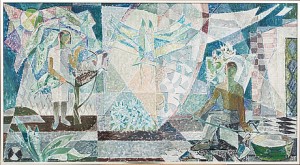 Förlaga Till Fresk I Lunds Rådhus
(1966-67)
Price SEK 23,500 (€2,547)
Estimated SEK 8,000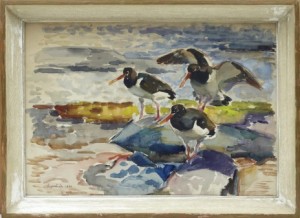 Sjöfåglar På Klippa
(1930)
Price SEK 4,000 (€428)
Estimated SEK 3,000–4,000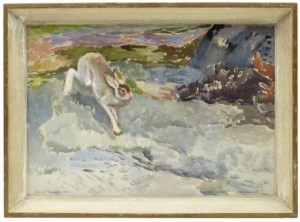 Price SEK 3,000 (€321)
Estimated SEK 3,000–4,000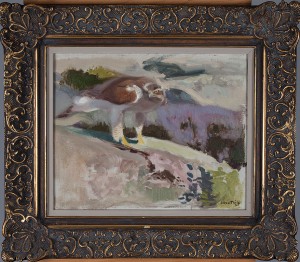 Price EUR 903
Estimated EUR 1,000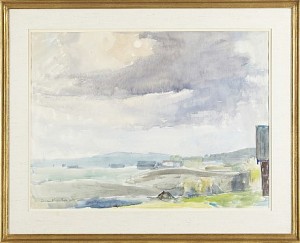 Price SEK 1,800 (€209)
Estimated SEK 2,500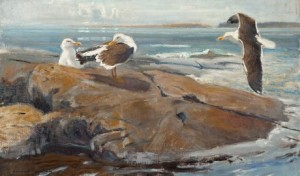 Price EUR 23,604
Estimated EUR 12,000–15,000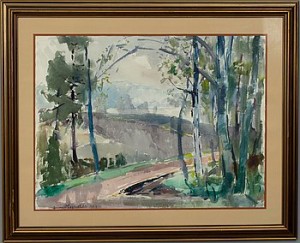 Price EUR 240
Estimated EUR 250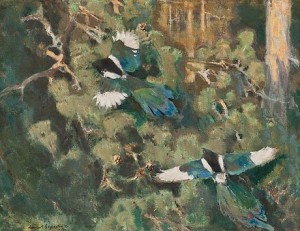 Price EUR 3,600
Estimated EUR 4,000–5,000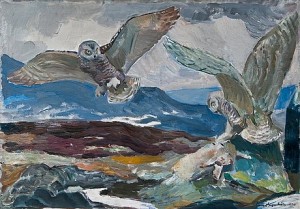 Price EUR 3,600
Estimated EUR 4,000–5,000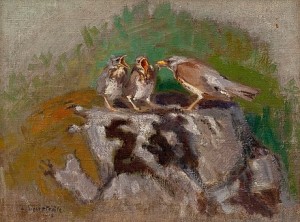 Thrush With It's Young
Price EUR 3,600
Estimated EUR 2,500–3,500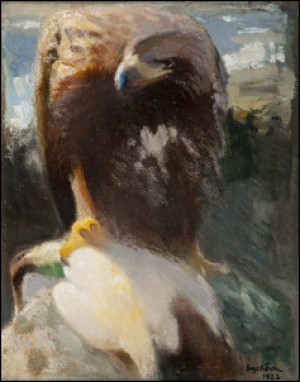 Price EUR 2,400
Estimated EUR 2,000–2,500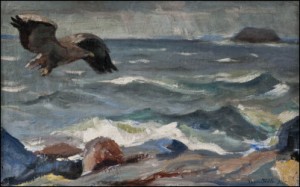 Price EUR 1,900
Estimated EUR 1,500–2,000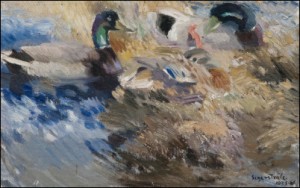 Price EUR 1,800
Estimated EUR 2,000–2,500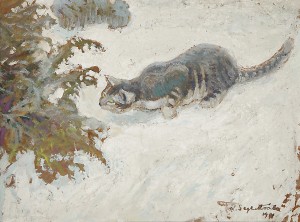 Price EUR 4,000
Estimated EUR 5,000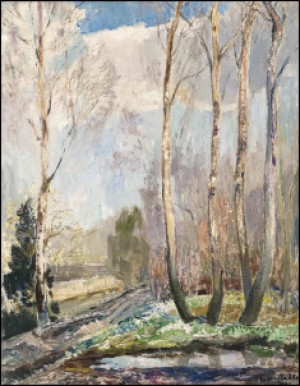 Price EUR 1,300
Estimated EUR 1,500–2,000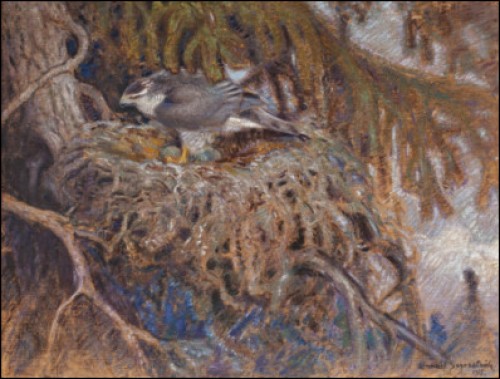 Price EUR 4,000
Estimated EUR 5,000–6,000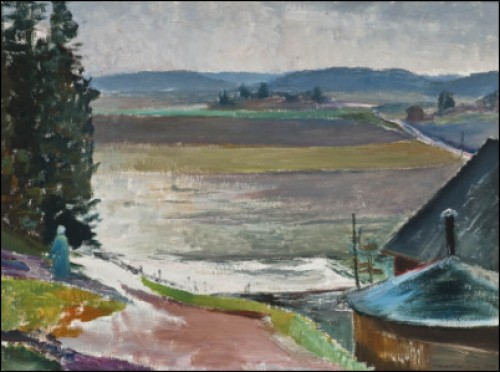 Price EUR 750
Estimated EUR 1,200–1,500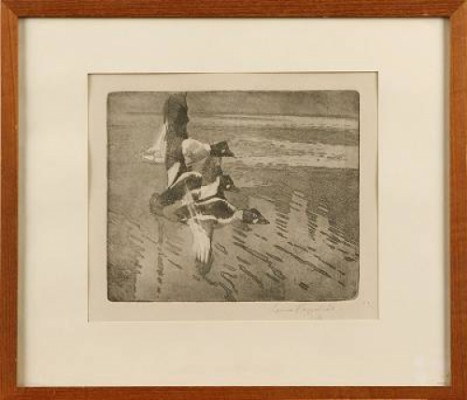 Price SEK 1,000 (€98)
Estimated SEK 1,500