Leonid Osipovich PASTERNAK

1862–1945, Ukraine/Russia
Name
Leonid Osipovich PASTERNAK
Leonid Pasternak was born to a poor Jewish family in Odessa, the youngest of six children. He studied both medicine and law, while sketching and drawing, both for his own amusements and as a newspaper caricaturist. In 1889 he married one of the most gifted pianists of his generation, Rosa Kaufman, and was living in Moscow and already painting professionally. Pavel Tretyakov visited him in his studio and purchased Letter from home directly from the easel, and it was this event which catapulted him to the forefront of the artistic life of the time. Ilya Repin sent him pupils to teach, Nikolai Ge hailed him as his successor, and in 1894 he painted On the eve of the Examination which won a gold medal at the Munich International exhibition and was purchased by the Musée du Luxembourg; it is now one of the few Russian paintings in the collection of the Musée d\'Orsay in Paris
In the same year he became a teacher at the Moscow School of Painting, Sculpture and Architecture. The school, which had also taken on Valentin Serov and Konstantin Korovin as teachers, was one of the most exciting art schools not only in Russia, but anywhere in the world at the time. In 1898 Pasternak was asked to provide illustrations for Tolstoy\'s new novel, Resurrection; the originals were later displayed at the Russian Pavilion at the Paris World Fair of 1900. The following year Grand Duke Georgii Alexandrovich purchased Tolstoy and his family for the Museum of Alexander III, now the Russian Museum. He lived in Berlin for a year in 1905, and travelled frequently in the following years. But he was back in Moscow at the outbreak of the Great War, and was invited by the Bolsheviks to sketch some of their leaders, including Lenin. These drawings were purchased by the regime, which destroyed them in the 1930s.
Pasternak left Russia for Berlin in 1921 together with his wife and two daughters (Lydia and Josephine, born in 1900 and 1902); the two older boys, Boris, the future poet, and Alexander, the future architect, stayed behind. After the deprivations of the revolutionary period, he received a new lease of life, and painted a number of portraits of figures from the Russian community in Berlin, including one of Sergei Prokofiev. In 1932 he published memoirs of his meetings with Lev Tolstoy; but most of the edition was burned by the Nazis in May 1933. By the end of the 1930s Pasternak had decided to return to Soviet Russia.
Source: Stockholms Auktionsverk, Stockholm Sweden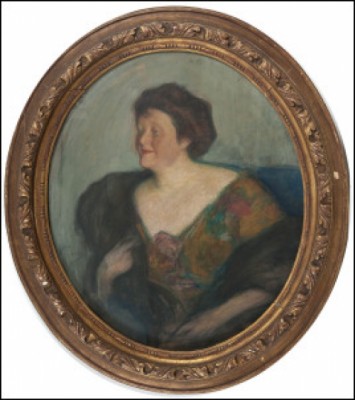 Portrait Of Mrs. O. Fränkel
(1914)
Price EUR 0
Estimated EUR 4,000–6,000