Leopold Alphons MIELICH
1863–1929, Austria
Name
Leopold Alphons MIELICH
Der Orientmaler Alphons Leopold Mielich hieß mit bürgerlichem Namen Mielichhofer. Er strebte vorerst eine Offizierslaufbahn an, die er jedoch aus Gesundheitsgründen 1887 beenden musste. Seine erste künstlerische Ausbildung erhielt er vom Gebirgsmaler Anton Schrödl, bei dem er Privatunterricht nahm. 1889 besuchte Mielich zum ersten Mal Ägypten, wohin er bis zum Ausbruch des 1. Weltkrieges wiederholt reiste. Zu Studienzwecken lebte Mielich 1889/92 in Paris, wo er sich durch das Kopieren von Orientbildern schulte. Von Paris aus unternahm er zahlreiche Studienreisen, u.a. nach England, Spanien und Tunis, sein Interesse galt jedoch bald ausschließlich dem Orient. Nach seiner Rückkehr nach Wien wurde er 1894 Mitglied der Genossenschaft bildender Künstler Wiens (Künstlerhaus). Im Auftrag der Österreichischen Akademie der Wissenschaften ging er schließlich 1901 als künstlerischer Begleiter des Orientalisten Alois Musil nach Jerusalem und von dort nach Transjordanien. Seine Aufgabe war es, die Kalifenschlösser in der Peträischen Wüste aufzunehmen. Mielich entwickelte sich immer mehr zum gefragten Orientmaler und bekam sogar den Auftrag, für ein Theaterstück in Wien eine orientalisierende Bühnendekoration zu entwerfen.
Source: http://www.imkinsky.com/
The Orientalist painters Alphons Leopold Mielich whose real name was Mielichhofer. He sought initially to an officer's career, but he had to quit for health reasons in 1887. He received his first artistic training from mountain painter Anton Schrödl, in which he took private lessons. 1889 Mielich visited for the first time in Egypt, where he repeatedly traveled to the outbreak of World War 1. For study purposes lived Mielich 1889/92 in Paris, where he trained himself by copying Orient images. From Paris, he undertook numerous study trips, including but was soon exclusively to the Orient to England, Spain and Tunis, his interest. After his return to Vienna he became in 1894 a member of the association of visual artists of Vienna (Artists' House). On behalf of the Austrian Academy of Sciences, he emerged in 1901 as artistic companion of orientalist Alois Musil to Jerusalem and from there to Transjordan. His job was to take the caliph castles in the desert Petraea. Mielich increasingly became a sought-after Orientalist painters and even got the order to design a orientalising stage decoration for a play in Vienna.
Source: http://www.imkinsky.com/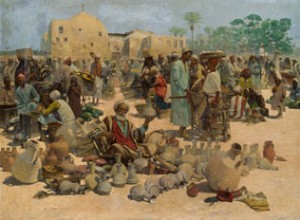 Oriental Market Scene
Price EUR 40,000
Estimated EUR 10,000–20,000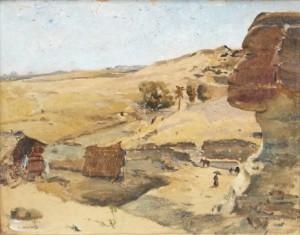 Vid Foten Av Sfinxen, Gizaplatån - Egypten
(-95)
Price SEK 12,000 (€1,379)
Estimated SEK 15,000–20,000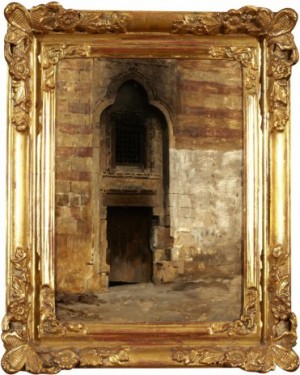 Orientalisk Port
Price SEK 26,000 (€3,011)
Estimated SEK 8,000–10,000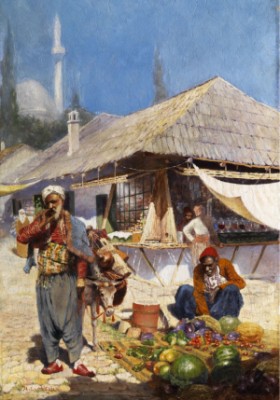 Orientalische Marktszene
Price EUR 5,800
Estimated –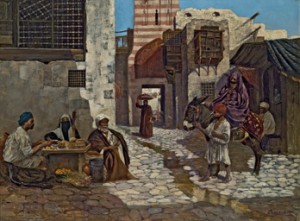 Markt In Kairo
Price EUR 20,000
Estimated EUR 15,000–25,000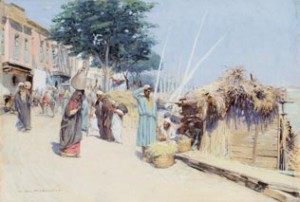 Orientalische Marktszene
Price EUR 3,200
Estimated EUR 1,500–2,500