Linn FERNSTRÖM
1974, Sweden
Lived & Active In:
Stockholm, Sweden
Ever since Linn Fernström finished her studies at The Royal University College of Fine Arts in Stockholm, her often-large canvases have been inhabited of a dream-like mixture of animals and humans. The artist often uses her own physical body as a tool for narration and in Linn Fernström s world reigns a magic realism where time and space are hard to define and where we are invited to a journey of reflection and contemplation.

EDUCATION

1995-2000
The Royal University College of Fine Arts, Stockholm, Sweden

1993-95
Konstskolan Idun Lovén, Stockholm, Sweden


SELECTED SOLO EXHIBITIONS

2012
Grafikens Hus, Mariefred, Sweden
Galerie Forsblom, Helsinki, Finland

2010
Lars Bohman Gallery (Showroom), Stockholm, Sweden

2008
Lars Bohman Gallery, Stockholm, Sweden

2007
Arnstedt Östra Karup, Båstad, Sweden

2006
Samling Saltarvet, Fiskebäckskil, Sweden

2005
Galleri Lars Bohman, Stockholm, Sweden

2004
Arnstedt & Kullgren, Östra Karup, Sweden
Passagen, Linköping, Sweden
Örebro Konsthall, Örebro, Sweden

2003
KONST! Svezia ExtraOrdinaria, Maniero Associazione Culturali, Rome, Italy
Galleri Lars Bohman, Stockholm, Sweden

2001
Galleri Lars Bohman, Stockholm, Sweden

2000
Arnstedt & Kullgren, Östra Karup, Sweden

1999
Galleri Mejan, Stockholm, Sweden


SELECTED GROUP EXHIBITIONS

2012
Lars Bohman Gallery, Stockholm, Sweden

2011
Galerie Proarta, Zürich, Switzerland
Art Cologne, Cologne, Germany

2009
Ei saa peittää - Får ej övertäckas, Eskilstuna Konstmuseum, Eskilstuna, Sweden
Samtidigt, Borås Konstmuseum, Borås, Sweden
Arnstedt Östra Karup, Båstad, Sweden

2008
Every Body Counts, Vestfossen Kunstlaboratorium, Vestfossen, Norway
Arnstedt Östra Karup, Båstad, Sweden

2007
Konstakademien / Royal Academy of Art, Stockholm, Stockholm, Sweden

2006
Beckers konstnärstipendium 20 år, Färgfabriken, Stockholm, Sweden
20 år! Stipendiater Maria Bonnier Dahlins Stiftelse 1985-2005, Bonniers Konsthall, Stockholm, Sweden
Arnstedt & Kullgren, Östra Karup, Sweden

2005
Arnstedt & Kullgren, Östra Karup, Sweden

2003
Absolut Generations, Palazzo Zenobio, Venice, Italy
Arnstedt & Kullgren, Östra Karup, Sweden
Väsby Konsthall, Stockholm, Sweden

2002
Arnstedt & Kullgren, Östra Karup, Sweden
Karby gård, Täby, Sweden
Yunnan Art Institute, Kunming, China
Nordica, Kunming, China

2001
Vem är rädd för rött blått och gult, Liljevalchs Konsthall, Stockholm, Sweden
The Carnegie Art Award for Nordic Painting: Copenhagen, Oslo, London, Helsinki, Stockholm, Reykjavik

2000
Arnstedt & Kullgren, Östra Karup, Sweden
Konstfrämjandet, Örebro, Sweden

1999
Hjorring Kunstmuseum, Denmark


COLLECTIONS

Linköpings Konstmuseum, Sweden
Örebro Läns Museum, Örebro, Sweden
Örebro Läns Landsting, Örebro, Sweden
Absolut Art Collection, Sweden
The Bonnier Collection, Sweden
Borås Konstmuseum, Sweden
The National Public Art Council of Sweden
Moderna Museet, Stockholm, Sweden
Malmö Konstmuseum, Malmö, Sweden


AWARDS / GRANTS

2000
Konstnärsnämndens arbetsstipendium
Beckers konstnärsstipendium
Stiftelsen Anna-Lisa Tomson till minne
Hötorgets konstförening
Avgångsstipendium från Kungliga Konsthögskolan
Helge Axelsson Johnsson

1999
Maria Bonnier Dahlins stiftelse för unga konstnärer, Stockholm, Sweden
Adolf Lindgrens stiftelse
Helge Axelsson Johnsson

1998
Wilhelm Smiths fond
Gålöstiftelsen

1997
Fredrika Bremerstipendiet
Utbildningsstipendium, "Till Hjalmar Bergmans Minne"

1996
Sundsvall Art and Antique Fair


SELECTED ARTICLES AND REVIEWS

2008
Joanna Persman, Fernström kliver in i sin konst, Svenska Dagbladet, 6/9
Andreas Utterström, Ingenting håller mig kvar i Stockholm, Dagens Nyheter, 24/8
Marie Oskarsson, Jag vill inte äga för mycket, Sköna hem, nr 10
Lotta Palmelius, Hon lyser klarast på konsthimlen, Icakuriren 35/08
Robert Andersson, Utmanare, Svenska Dagbladet Min helg, 29/8
Åsa Passanisi, Avhuggna kroppsdelar är en del av min värld, Aftonbladet 15/8
Åsa Jonsén, Mer Fernström i Fernströms konst, Nerikes Allehanda 17/9.

2007
Lotta Bergström, Hett namn i konstvärlden, Hallands Nyheter, 25/8
Britte Montigny, Poesins sköra väv i bilder, Hallandsposten, 28/8
Silvia Helperin Sandström, Gruvligt ljuvligt, Helsingborgs Dagblad, 2/9

2005
Tobias Brandel, Faran lurar i Fernströms målerivärld, Svenska Dagbladet, 24/8, Sweden
Berit Åberg, Realism och surrealism på samma gågng, Vi, 25/8, Sweden
Susanna Slöör, En väv av livstrådar, omkonst.com, 28/8, Sweden
Sara Ullberg, Linn Fernström fortsätter som modern samtidsberättare, Smålänningen, 29/8, Sweden
Mari Janson, Porträtt av en tjej, Elle, september, Sweden
Mats Granberg, Fernströms röda tråd, Norrköpings Tidningar, 6/9, Sweden

2004
Silvia Helperin, Fascinationen överskuggar chocken, Helsingborgs Dagblad, 6/7, Sweden

2003
Lauren Dyer Amazeen, Linn Fernström, Tema Celeste nr 99, Italy
Stina Abenius, Jag har huggit huvudet av folk förr, Amelia maj, Sweden
Natalia Kazmierska, Huvudlös framgång, Expressen, 28/5, Sweden
Clemens Poellinger, Skönt och grymt hand i hand, Svenska Dagbladet, 13/5, Sweden
Absolut Fernström, When Fernström met Wolgers, Time 10/3

2001
Elin Viksten, Hur är det med Linn egentligen, Skånska Dagbladet, 28/9, Sweden
Eva Runefelt, I kollision med vardagen, Svenska Dagbladet, 9/6, Sweden
Catarina Johansson, Konstens nya stjärnskott, Expressen, 24/5, Sweden
Michael Tjelder, Hemskt vackert, Månadsjournalen, 22/5, Sweden
Ulf Thuland, Hon har redan dragit vinstlotten, Dagens Industri, 9/11, Sweden

2000
Lisbeth Tell, Figurativa infall på duken, Dagens Nyheter, 30/12, Sweden
Sören Sommelius, Iskallt och vitalt, Helsingborgs Dagblad, 7/9, Sweden
Lotta Bergström, Med högsta växeln ilagd, Hallands

BOOKS AND CATALOGUES

2008
Målningar 2006-2008, Dan Wolgers, Lars Bohman Gallery

2007
Nymålat, Jubileumsutställning med tio Hötorgsstipendiater

2006
1985-2005
Tjugo år Maria Bonnier Dahlins stiftelse

2005
Linn Fernström, Mårten Castenfors and Dan Wolgers, Galleri Lars Bohman

2004
Svensk konst nu 85 konstnären födda efter 1960, Sophie Allgårdh, Estelle af Malmborg, SAK, Wahlström & Widström

2003
Absolute Generations, Paul Ardenne, Linn Fernström versus Dan - "Love You to Death", V&S AB/ The Aboslute Company

2001
Sveriges konst 1900-talet del 3, 1970-2000, Mårten Castenfors, SAK
Dom kallar oss tecknare, Marie-Louise Ekman, Kungl. Konsthögskolan, Konstnärligt Utvecklingsarbete
Carnegie Art Award 2001


ARTIST IN RESIDENCE

2002
Nordica, Kunming, Kina

2009
PointB, New York, USA
Source: http://www.gallerilarsbohman.com
Linn Fernström har under de senaste åren etablerat sig som en av Sveriges mest uppskattade och omtalade konstnärer. Sedan examensutställningen år 2000 har hon bjudit betraktaren in i Linn Fernströms värld, en värld mellan drömmen och verkligheten. Här skymtar vi oftast henne själv som modell, i princip uteslutande omgiven av diverse djur och fåglar. Målningarna är alltid djärva, vackra och fascinerande, någon enstaka gång med ett lätt sting av obehag då en avhuggen kroppsdel skymtar förbi. Obehaget förblir dock kort, fascinationen och beundran inför såväl tekniken som koloriten i de praktfulla målningarna tar överhanden.
Source: http://auktionsverket.se/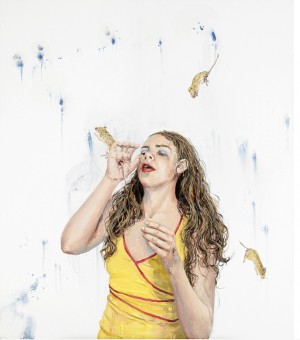 Råttor Skapar Flickjesus
(2008)
Price SEK 70,000 (€7,144)
Estimated SEK 80,000–100,000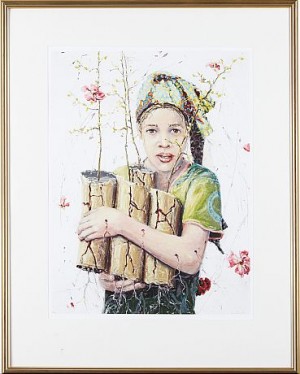 Blodkärl
Price SEK 3,600 (€408)
Estimated SEK 2,500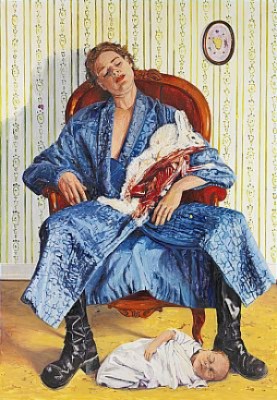 Price SEK 470,000 (€49,952)
Estimated SEK 500,000–700,000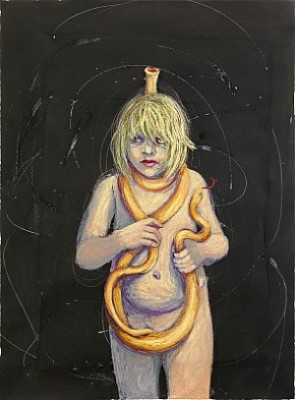 Price SEK 40,000 (€4,344)
Estimated SEK 50,000–60,000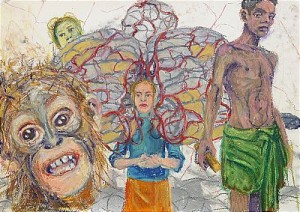 Price SEK 18,000 (€1,952)
Estimated SEK 15,000–20,000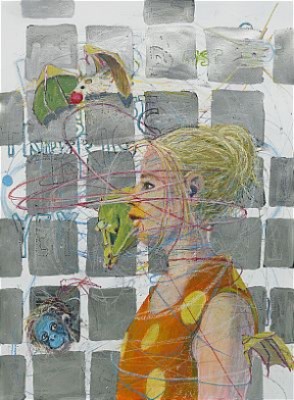 Price SEK 100,000 (€10,845)
Estimated SEK 50,000–70,000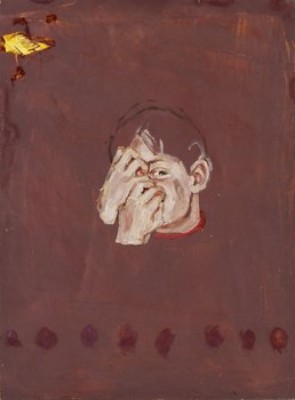 Price SEK 19,000 (€1,865)
Estimated SEK 18,000–20,000