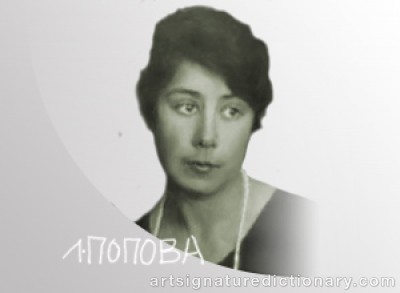 Liubov Sergeevna POPOVA
1889–1924, Russia
Also known as: Ljubow Sergejewna, Lyubov Sergeyevna Popowa

Verdict of guilty
T/200702/013_2400/R/219/04
Gouache on paper, composition with Still Life, signed "Popova" with Cyrillic letters, 25x19 cm. Ostensibly picturing a genuine painting by the Russian artist Liubov Popova Sergeevna. The painting is part of a major fraud cases from 2003 in Finland with several people involved. This painting was for sale for Euro 12,000. After expert investigation and judgment declared that this painting was not genuine. It was a forgery.
Rikoksesta epäillyt kolme mieshenkilöä tekivät taulukauppoja siten, että yksi miehistä oli innostanut yrityksen omistanutta tuttavaansa sijoittamaan taiteeseen v. 2003. Kolmas mies tuli mukaan vuoden lopulla. Maksuna kaupoissa käytettiin pääasiassa yrityksenomistajan omistamia asunto-osakkeita, mutta myös tavaraa sekä käteistä rahaa. Kauppojen hinnat merkittiin kauppakirjoihin ylisuuriksi tai asunto-osake osoittautui vähäarvoiseksi. Tauluja kaupattiin taidekauppiaalle, joka totesi ne väärennöksiksi. Taidekauppias näytti tauluja myös taidekonsultille, joka myös huomasi teokset väärennetyiksi. Vuoden 2004 alussa yrityksen omistajan on epäilty yrittäneen erehdyttää asianomistaja Bukowski Oy Ab:n silloista toimitusjohtajaa tarjoamalla huutokaupattavaksi väärennettyjä tauluja yhden epäillyistä toimiessa välittäjänä ja myyjänä. Mahdolliselle ostajalle olisi aiheutunut tappiota hänen maksaessaan vähäarvoisesta taulusta aidon teoksen hinnan, ja asian paljastuttua Bukowski Oy olisi menettänyt välityspalkkionsa. Osa tauluista esiteltiin Bukowskin edustajalle ja näytettin myös listaa, jossa oli muitakin tauluja. Listassa oli arvio kustakin taulussa huutokaupassa mahdollisesti saatavasta hinnasta (yht. n. 1 milj. euroa). Mukana oli nimekkäiden venäläisten (esim. Malevits), suomalaisten (esim. Gallen-Kallela) ja eurooppalaisten taiteilijoiden (esim. Matisse) tekemiksi merkittyjä teoksia. Bukowskin edustaja on huomannut heti taulut väärennetyiksi, joten epäilty teko on jäänyt yritykseksi. Yrityksen omistajan on täytynyt tietää, että kaikki hänen ostamistaan teoksista eivät ole aitoja, vaikka niitäkin saattoi joukossa olla. Hän kertoi tiedustelleensa taulujen aitoutta asiantuntijoilta, mutta saaneen epämääräisiä vastauksia. Ei ollut riittävää näyttöä, että hänen tarkoituksenaan olisi ollut saada väärennettyjä teoksia myyntiin, vaan se, että asiantuntija seuloo aidot vääristä. Oikeus määräsi osan teoksista palautettaviksi omistajalleen, osa tuomittiin menetettäväksi valtiolle. Teokset ovat todenneet väärennöksiksi mm. Valtion taidemuseon intendentti, Bukowskin taidehuutokaupan toimitusjohtaja sekä Hagelstamin taidehuutokaupan edustaja. Venäläiset taulut tutkittiin Moskovassa ja Mary Cassattille nimetty teos The Mary Cassatt Catalogue Raisonné Committeessa New Yorkissa. Kehykset irtonaiset. Teos oli myynnissä hinnalla 12 000 €.
Gouache på papper, komposition med stilleben, signerad "Popova" med Kyrilliska bokstäver, 25x19 cm. Skenbart föreställande en äkta målning utförd av den Ryske konstnären Liubov Sergeevna Popova. Målningen ingår i ett stort bedrägerifall från år 2003 i Finland med flera personer inblandade. Denna målning var till salu för Euro 12.000. Efter expertutredning och dom förklarades att denna målning inte var äkta. Det var en förfalskning.

Name
Liubov Sergeevna POPOVA
Painter, graphic artist, designer and set designer. Creator of non-objective compositions. Comes from a Moscow family of wealthy factory owners. In 1907 she attended classes at the studio of S.Yu.Zhukovsky, from 1908-1909 she studied at the school of K.F.Yuon and I.O.Dudin where she mastered the principles of Impressionism. She travelled across much of Europe. Her work encompasses impressions from Italian Renaissance painting combined with her fascination for contemporary art trends. From 1912-1914 she lived in Paris and studied at the La Palette Academy in the classes of Cubists J.Metzinger and H. Le Fauconnier. In 1912 she worked at the "Tower" studio of V.E.Tatlin. From1916-1917 she was a member of the Supremist group formed by K.S.Malevich. Between 1918-1923 she taught at the All-Russia Art and Technology Workshops, and from 1920-1923 worked at the INHUK in the monumental art section under V.V.Kandinsky' supervision. L.S.Popova is one of the most brilliant representatives of Russian avant-garde and made her way from Cubism to Constructivism in her creative work. On her return to Russia from France she developed her own principles of Cubism enlightening it with the qualities of monumentalism. This quality also appears in Popova's work with the influence of Old Russian Art. In her paintings of the 1910s Cubism acquires a decorative quality. The artist paid special attention to her work with the painted surface achieving expressively diverse textures. The most remarkable paintings produced in this period are "Composition with Figures" (1913), The Violin (1915). Influenced by the counter-reliefs by V.E.Tatlin, she turns to "sculptured painting". Between 1916-1917 Popova produces a series of "painted architectonics". These were combinations of coloured geometrical planes. Unlike the Suprematic work of K.S.Malevich, these planes acquire weight, a tectonic interdependent mass with an awareness of vertical and support in the composition. Her next creative period was in "spatial power constructions". These construction comprise straight and curving lines of rays. In a number of pieces they penetrate through the planes of different geometrical outlines. The forms seem to be racing through space. Unpainted timber often serves as a background for them. The texture of paint is relief and coarse and, as a result, enhances the substance in the depiction. After 1922 Popova and other constructivist artist's renounced easel painting and turned to design. She produced sketches for material and clothes. In 1922 she designed the set for a performance of "The Generous Cuckold" directed by V.E.Meyerhold, where traditional design was replaced by mechanism for the parts of actors in the spirit of constructivism.
Source: http://www.tretyakovgallery.ru/en/collection/_show/author/_id/364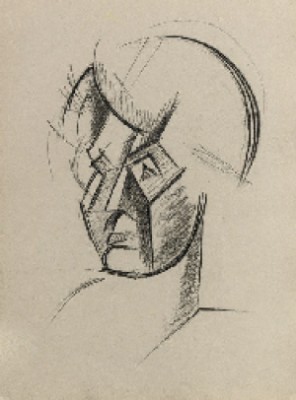 Study Of A Cubist Head
Price GBP 58,100 (€77,280) Incl. buyer's premium
Estimated GBP 35,000–45,000