Lotta HANNERZ

1968, Sweden
Lotta Hannerz art has a lot to shift perspective and play with the idea of what we actually see. Two-dimensional paintings are often combined with real, three-dimensional objects, resulting in a trompe l\'oeil effect. We are uncertain of what is art and what is interior design. In this play, \"she says, there is an interesting to see freedom in a new way, to go on reality. Hannerz has a special relationship with the chairs, which symbolizes her a clear presence. Chairs are all around us in a most tangible way in our daily lives. Are there more chairs than people?
Source: Stockholms Auktionsverk, Stockholm Sweden
Lotta Hannerz konst handlar mycket om att förskjuta perspektivet och leka med tanken på vad vi egentligen ser. Tvådimensionellt måleri kombineras ofta med verkliga, tredimensionella ting, vilket ger en trompe l´oeil-effekt. Vi blir osäkra på vad som är konstverk och vad som är inredning. I detta glapp, menar hon, finns det en intressant frihet att se på ett nytt sätt, man vänder på verkligheten.
Hannerz har ett särskilt förhållande till stolar, som för henne symboliserar en tydlig närvaro. Stolar finns runtomkring oss på ett högst påtagligt sätt i vårt dagliga liv. Finns det fler stolar än människor?
Source: Stockholms Auktionsverk, Stockholm Sweden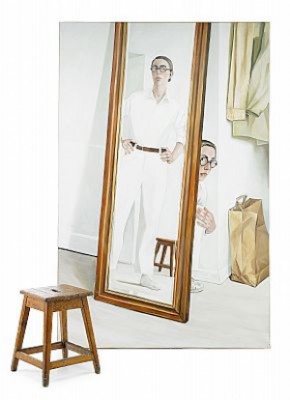 Price SEK 100,000 (€10,400)
Estimated SEK 100,000–125,000