Lotte LASERSTEIN

1898–1993, Germany/Sweden
Name
Lotte, Meta Ida LASERSTEIN
Birth
1898, 28/11, Germany
Lotte Lasersteins künstlerische Laufbahn begann im Berlin der zwanziger Jahre.
Nachdem die Malerin 1927 als eine der ersten Frauen ihr Kunststudium an der Berliner Kunstakademie abgeschlossen hatte, gelang es ihr binnen kürzester Zeit sich in der vielfältigen Kunstszene der Metropole einen Namen zu machen. Die Feuilletons rühmten Lotte Laserstein als "leuchtendes Talent". Das bevorzugte Thema Lotte Lasersteins war der Mensch. In ihren Bildern hielt sie die Typen ihrer Zeit fest: modische Großstädterinnen im Café, einen jungen Motorradfahrer in voller Montur, sportive Tennisgirls oder sich schminkende junge Mädchen. Mit eindringlicher Intensität schildert sie fremdländische Gesichter, die ihr in den Straßen des kosmopolitischen Berlin begegneten. Lasersteins Realismus zwischen Distanz und Nähe, Sachlichkeit und Sensibilität suchte in der Kunst der Weimarer Republik seinesgleichen, so dass ihr ein "glanzvoller Aufstieg" prophezeit wurde.

Dieser jedoch scheiterte nur wenig später an den politischen Bedingungen. Von den Nationalsozialisten zur 'Dreivierteljüdin' erklärt, wurde Lotte Laserstein ab 1933 zunehmend aus dem Kunstleben ausgeschlossen. Eine Ausstellung ihrer Werke in der Stockholmer Galerie Moderne bot ihr 1937 die Gelegenheit, Deutschland mit einem Großteil der Bilder zu verlassen. Obwohl Lotte Laserstein im schwedischen Exil weiterhin mit der Kunst ihren Lebensunterhalt verdienen konnte, war es ihr unter den materiell und psychisch belastenden Bedingungen letztlich nicht möglich, in gleicher Qualität mit der Arbeit fortzufahren. Die vor der Emigration entstandenen Berliner Bilder stellen daher aus heutiger Sicht den Höhepunkt ihres umfangreichen Œuvres dar. 1993 starb Lotte Laserstein in Kalmar/Schweden.

2009 erhielten die Künstler-Archive Lasersteins dokumentarischen Nachlass als Geschenk. Er umfasst Werkfotografien, Skizzenbücher, private und berufliche Korrespondenz, Unterlagen zu Ausstellungsbeteiligungen sowie Bücher aus der Bibliothek der Künstlerin.
Source: http://www.berlinischegalerie.de/de/sammlung/kuenstler-archive/highlights/lotte-laserstein/
Lotte Laserstein's artistic career began in Berlin during the twenties. After completing a study of art, being one of the first women to graduate from Berlin Art Academy in 1927, the painter quickly made a name for herself on the lively, diverse art scene of the metropolis. The feature pages acclaimed Lotte Laserstein as a "brilliant talent". Her favoured subject was humanity. She captured the typical characters of the age in her paintings: fashionable big-city ladies in a café, a young motorbike rider in full gear, sportive tennis girls or young women putting on their make-up. She portrayed foreign-looking faces she encountered on the streets of cosmopolitan Berlin with a penetrating intensity. A balance of distance and closeness, objectivity and sensitivity made Laserstein's realism incomparable in the art of the Weimar Republic; it was prophesied that she would enjoy a "glittering career".

However, only a little later the political conditions of the day devastated this prospect. Declared a 'three-quarters Jew' by the National Socialists, Lotte Laserstein was gradually excluded from the city's art world from 1933 onwards. An exhibition of her works in the Stockholm Galerie Moderne provided the opportunity to leave Germany in 1937, taking many of her paintings with her. Although Lotte Laserstein still succeeded in making a living from her art in Swedish exile, under difficult material and psychological conditions she found it impossible to maintain the quality of her work. From today's standpoint, therefore, the Berlin paintings from before her emigration represent the high point of an extensive oeuvre. Lotte Laserstein died in Kalmar/Sweden in 1993.

A donation of Laserstein's documentary estate was made to the Artists' Archives in 2009. It contains photographs of works, sketchbooks, private and professional correspondence, documents concerning her participation in exhibitions, and books from the artist's library.
Source: http://www.berlinischegalerie.de/en/collection/artists-archives/highlights/lotte-laserstein/
Lotte Laserstein biografi:

Lotte Meta Ida Laserstein, född 28 november 1898 i Preußisch-Holland i Tyskland, (nu Pasłęk i Polen), död 21 januari 1993 i Kalmar, tysk-svensk-judisk målare. Dotter till apotekaren Hugo Laserstein och Meta Birnbaum.

Lotte Laserstein föddes i Ostpreussen. Fadern dog redan 1902 och hon växte upp hos sin mor och mormor i Dresden och Berlin. Lotte Laserstein gick ut konstskolan Vereinigten Staatsschulen für Freie und Angewandte Kunst i Berlin 1927 och blev snabbt uppmärksammad för sitt porträttmåleri. Hon fick stora framgångar, men i och med nazisternas maktövertagande 1933 avbröts hennes lovande karriär. Laserstein fick som judinna allt svårare att bedriva sitt yrke i Tyskland, men genom en utställning på Galerie Moderne i Stockholm 1937 öppnades en möjlighet för henne att lämna sitt hemland. Hon blev svensk medborgare och stannade i Sverige, först bosatt i Stockholm och senare i Kalmar; modern stannade i Tyskland dog 1943 i koncentrationslägret Ravensbrück, efter att ha blivit nekad inresetillstånd till Sverige samma år.[källa behövs]

Laserstein fortsatte att måla även efter flykten till Sverige. Hon etablerade sig som porträttmålare och har utfört ett stort antal representativa och karaktäristiska porträtt för offentlig miljö och privata hem, bl.a. av Natanael Beskow, Torgny Segerstedt, Margit Silfversvärd, Hilding Rosenberg, Ruben Wagnsson, Pehr Edwall, Elsa Trolle-Wachtmeister, Erik Trolle, Elsa Celsing och Gillis Hammar liksom stora grupp-porträtt (till exempel den nedan nämnda "Abend über Potsdam") och anonyma människostudier. Utöver personporträtt ägnade hon sig också åt landskapsmåleri.

"Sternverdunkelung" var namnet på Judiska Museets utställning om henne och poeten och nobelpristagaren Nelly Sachs sommaren 2005, en påminnelse om två tysk-judiska kvinnor som båda tvingades i exil och kom till Sverige. Deras villkor försämrades dramatiskt efter Hitlers makttillträde 1933, och det blev i det närmaste omöjligt för dem att verka i Tyskland.

Utställningar i London 1987 innebar början på en internationell återupptäckt av hennes konstnärskap. Två prestigefyllda Londongallerier ställde ut hennes verk under titeln: "Laserstein: Paintings and Drawings from Germany and Sweden, 1920-1970".

2003 fick hon en förnyad uppmärksamhet också i Tyskland genom en utställning på Museum Ephraim-Palais i Berlin. För den tyska utställningen och dess katalog svarade Anna-Carola Krausse som också skrivit sin doktorsavhandling om henne samt en presentation av hennes liv och verk. "Meine einzige Wirklichkeit" var temat för Berlinutställningen, ett citat från Lotte Laserstein som såg konsten som den verklighet hon levde i och för.

Sedan kom återupptäckten i Sverige, först i form av en minnesutställning på Kalmar museum 2004 och därefter den redan nämnda utställningen på Judiska Museet och senare i Bror Hjorths hus i Uppsala.

Hon har på senare tid fått en bred internationell uppmärksamhet, bland annat sedan hennes främsta verk, den stora målningen "Abend über Potsdam" (1930) den 2 juni 2010 såldes på Sotheby's i London för £421.250 (cirka 4,85 miljoner svenska kronor).

Lotte Laserstein tilldelades Kalmar kommuns kulturpris 1977. Sedan 1952 hade hon sitt sommarhem i Borgehage, nära Sollidens slott i Räpplinge socken på Öland. På Räpplinge kyrkogård finns hennes grav.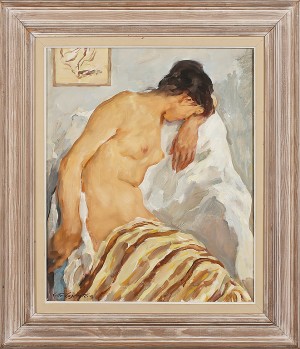 Kvinnostudie
Price SEK 58,000 (€6,263)
Estimated SEK 15,000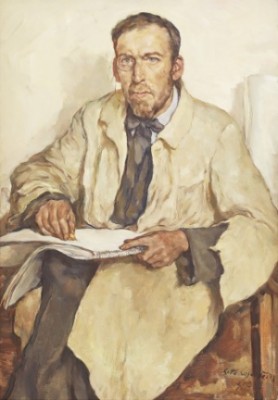 Walther Beyer Drawing
(1947)
Price SEK 76,000 (€8,207)
Estimated SEK 30,000–40,000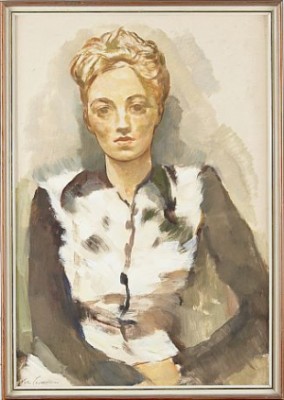 Porträtt Av Madeleine "dete" Jaraczewski
Price SEK 33,000 (€3,500)
Estimated SEK 10,000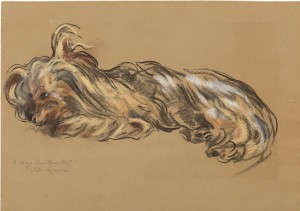 Price EUR 1,600
Estimated EUR 1,200–2,400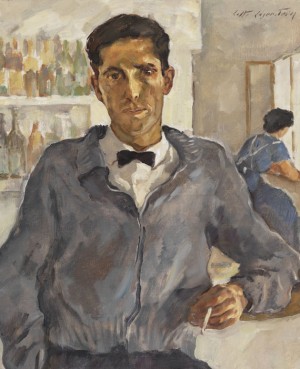 Der Spanische Kellner
(1958)
Price EUR 12,500 Incl. buyer's premium
Estimated EUR 15,000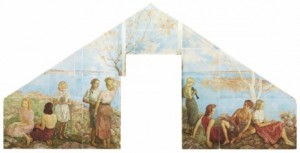 Price SEK 125,000 (€13,454)
Estimated SEK 150,000–200,000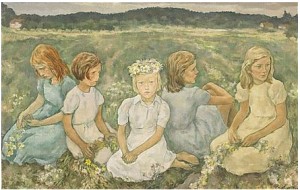 Mittsommermädchen
(Executed in 1941)
Price SEK 340,000 (€37,026)
Estimated SEK 200,000–250,000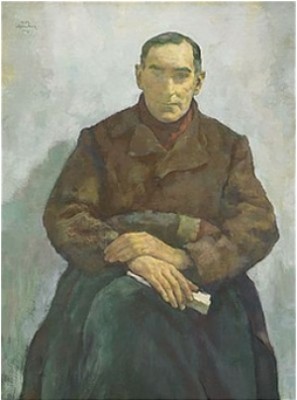 Der Emigrant (dr. Walter Lindenthal)
(1941)
Price SEK 110,000 (€12,155)
Estimated SEK 20,000–25,000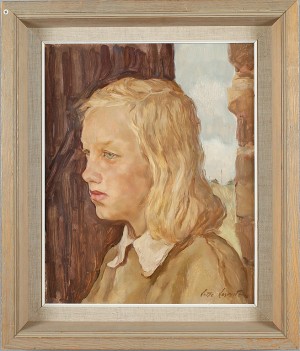 Porträtt
Price SEK 26,300 (€2,906)
Estimated SEK 2,000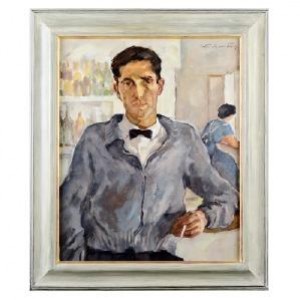 Man Med Cigarett I Hand
Price SEK 56,000 (€6,188)
Estimated SEK 8,000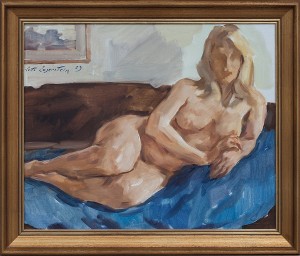 Price SEK 9,200 (€1,040)
Estimated SEK 3,000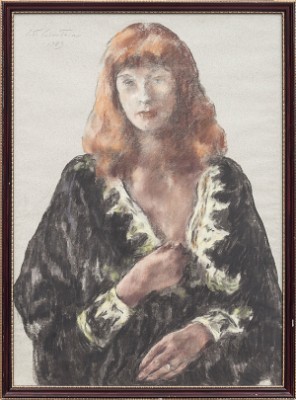 Price SEK 9,300 (€1,046)
Estimated SEK 3,000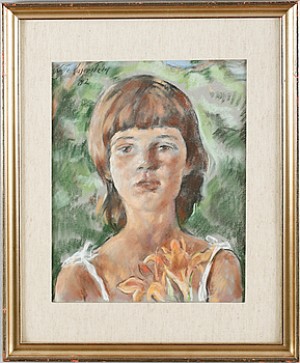 Price SEK 2,900 (€349)
Estimated SEK 2,000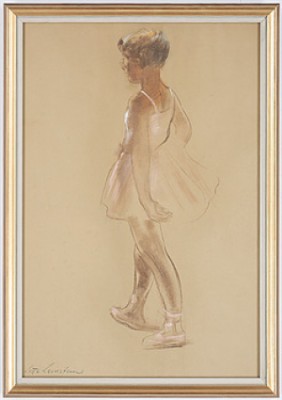 Modellstudie
Price SEK 8,400 (€973)
Estimated SEK 1,500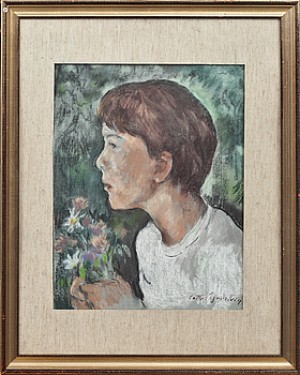 Pojke Med Blommor
Price SEK 7,600 (€880)
Estimated SEK 2,000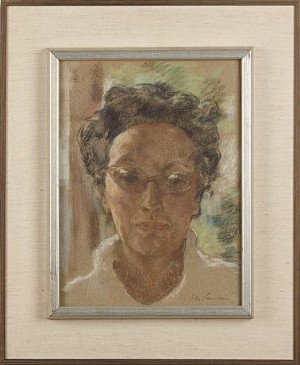 Kvinnoporträtt
Price SEK 2,200 (€242)
Estimated SEK 1,200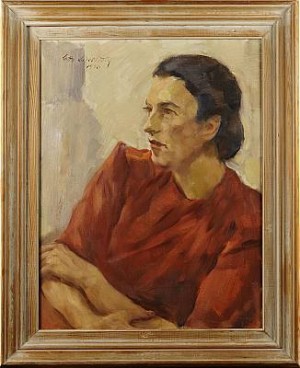 Price SEK 5,500 (€594)
Estimated SEK 2,500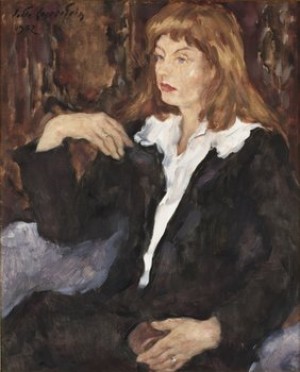 Price SEK 5,500 (€559)
Estimated SEK 5,000–6,000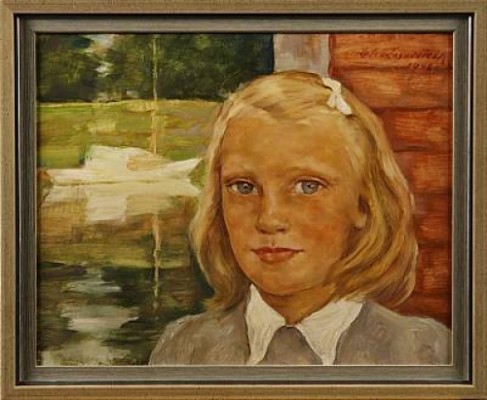 Price SEK 5,000 (€482)
Estimated SEK 6,000