Lotten RÖNQUIST

1864–1912, Sweden
Also known as: LR
Name
Charlotta, Lotten, Sofia RÖNQUIST
Lotten Rönquist studied at the Technical School in Stockholm, Art Academy, and in study tours to France and Italy. She paints interiors, landscapes and still lifes. She participated in Women Artists Exhibition 1919th Memorial Exhibition: Salon Joël in Stockholm 1912th She died, only 48 years old, of pneumonia, on top of his konstnärsbana.
Representerad: National Museum in Stockholm, the Göteborg Museum of Art, Linköping and Uddevalla museums, and at the Art Academy.
Lotten Rönquist studerade vid Tekniska skolan i Stockholm, Konstakademien, samt vid studieresor till Frankrike och Italien. Hon målar interiörer, landskap och stilleben. Hon deltog i Kvinnliga Konstnärers utställning 1919. Minnesutställning: Salong Joël i Stockholm 1912. Hon avled, endast 48 år gammal i lunginflammation, på toppen av sin konstnärsbana.

Offentlig utsmyckning:
Absidmålningarna i Skogs kyrka i Hälsingland. Turisthotellen i Rättvik och Storvik, Grand Hotell och Grand Hotell Royal i Stockholm, på Tjolöholm, Myrö slott, och Steninge slott.

Representerad:
Nationalmuseum i Stockholm, i Göteborgs Konstmuseum, Linköping och Uddevalla muséer, samt på Konstakademien.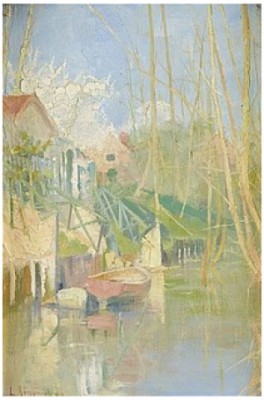 Båtar Vid Flodkanten
(-99)
Price SEK 10,000 (€1,076)
Estimated SEK 12,000–15,000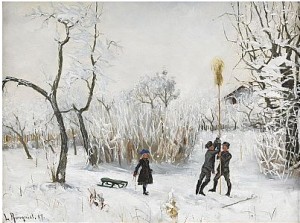 Barn I Vinterlandskap
(-87)
Price SEK 28,000 (€3,014)
Estimated SEK 12,000–15,000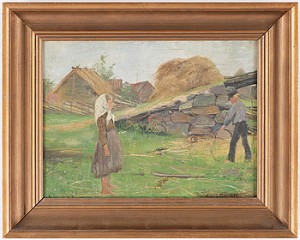 Lantligt Motiv Med Skördefolk
(1890)
Price SEK 1,500 (€180)
Estimated SEK 3,000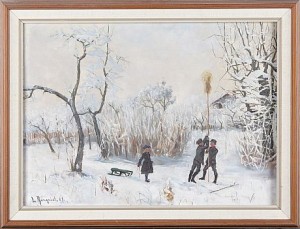 Price SEK 4,000 (€450)
Estimated SEK 5,000

Price SEK 13,000 (€1,351)
Estimated SEK 8,000–10,000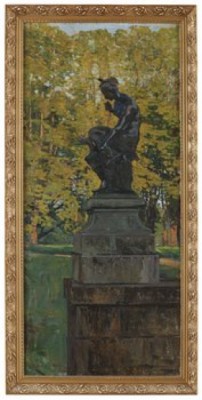 Från Drottningholms Park
(1909)
Price SEK 15,000 (€1,497)
Estimated SEK 8,000–10,000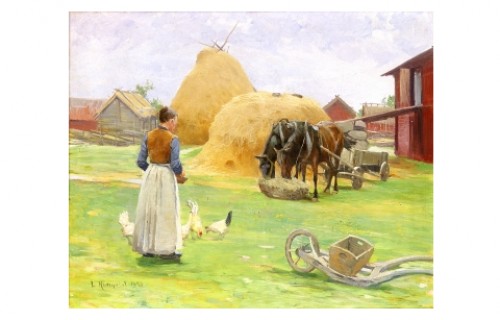 Price SEK 6,700 (€632)
Estimated SEK 8,000–10,000