Louis VALTAT
1869–1952, France
Also known as: LV
Louis Valtat was a French painter and printmaker associated with the Fauves ("the wild beasts", so named for their wild use of color), who first exhibited together in 1905 at the Salon d'Automne.[1] He is noted as a key figure in the stylistic transition in painting from Monet to Matisse.
Louis Valtat was born on 8 August 1869 in Dieppe,[2] in the Normandy region of France, into a wealthy family of ship owners. Valtat spent many of his childhood years in Versailles, a suburb of Paris, where he attended secondary school at the Lycée Hoche (near the Palace of Versailles). Encouraged by his father, an amateur landscape painter himself, Valtat became interested in art. At age 17, deciding to pursue an artistic career, he applied to the École des Beaux-Arts de Paris. He was accepted, and in 1887 Valtat moved to Paris to enroll at the Ecole, where he studied with the well-known academic artists Gustave Boulanger (1824–1888), Jules Lefebvre (1836–1911), and later with Jean-Joseph Benjamin-Constant (1845–1902).
Valtat subsequently studied at the Académie Julian (Julian Academy) under Jules Dupré (1811–1889), a landscape painter of the Barbizon school. Among his fellow students were Albert André (1869–1954), who became a close friend, as well as Maurice Denis (1870–1943), Pierre Bonnard (1867–1947), and Édouard Vuillard (1868–1940). These last three, calling themselves "Nabis" (after the Hebrew word meaning prophets), were influenced by Paul Gauguin's (1848–1903) Synthetist method of painting based on the use of simple forms, pure colors, and large patterns. While Valtat remained detached from that movement, he learned from them.
In 1890, upon winning the Jauvin d'Attainville prize, Valtat established his own studio at rue La Glaciere in Paris. He made his debut in 1893 at the Salon of Independent Artists, displaying several paintings depicting street scenes of the neighborhood surrounding his art studio. One of those paintings, titled Sur Le Boulevard (On The Boulevard, 1893) was noted by the art critic Félix Fénéon. During this early period in his career, Valtat used the spontaneous light touches of Impressionism (although with bordered objects)[2] and the colorful dots found in Pointillism. Two examples representing Valtat's work during this period include Péniches (Barges, 1892) and the Pommiers (The Apple Trees, 1894). As noted by Cogniat, Péniches has the impressionistic rendering of the mobile reflections of rippling water while Pommiers is "alive with the dazzling brilliance of sunlit reds and yellows intensified by the stippled strokes of green".
Valtat exhibited widely during his career. In 1894, he collaborated with both Henri de Toulouse-Lautrec and Albert André in creating the decor for the Paris theater "L'Œuvre" at the request of Lugné Poë.
Valtat suffered from tuberculosis, and he spent many autumn/winter seasons along the Mediterranean coast in Banyuls, Antheor and Saint-Tropez. Beginning in 1900, Valtat made several journeys by bicycle to visit Auguste Renoir at the Maison de la Poste in Cagnes. There, Valtat made several portrait drawings of Renoir on which he based a subsequent woodcut, and the two artists collaborated on a sculpture of Cézanne. Another friend of Valtat was Paul Signac, whom he visited often, traveling in a small Bollée motorcar that he acquired ca. 1904 from Signac in exchange for his painting Women at the Seashore.[4] During his time spent near the Mediterranean, Valtat intensified his use of color and began to express his Fauvist tendencies, particularly in painting seascapes. Art historian Natalie Henderson Lee identifies Valtat as a "proto-Fauve",[5] although he remained somewhat apart from the Fauve group, and never adopted their extreme boldness in the treatment of form and color.
After 1914 he worked in Paris and in areas near Rouen and Versailles. The subjects of his paintings included flowers, landscapes, and scenes of contemporary life, and he produced many prints. Valtat continued to paint until 1948, when the glaucoma from which he had suffered for several years resulted in the loss of his sight. He died on 2 January 1952 in Paris.
Louis Valtat est un artiste peintre français est né en 1869 et décédé en 1952. Il est connu pour ses nus, ses paysages, ses marines et ses natures mortes. Originaire de Dieppe, il arrive à Paris pour ses études au Lycée Hoche de Versailles. Dès 1887, il étudie à l'Ecole des Beaux-Arts de Paris. Il fréquente les ateliers de Boulanger, Lefebvre et Harpignies ainsi que celui de Gustave Moreau. Il étudie également à l'Académie Julian où il rencontre Bonnard, Vuillard, Georges d'Espagnat et Albert André avec qui il se lie d'amitié. Il voyage en Angleterre en 1894, en Espagne en 1895 aux côtés de Montfried, à Banyuls, à Collioure aux côtés de Maillol, en 1902 en Italie, en Algérie l'année suivante, et à Anthéor de manière régulière entre 1899 et 1913. Puis il s'installe à Paris. Il expose au Salon des Indépendants depuis 1889, au Salon d'Automne en 1903 et 1905 ; le Salon des Tuileries. Il expose également à titre personnel dans les galeries de Vollard et de Druet. Avec Albert André et Toulouse-Lautrec, il réalise les décors d'une pièce hindoue intitulée « Chariots de terres cuites » jouée au théâtre de l'œuvre. Valtat fréquente alors le cercle des artistes Nabis qui se réunit au Café Volpini. Valtat abandonne sa touche pointilliste pour une touche plus large, il travaille désormais en aplats de couleurs symboliques (et non plus réalistes) cernés de noir. Il fait construire sa maison à Anthéor dont les paysages ont une influence importante sur son travail, travail qui annoncera le fauvisme de 1905. Il participe cette année là à l'exposition du Salon d'Automne avec le groupe des « Fauves ». Dès 1913, il se tourne vers les paysages normands et bretons. Il appartient ensuite au cubisme et dès 1948, dans les dernières années de sa vie, il perd progressivement la vue et doit se résoudre à abandonner la peinture. Plusieurs expositions rétrospectives lui seront consacrées par la suite : en 1952 au Salon d'Automne, en 1956 au Musée Galliera, en 1969 à la Fondation Ghez à Genève, en 1995 au Musée des Beaux-Arts de Bordeaux.
Source: http://www.artprecium.com/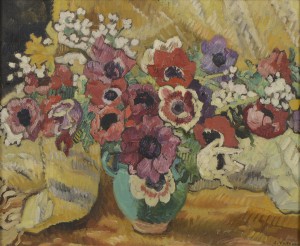 Anémones Au Pichet Vert
(c. 1920)
Price EUR 40,000
Estimated EUR 18,000–22,000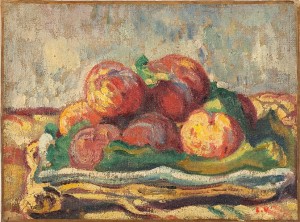 Price EUR 23,141 Incl. buyer's premium
Estimated EUR 18,000–36,000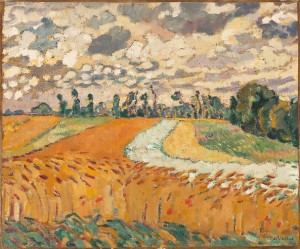 Les Champs De Blé
(1918-1920)
Price EUR 89,754 Incl. buyer's premium
Estimated EUR 70,000–140,000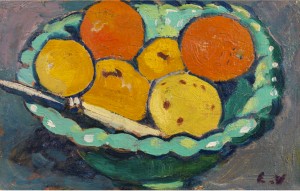 Stilleben Mit Orangen Und Zitronen In Einer Grünen Schale
(1909)
Price EUR 14,000
Estimated –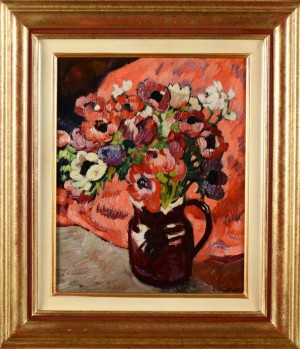 Bouquet D'anemones Au Fond Rouge
Price EUR 25,000
Estimated EUR 12,000–15,000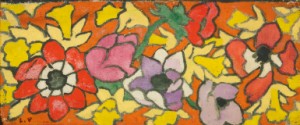 Anémones Et Jonquilles
(1922)
Price USD 16,250 (€12,542) Incl. buyer's premium
Estimated USD 8,000–12,000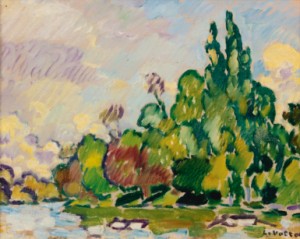 Le Lac Du Bois De Boulogne
(1936)
Price USD 20,000 (€15,436) Incl. buyer's premium
Estimated USD 15,000–20,000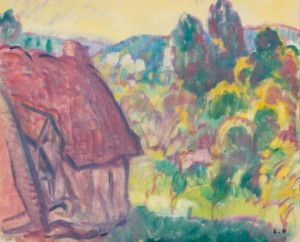 Price USD 15,000 (€11,577) Incl. buyer's premium
Estimated USD 6,000–8,000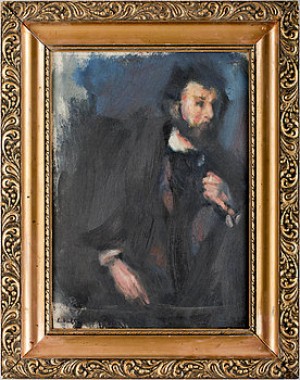 Mansporträtt
Price SEK 12,000 (€1,314)
Estimated SEK 15,000